Peter Barber Architects won a special mention for its contribution to housing design – driven by a strong social agenda with good looks too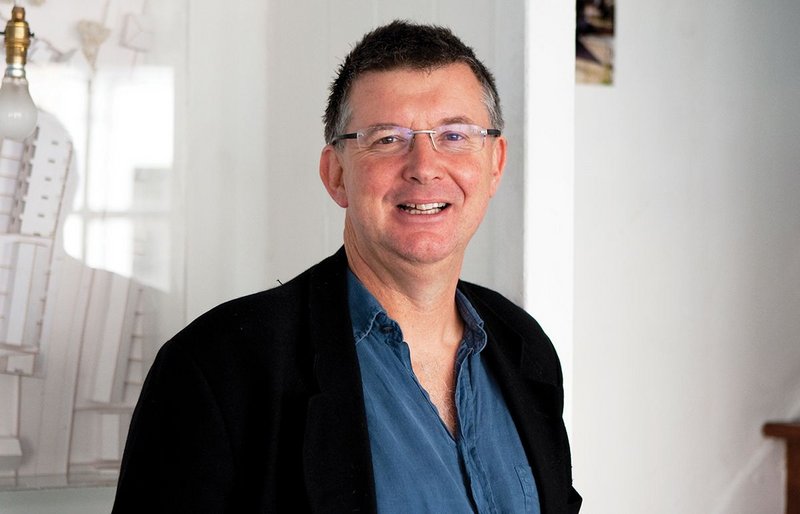 Peter Barber in his King's Cross studio.

Credit: James Bolton
There was one of those brief but telling Twitter love-ins concerning Peter Barber in December last year. It started when San Francisco-based architect Mark Hogan commented how good his North London housing project in Colindale looked – (RIBAJ, October 2015) and soon others weighed in: author and critic Doug Murphy opined that he 'clearly has loads of talent', engineer and architecture promoter Pippa Goldfinger from Somerset spoke highly of his Employment Academy in Southwark and Owen Hatherley remarked that 'come the revolution, he'll be good to do the new council housing' (noting with approval that his website contains a manifesto quoting Walter Benjamin), while our own 'Magnificent 7' writer and designer Adam Nathaniel Furman described him as 'just brilliant'. It wasn't all praise: his early white-render projects came in for some criticism while one contributor suggested that some of his housing projects were almost too socially deterministic in their ideal-community way. As for me, I noted what a good freehand draughtsman he is, and pointed everyone towards the MacEwen Award longlist where three Barber projects feature – though none made it to the shortlist individually – and the judges singled him out for a special mention. Time, then, to go and see him.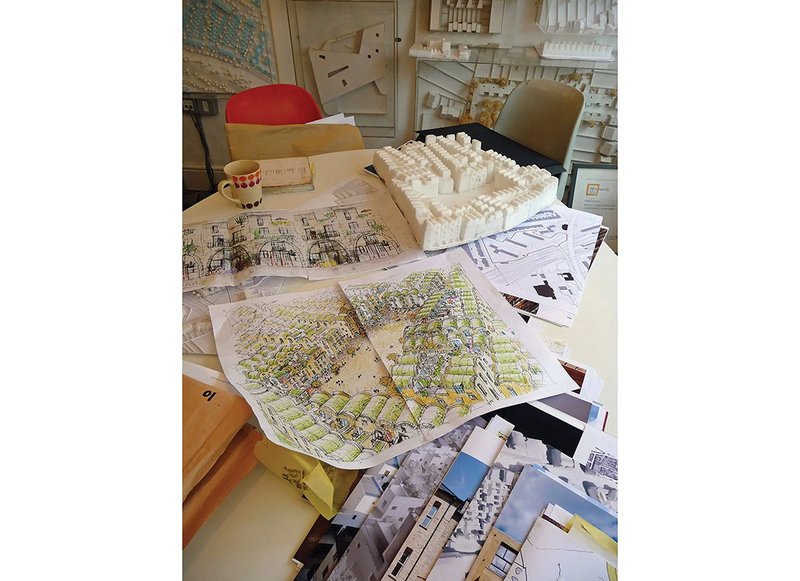 Drawings and models of high density low rise living pile up on Barber's table.

Credit: James Bolton
At first glance, nothing has changed in the Barber studio since 2009, when we last profiled him in RIBAJ. At second glance, everything has changed, as we'll see. It's the same cramped Dickensian former shop near London's King's Cross with two small floors above a ground floor meeting room, and a roof garden on top of the lot. Barber has owned this little building for well over a decade. The practice is still around eight-strong – hard to see how any more could fit in, really – with Barber and his long-time co-director Phil Hamilton on the upper floor. But it's in effect an open office since corners of the floors are removed, meaning that a conversation can be held from top to bottom. There is no privacy here.
So what's changed? The number of commissions. Barber has around 40 projects in hand, some pretty big, and expects very nearly all of those to be built. The revolution, it seems, has arrived, since he is working directly for a number of councils on new housing and on one of his specialities: splicing the new into the old. The practice is working for private developers too, though there is always a large affordable element. He's dedicated to social housing, to the extent of having taken part in a demonstration against the Housing Bill in Westminster the day before we meet. His Socialist Worker placard ('Kill the Bill') is leaning in the shop window among all the white models.
The Barber way – of finding interesting, engaged, even romantic ways to build habitable space which others just would not consider and which require considerable ingenuity to square with preconceptions as much as regulations – is proving very popular. It is at present all in London (projects in Morecambe and Milton Keynes came to naught). London has an affordable housing crisis and Barber's 30-year solo career (interspersed in earlier years with stints at Richard Rogers, Will Alsop and Jestico+Whiles) can be seen as leading up to this. The practice is now on the GLA's housing framework, and this seal of approval means that local authority clients are queuing up to employ him. He's working on 20 sites in Newham, another 20 in Greenwich, more in Enfield and Camden – where he is re-urbanising the recalcitrant late 1960s Wendling Estate, having proved that demolition and rebuilding would never be as cost-effective and would be needlessly disruptive.
As the table piles up with drawings, photographs, reports and working models, even Barber occasionally has trouble finding the backup information for all the projects he is describing. But if you're wondering how such a small office can handle so much work, it's because Barber and Hamilton have developed a way of repeating elements and approaches in their projects. 'We have a store, a hierarchy of ideas'. None is exactly the same as another – tricky London sites as much as a desire for variety prevent that – but you see a commonality. In particular, he knows how to achieve high density with low-rise town houses. 'We don't have to keep on doing things the way we have done , with mega, anti-urban blocks,' he says. 'With a street-based urbanism, you can achieve 1,250 habitable rooms per hectare.' And he shows another drawing and model: of superdense barrel-vaulted housing arranged around a small irregular square.
His Socialist Worker anti Housing Bill placard ('Kill the Bill') is leaning in the shop window among all the white models
It's like parts of residential Venice. A bonus of this approach, he remarks, is that you don't get all the wasteful circulation space of the megablock approach (corridors, stairwells, foyers, lift shafts etc, often totalling 20-25 per cent of the total area). That makes his characterfully-arranged little houses and flats cheaper to build per square metre, for equivalent densities. 'That's why these things get built,' he says, matter-of-factly.
Other than this, his secret is to revisit ways housing was achieved in the past. He has designed a new version of back-to-backs (first devised for Morecambe, now happening in Newham and incorporating tiny one-bed 'bandbox' houses). Noting how some successful old streets have no road, rather front gardens meeting at a pathway, he's used that idea on another scheme, banishing cars to round the back.
Increasingly, he uses brick rather than render, making the most of the material to form recessed, arched entrance portals that withdraw the homes just a few vital feet from the pavement. Gardens are typically in the form of roof terraces. In fact, a lot of Barber housing is rather like his own tall, shallow-plan office.
He's optimistic. He says he gets remarkably little resistance at planning stage, and that people like and seem receptive to his ideas. His lovely drawings must help here – you can see yourself living in these places. We return to his superdense, hugger-mugger low-rise project, so far without a name or site. 'I'd love to live there,' he says. It would be really hard to achieve, given current regs, but I've made a career out of breaking rules.'
---