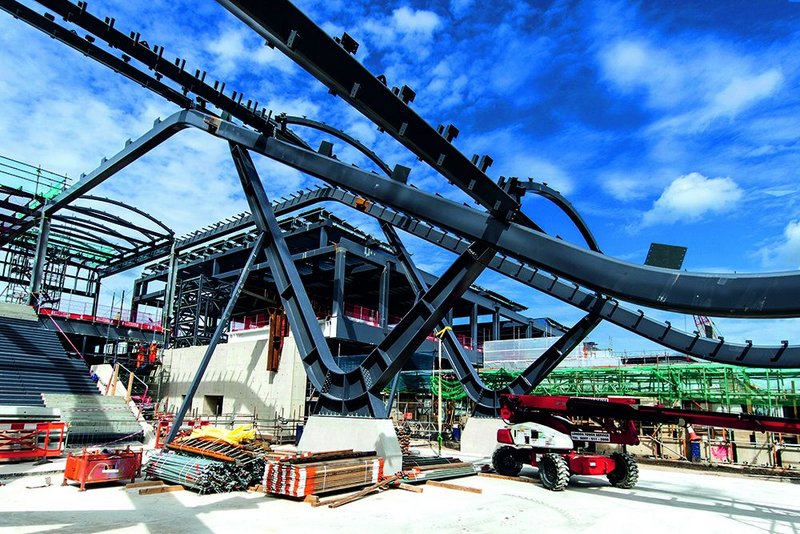 Steel spine beams are supported on minimal steel 'V' columns to platform level.
With the entrance areas and transfer decks over the platforms due to complete this month, Phase I of architect Grimshaw's three phase upgrade of Reading station is on track for the expanded an anticipated 2015 arrival, which will double its capacity. And linking five new track runs, the new north entrance, better facilities and platform access, is the station's bold new roof canopy, sailing over its transfer deck and stretching out east and west along the run of the track. Grimshaw's proposal for the new £81m station has been not just a constructional but a logistical challenge – as it has had to be built above and around a fully operational facility.
These constraints led to an engineering-led, pre-fabricated solution, employing bridge technology not only to construct the elements, but to deal with loads transferred down to the platform level. Grimshaw has created a fluid canopy running along the platforms and crossing a new 135m long and 30m wide transfer deck, (effectively two massive Vierendeel trusses), constructed west of the existing operational one. This transfer deck connects the existing south entrance (and grade II-listed original building) with the firm's new north entrance, 13m below the level of the south entrance, making for some dramatic internal spaces.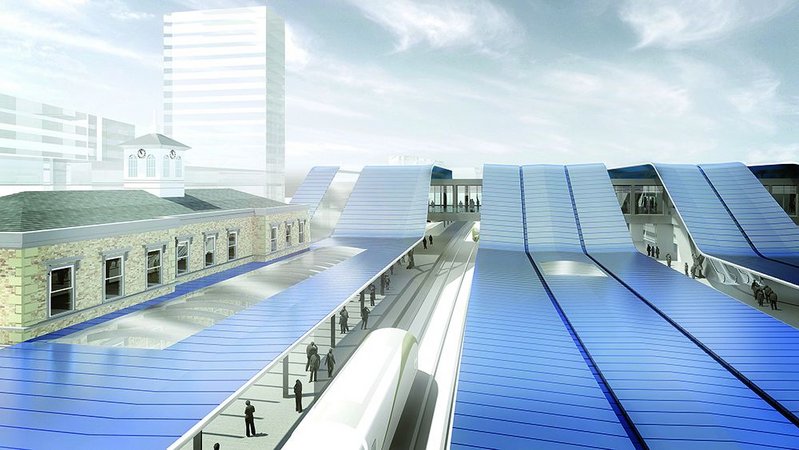 Visualisation of the finished structure.
'While it was desirable to use a single repeating element, differing platform widths and existing conditions meant we had to adopt quite a reflexive structural solution,' explains Grimshaw associate Tania Dee. 'The steel canopy is made of pre-fabricated standard 3m cassette modules, and a higher number of varying ones, connected on site'. The standing seam steel roof canopies with characteristic electric blue soffits run parallel to each other, following the line of the tracks. They sit on huge curved spine beams connected to steel 'V' columns set on low concrete pedestals, flanking the escalators to the platforms. 'We used jumbo hollow sections for the canopies, some of the largest on the market' adds Dee. 'They are the largest steel members they've managed to curve at such a tight radius. This was better and more cost-effective than welding smaller faceted sections together.' Reducing the platform spring points for the columns minimised disruption and lends lightness to the canopies. ​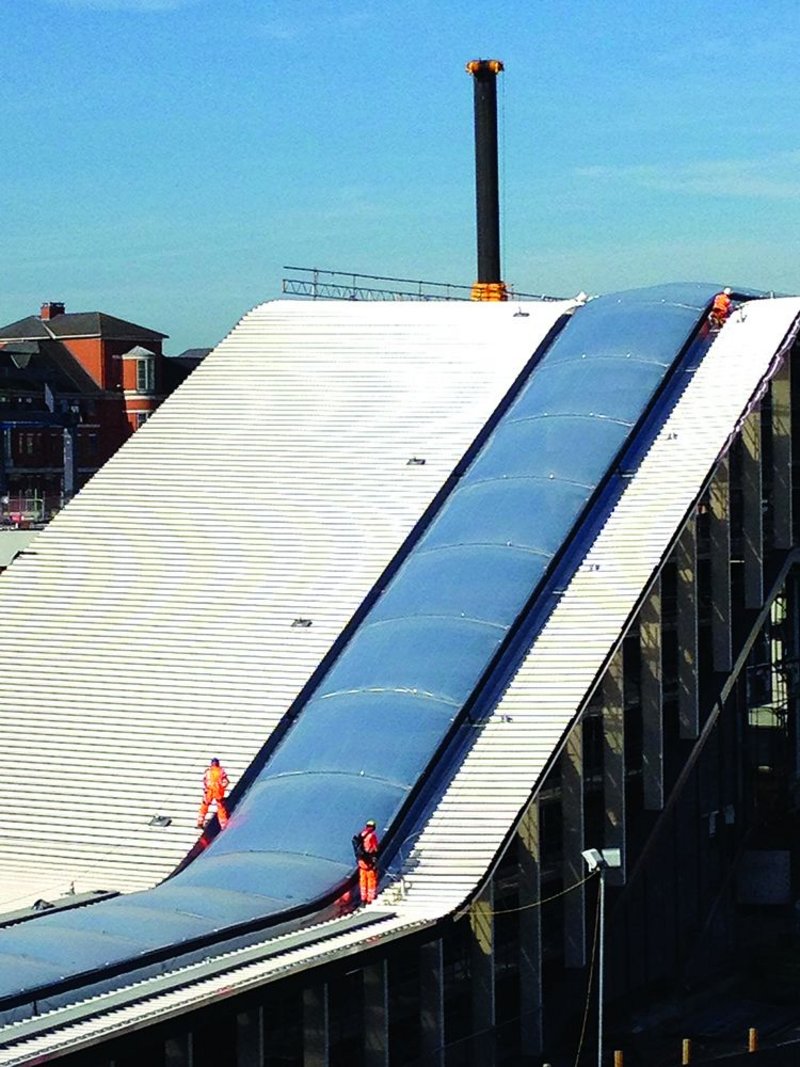 The steel standing seam and ETFE roof give direction to the structure.
Dee explains that self-finished materials, which were easily installed and added consistency, were key. The steel standing seam roof has a flush finish soffit with concealed lighting and tapered edges. Canopy profiles were minimised to a shallow gull wing with a central box gutter either side of ETFE rooflights, which is drawn down through steel downpipes.
The fact that the principle design moves have carried through on this performance-specified project speaks of its robustness. But it's about function too. The metallic blue soffits ribboning through ensure they are read easily by the users, acting as a form of orientation from entrance area to carriage.
---
Upgrading Brunel's Reading
Reading station handles 14m passengers a year, still on the four tracks Brunel laid down in 1840. But that's about to change. Identified as a serious 'pinch point' in the government's 2007 White Paper 'Delivering a Sustainable Railway', it was awarded £600m to spend on more platforms and five new tracks, also allowing capacity for Crossrail and Airtrack-Lite services to London and Heathrow when they come online. Due to be completed in 2015, the upgraded station will be able to deal with four extra trains in each direction every hour, alleviating the serious bottleneck currently stifling the line.
---