The replacement of one of Peter Foggo's 1980s office blocks with a net-zero carbon mixed-use building is part of a programme to recast the fortress of finance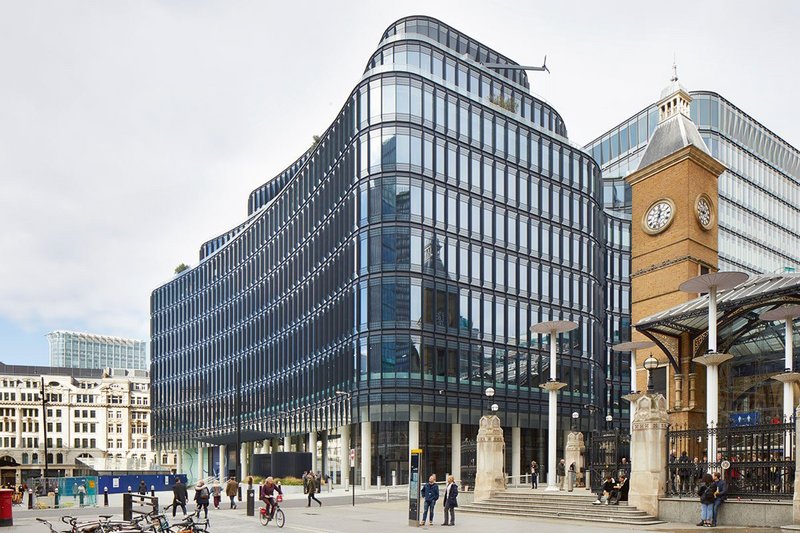 Hopkins Architects introduced a curved facade while reusing existing foundations.

Credit: Janie Airey
With football pitch-sized trading floors contained within imposing hulks of pink granite and black steel, the 12ha Broadgate campus that grew up on the edge of the City of London in the 1980s heralded the Big Bang era of turbo-charged finance, and came to embody its confidence and excesses. Opulent, insular and almost wholly devoted to the offices of banks, Broadgate was a world apart from its neighbours in the down-at-heel districts of Old Street and Shoreditch.
In the intervening years, however, those lively neighbourhoods have been colonised by a cohort of prosperous tech and media companies which Broadgate owner British Land is itself now keen to attract. To that end, an ongoing 10-year, £1.5 billion programme of replacement and renewal aims to reinvent Broadgate's spatial offer and recast the fortress of finance as a 'mixed-use, seven-day, central London destination'.
This vision is encapsulated in the newest building on campus, 100 Liverpool Street. Hopkins Architects' sleek, sinuous block replaces one of Broadgate's earliest buildings, designed by Peter Foggo as part of a uniform group packed tight around a travertine amphitheatre on Broadgate Circle. Hopkins director Chris Bannister says that at the time of his practice's appointment in 2012, the intention was to offer an alternative to large trading floors, but the assumption was still that the building would serve the financial sector. That changed as the vision for Broadgate evolved, and the completed building accommodates media businesses and co‑working space as well as finance firms and 8,400m2 of retail and restaurant space.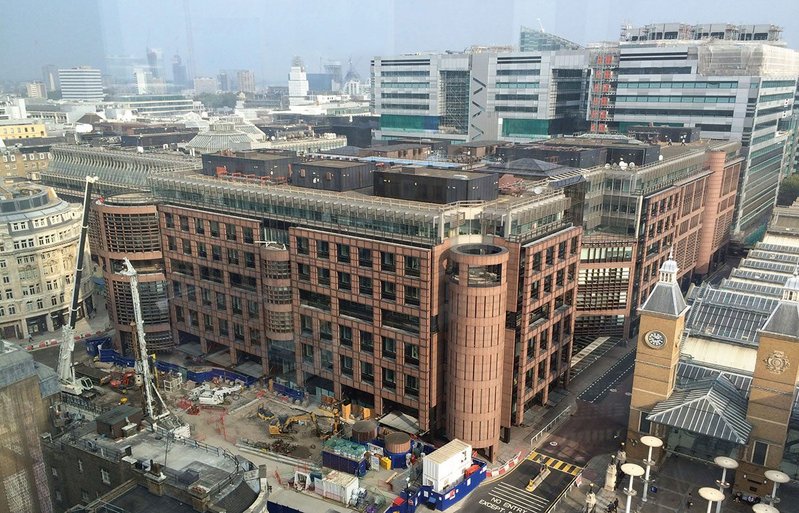 Peter Foggo's original pink granite-clad building.
Perhaps most significantly, it is also British Land's first net-zero carbon building. Sustainability is a longstanding concern for the developer, but 100 Liverpool Street marks the start of new commitments that all future development should be net-zero carbon and that the entire portfolio should be net-zero by 2030.
There is, however, some debate over the definition of that term. For British Land, says its head of sustainable development, Juliette Morgan, it means using energy from fully renewable sources in operation, reducing embodied carbon as far as possible through careful design and specification, and offsetting the remainder. Significant savings were made by reusing one third of the Foggo building's steel frame and half of its concrete – much of it below ground.
Embodied carbon is a little over one third of current industry benchmarks, at 390kg per m2 – lower even than the 2030 target of 500kg. British Land has also paid £60 per tonne of carbon into a 'transition vehicle', with a third of this spent on vast land restoration and tree-planting schemes in Tibet and Mexico, and the remainder put towards retrofitting its existing buildings. Morgan acknowledges that offsetting is not a panacea, noting that no amount of forest growing could compensate for carbon emissions at our current rate, but the scale of British Land's investment is impressive. For 100 Liverpool Street, the company has in fact offset twice as much as it needed to. Why? 'It's our first net zero carbon building, and we could afford to do it, so we did,' says Morgan.
Though the retention of structure reduced the carbon cost enormously, it was also a pragmatic choice. First, the building lies immediately to the west of Liverpool Street Station and sits over an infrastructural warren: two tube tunnels, a substation, a station box and the Octagon Mall, a basement level route into the concourse that had to remain in use. Second, there was good documentation showing that the frame and foundations could carry three more storeys, about as much additional height as the site allowed; the building sits within one of the City's protected views and planners insisted it should be lower than one Make Architects was constructing next door.
An early decision was made to replace the facade, to improve energy performance and signify change, though this was opposed by conservation groups such as the Twentieth Century Society. 'Our view was that there might have been merit in preserving the whole of Broadgate, but not the individual parts,' says Bannister. 'By the time we got involved, consent had already been granted for Make's replacement of the two adjacent buildings.' Gentle curves and soft corners make a less forbidding entrance to the campus. Vertical fins of anodised aluminium shade the windows, give variable appearance to the building as one moves around it, and brace the facade, allowing slender mullions to be used.
The interior organisation required a comprehensive rethink. Large trading floors had pushed cores and atriums to the edges of the building. 'Occupants looked out through layers of smoked glass and steel, quite cut off from the outside, which is not what people want today,' says Bannister. Moving the vertical circulation created its own problem: new elevator pits would mean interfering in the complex situation below ground. Instead, escalators rise from northern and southern entrance lobbies to a reception area on level two, located above the Octagon Mall and at the base of a new atrium. From there, lifts rise to the offices.
Unable to dig new basements, the architects were also obliged to get creative in accommodating cycle storage. Space for 660 bikes has been squeezed between the giant steel trusses that carry the building over a bus station. Further complications arose with the decision to add commercial units, which required major alterations to routes around and through the building. Above the basement-level shops in the Octagon Mall, Hopkins has created a two-storey arcade at ground level, accessed by elegant glass and concrete decks and bridges which span the void. Previously, the Octagon Mall ramped upwards from the station, emerging on the west side of the building half a storey below ground.
It has been levelled to make sufficient headroom below the bridges. That required considerable engineering, including lowering a 200-tonne Richard Serra sculpture outside the western entrance by 1.4m using hydraulic jacks. Establishing level access between Liverpool Street and the Circle is a significant improvement on the series of ascents and descents that pedestrians were previously obliged to navigate.
As well as improving the route through the building, the scheme creates an impression of permeability by inviting the public inside. There is a rooftop restaurant, and – because the main reception and its security turnstiles are on the second floor – the ground-floor lobby on Liverpool Street can be used as a coffee shop.
Universal Design Studio handled the interior design of the lobbies and atrium, and has sought an alternative to the 'soulless' quality of typical corporate foyers. Warm and tactile materials include wood furniture and end-grain flooring, pale precast concrete and volvic lava stone desks and counters. Curved forms echo the new facade, and details riff on the historic location of Broad Street Station on the site – parallel lines in the terrazzo floor resemble rail tracks, while a ceramic artwork by Lubna Chowdhary recalls the view from a moving train.
Escalators ascend through oak-lined slots to emerge on level two, in an impressive moment of compression and release. Above, the spectacular elliptical atrium narrows as it rises towards a glazed diagrid roof. A flight of neatly articulated feature stairs rising to the office floors is open to the atrium to aid orientation.
Occupants of the top five floors enjoy some outside space as progressive setbacks, which allow daylight into Broadgate Circle, form a variety of rooftop gardens and planted terraces. They provide vertiginous views down into the amphitheatre and across the wider estate, which presents a rapidly changing picture. Next door, demolition of the last of Foggo's pink granite buildings has begun, making way for new offices by AHMM. Behind it, architect 3XN will replace another two Foggo buildings on Finsbury Avenue with a conjoined pair of towers. It's the end of an era, but also the start of something new, and at 100 Liverpool Street, Hopkins has set a high bar for the future of Broadgate. •
Credits
Architect Hopkins Architects
Interior designer
Universal Design Studio
Landscape architect HED
Structural engineer AKTII
Services engineer Chapman BDSP
Principal designer Arup
Lighting consultant Speirs & Major
Project manager M3 Consulting
Main contractor Sir Robert McAlpine
Cladding Focchi
Client British Land and GIC