The Metropolitan Police's new HQ is smaller than the last New Scotland Yard, but AHMM's refurbished classical building sits at the centre of a power axis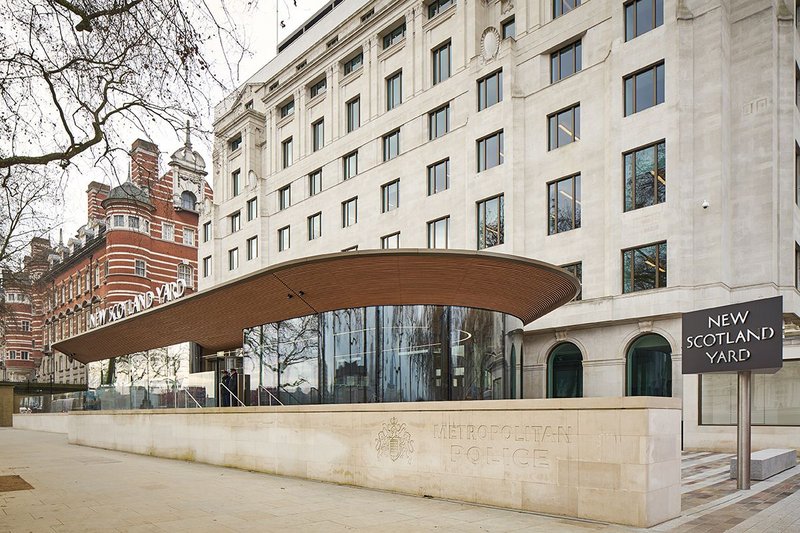 Credit: Timothy Soar
First things first: they have not transferred the original revolving triangular 'New Scotland Yard' sign from the previous Metropolitan Police HQ in Victoria to this newly refurbished building on Victoria Embankment, as it appears. That sign was apparently knackered. Instead they have made a new one which is practically the same but actually a bit smarter, with an enhanced back-illuminated typeface. It says everything about the character of the Met's previous home that the famous spinning sign was all anyone remembered of that featureless 60s slab.
It may well be that it is all most people will register of this one too, since the point of it is to be an instantly recognisable totem for TV cameras. But that would be a shame because the block behind the sign, and what has been done to it, is worth looking at. It is one of those rare buildings to be named after its original architect – the Curtis Green Building. And it is next door to another rare pair, the stripy-brick be-chimneyed edifices known as Norman Shaw 1 and 2. Housing MPs offices today, those were built as the Yard's second home, the first 'New Scotland Yard'. The original version in 1829 set up by Robert Peel was, confusingly, in a house on Whitehall Place. But it backed onto the street known as Great Scotland Yard, which is where the journey from actual place to metonym began. Still with me? The Curtis Green building, then, is the fourth home of the Peelers in 188 years, although – to add to the complication – it was also part of the second, having been built in 1937 and joined to the Shaw buildings as an extension. So we could call this the New New New (New) Scotland Yard. I hope that's clear.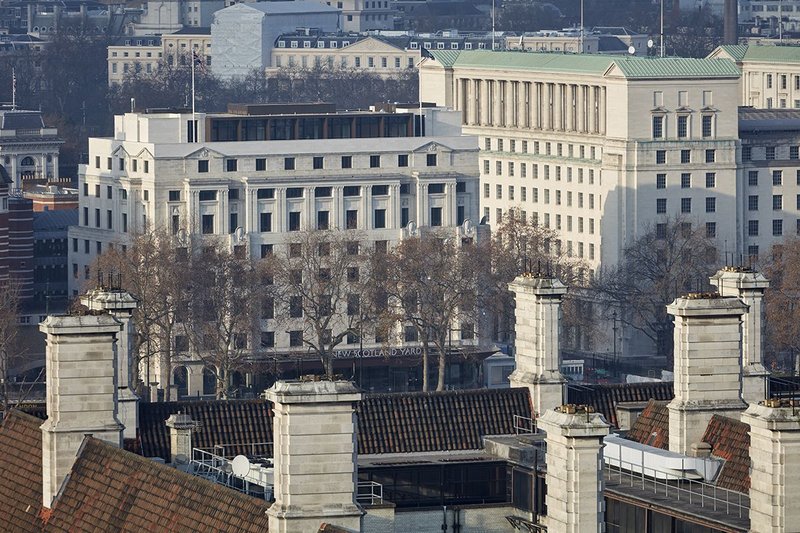 Credit: Rob Parrish
The point is, the Met has downsized its HQ. This is due not so much to a reduction in overall numbers as to a reorganisation into 10 centres with different specialisms dotted across London, and to new technology. Indeed, by selling off its prime-site block in Victoria, the Met released enough money to pay for this £60 million building and help finance a considerable upgrade of its tech, especially 'wearable tech' for its officers. The Curtis Green Building, as adapted by AHMM, is the actual and symbolic headquarters of the service, where new commissioner Cressida Dick has her office. It comes complete with a new rooftop pavilion lit up in blue at night: the famous Blue Lamp reimagined.
Looking at the Portland stone building from Westminster Bridge or from across the river, you see how William Curtis Green (1875-1960) pointedly ignored the Arts and Crafts precedent of Norman Shaw on the left and instead threw in his aesthetic lot with his neoclassical contemporary E Vincent Harris (1876-1971), architect of the Ministry of Defence buildings on the right which were in design at broadly the same time – though not finally completed until as late as 1959. Green might have been a less progressive architect than his exact contemporary Charles Holden, say, but was arguably more inventive than the better known Harris. Whatever, Green kept this building relatively understated. Restrained in its modelling and decoration, its mass is nonetheless subtly articulated in the classic tripartite way plus attic storey.
You soon notice the extensions – on the front, where AHMM has added an oval glass-walled secure reception, out the back and sides, where it now bursts into colourful aluminium fins as well as matching stone; and on top, where it has put a long pavilion on top of Green's attic. Compositionally this looks somewhat uncomfortable from afar, even though they have given it Portland stone bookends in deference to Green. He didn't intend his building to go any higher and it shows. Despite all this, a surprising amount of the structure of the original steel-framed building remains. It is by no means just a facade job even though its overall usable area has grown by 38%, from 8,700m² to 12,000m². 'The columns are well spaced for desks,' says partner in charge Paul Monaghan. 'This isn't a City dealing floor'.
Although the office floors are conventional enough, things get rather more vivid in the toilets, where colour schemes based on the liveries of police cars are employed.
New cores have been punched through the structure, with glazed walls to the lift shafts. There is no atrium. New services have typically been threaded through the circulation corridors, where the ceiling can comfortably be lower than in the high-ceilinged working areas. The facade has been strengthened, the timber sliding sash windows replaced with bronze-framed blast-resistant fenestration.
The need for the presence of the police HQ in this area was underlined by the terrorist attack in March on Westminster Bridge and the Palace of Westminster which – despite deaths and serious injuries – was ended by the police after just 82 seconds. For all the horror, it could have been so much worse. From the roof of the Curtis Green Building you see the relationship of power and protection, looking south to Parliament and west to Downing Street. The likely home of the temporary Parliament building when the Palace is closed for repairs is Richmond House which is right behind.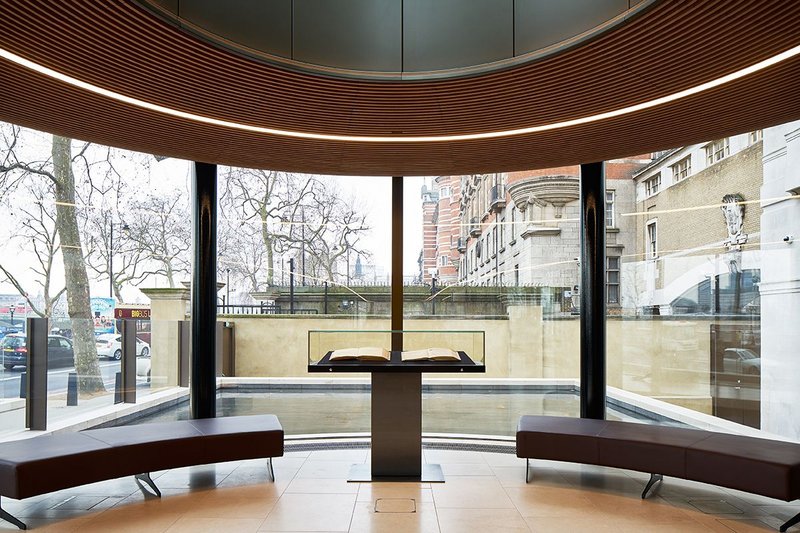 Credit: Timothy Soar
Part of the competition-winning AHMM design took on a sombre relevance after that attack. Just south of its new entrance pavilion an eternal flame set in a pool burns in memory of officers killed in the line of duty. Inside the pavilion is a book of remembrance. Westminster Bridge is directly in your line of sight.
The fact that such a literally transparent front door to the police service can be made as secure as all such public buildings must now be is a testament to the design team (structural engineer Arup), along with the fact that the building will be efficient in use, targeting BREEAM Excellent. Taken as a whole, this is a very tidy example of re-use, adaptation and extension. And outside, that crisply reworked rotating sign is curiously reassuring.
Credits
Client Metropolitan Police Service (MPS), Mayor's Office for Policing and Crime (MOPAC)
Architect / lead consultant Allford Hall Monaghan Morris
Space planning Haverstock
Landscape architect Gillespies
Project manager Arcadis
Principal designer BAM
Structural/civil engineer Arup
Cost consultant Arcadis
MEP engineer Arup / BAMSE
Planning consultant DP9
Main contractor BAM