Winner: 234 Bath Road. Entrant: Flanagan Lawrence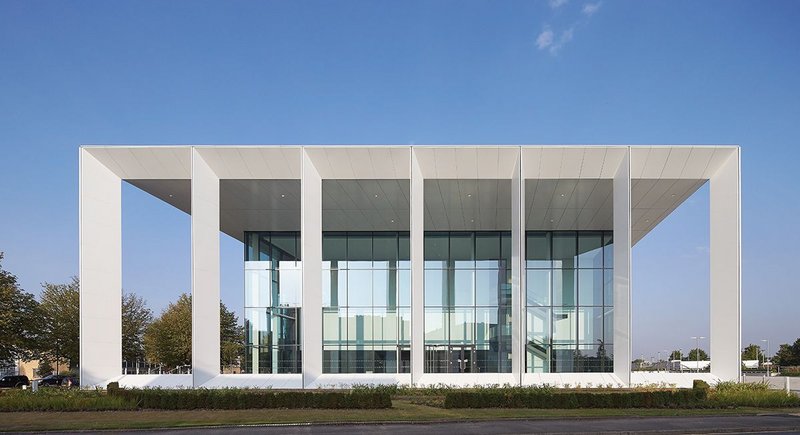 Flanagan Lawrence stripped a 1980s building right back to its frame and extended it. Additions include an imposing entrance canopy.

Credit: Hufton + Crow
As refurbishments go, this is quite a transformation. Architect Flanagan Lawrence was tasked with creating a new gateway building at Slough Trading Estate on a site occupied by a 1970s and a 1980s building.
A previous strategy for the site had recommended complete redevelopment. Flanagan Lawrence, however, opted to retain and extend the post-tensioned concrete frame of the newer building and create a new 6,545m2 building around it. Both basements were retained.
'Retaining the fabric has environmental and financial benefits, as does retaining the basement car park and plant room,' says Flanagan Lawrence design director Jason Flanagan. 'While there were complexities, it was refreshing to work with that and see what we could do with it. The intention was that you wouldn't be able to tell the difference between the new and old floorplates and we've achieved that.'
The floorplate was extended 40m east towards the imposing new entrance colonnade. Here, the architect – in collaboration with Dane Architectural Systems – used a Schueco FW 60+ capped system stretching 15m high with the help of 250mm deep reinforced mullions with only a single point of midspan. This is supported by a secondary steel frame.
Schueco FW 60+ (capped) was used around the other elevations, with a series of bespoke aluminium horizontal brises soleil fixed as cassette units to the south. A recessed Schueco FW 60+ pressure cap detail was used to create a 65mm dark grey shadow gap at the extremity of the cladding panels as well as concealing the actual construction joints and fixings between panels. This was used on vertical joints to all four elevations and on the parapet.
Flanagan Lawrence punctured the 15.8m wide office floors with a new full-height atrium. This was created using Schueco FW 60+ single glazing as well as Schueco FW 60+ rooflights, ensuring consistency across the scheme. Schueco AWS 65 HD doors were also incorporated.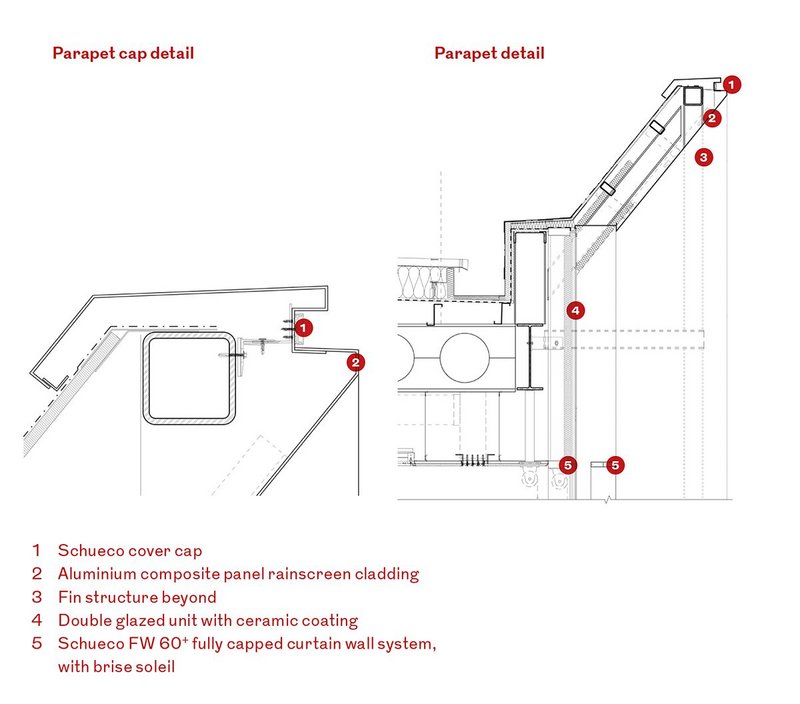 According to the architect, Schueco systems were integral to reinforcing the design intent of the project and delivering a 'clean, crisp and light' landmark building.
'People are surprised that it's a refurbishment. It's a complete transformation but we were able to reuse so much of the original,' Flanagan says.
Judges were impressed at the extent of the redesign and the high ambition of both client and architect – the building achieves a real presence on the trading estate campus.
'It's commendable for the client to not just build the lowest common denominator,' says Steven Kennedy.
---
Client: SEGRO
Architect: Flanagan Lawrence
Structural engineer: Capita Symonds
Main contractor: Wates
Specialist contractor: Dane Architectural Systems
---