Practical and elegant college building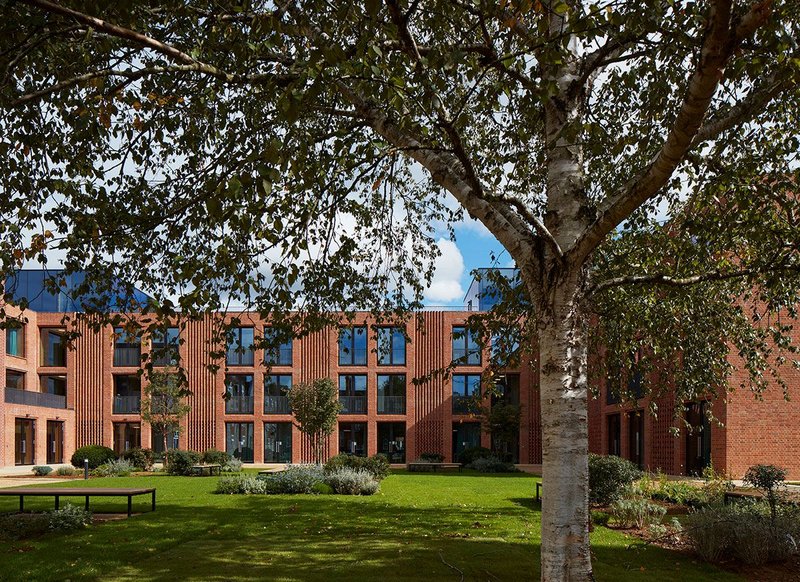 The Dorothy Garrod Building.

Credit: Dennis Gilbert
East RIBA Regional Award 2019
Walters & Cohen Architects for Newnham College, Cambridge
Contract value: Undisclosed
GIA: 6,540m²
This new building for Newnham College is a mix of student rooms, teaching spaces, staff offices and a café. The architect identified an alternative site, the back service area of the college, and this enabled it to complete the college's enclosure and create an intimate landscaped courtyard.
The building itself is both practical and elegant, drawing inspiration from its well-crafted predecessors. A concrete frame clad with large-format bricks accommodates well-proportioned, comfortable rooms and, by balancing the elevation grid with panels of open-bond brickwork, creates a feeling that is in tune with the century-old neighbouring buildings without directly referencing them. The panels are lit from behind, giving the facades additional liveliness at night.
Student rooms occupy the first and second floors, and their geometry is cleverly used to ensure appropriate privacy while retaining a feeling of openness and light. Supervision rooms and other teaching spaces are on the ground floor, as are staff offices and a very popular café. The rooftop gym is a special space, giving memorable views across the college buildings and grounds.
The new building is perfectly positioned to accommodate the main college entrance and porter's lodge. It creates a new spine through the college, starting with a delightful, small enclosed garden space. There is also a strong visual connection to the new main courtyard at the junction with the existing college buildings, which facilitates the integration of new and old.
Building of the Year