Glorious ruined folly rebuilt, or a concrete villa?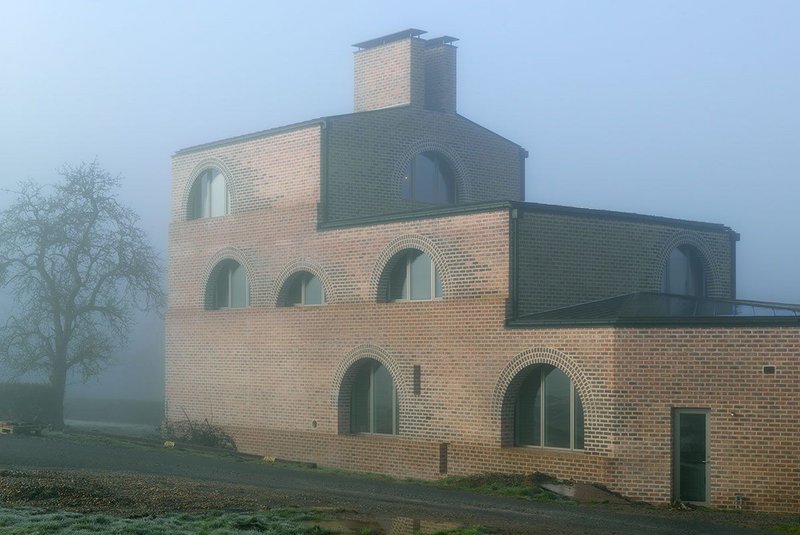 Nithurst Farm, West Sussex.

Credit: Katie Lock
South East Regional Award 2019
Adam Richards Architects for Adam Richards
Contract value: Undisclosed
GIA: 397m²
Poetically located in a secluded valley Nithurst Farm occupies the site of a former farm house, existing outbuildings and adjacent ribbon lawn. From a distance, its form conjures allusions to the defensive farm buildings of Italy. Its skin is of traditional bricks, laid in wide-jointed, lime mortar. These wide joints increase the structure's sense of mass and strange, dark arched windows give the feeling that you're looking at a reworked historic ruin. And as you approach, a subtle play on scale begins to become apparent - as Hugh Pearman found out when he went to view Nithurst Farm for RIBA Journal too.
Internal spaces continue this scale play and set contemporary against traditional. The boot room entrance expands into the main living space modelled on a Great Hall – but one which is abstracted. A more intimate sitting room overlooking lawn and surroundings – the 'Solar' – is accessed from here, as is the main staircase, which winds up through floors of children's and guest bedrooms, to the master suite at the top with its spectacular view over the landscape.
A limited palette of materials; concrete, timber, brick, zinc, has been carefully developed and detailed and gives clear expression of the architectural thinking behind the design. The geometry of the building's plan, and it's need for symmetry, never becomes obsessive or overbearing. This is, above all, a project about memory. You are never sure whether you are within, or looking at, a glorious ruined folly rebuilt, or a concrete villa that, over time, has acquired a guise of rural respectability. It's this intriguing, enjoyable dichotomy that successfully challenges one's perceptions of both modern and vernacular architecture.
Regional Building of the Year and shortlisted for House of the Year 2019 in October 2019