Local delight in striking form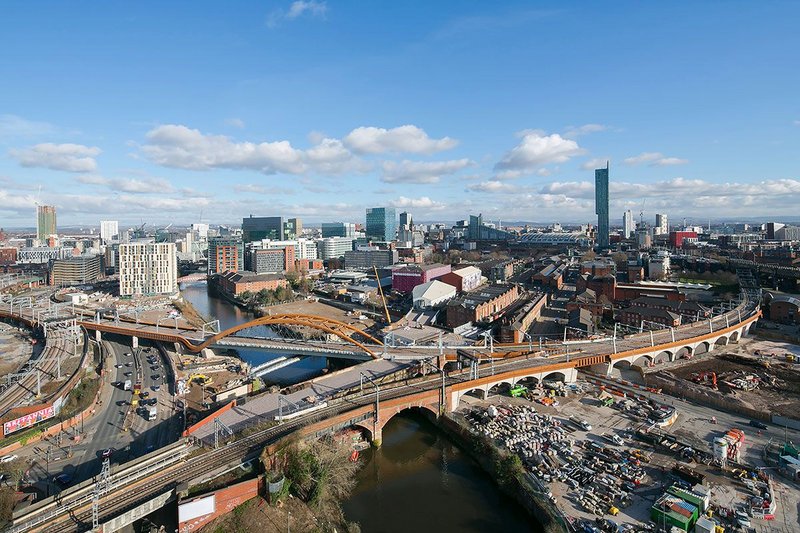 Ordsall Chord, Manchester.

Credit: Paul Karalius
North West RIBA Regional Award 2019
BDP for Network Rail
Contract value: £32m
GIA: 11,000m²
Cost per m²: £2,909
This is a series of viaducts, bridges and public spaces that link rail services across northern England to provide new routes and unlock bottlenecks. The architect's skill has helped detangle urban space while guiding stakeholders through complex decisions. The final project brings local delight in the striking form of the new river bridge and a strong identity through its materiality and consistent detailing. The site has historical significance, intersecting George Stephenson's pioneering Liverpool to Manchester railway. Original structures have been carefully restored with new public areas adjacent to them celebrating their character and importance with accessible and versatile urban spaces.
It has brought significant enhancement of the public realm in the immediate area, which is already acting as a catalyst for wider investment and redevelopment of largely rundown, disused 'unsustainable' spaces on both sides of the River Irwell, the boundary between Manchester and Salford. The new route helps improve rail access to both cities and this will contribute to reducing car use and congestion.
Each element and space touched by the project has been carefully considered. What could have been mundane has been lifted by the application of thoughtful strategy and consistent design language.
Building of the Year