Project team's close alliance make this an unrivalled winner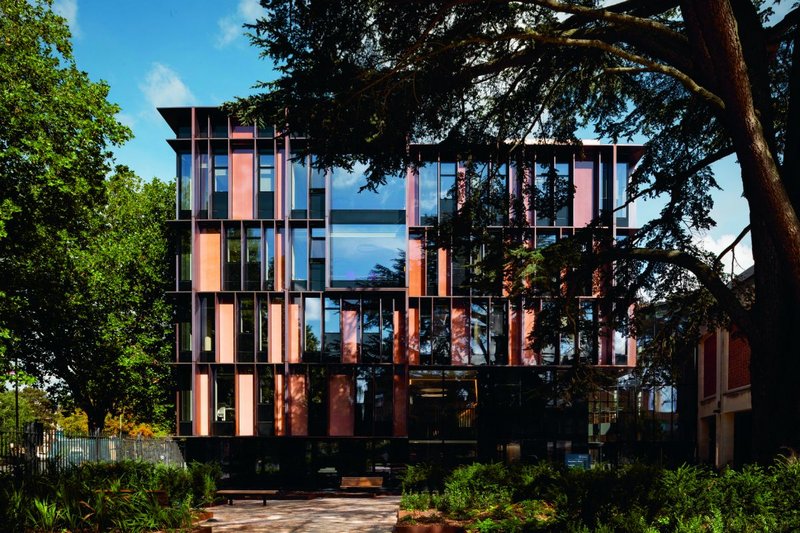 The Beecroft Building, University of Oxford, Oxford.

Credit: Jim Stephenson
South RIBA Regional Award 2019
Hawkins\Brown for University of Oxford
Contract value: £44.6m
GIA: 7,900m²
Cost per m²: £5,645
This immaculately designed building has transformed the capabilities and working behaviours of one of the largest physics departments in the world. Its sophisticated, erudite design is testament to the project team's close alliance and hard work.
The environmental and anti-vibration performance of the high specification laboratories is among the very best worldwide. Built below ground, reaching a depth of 16m, they have been exquisitely constructed with incredible care.
A combination of bronze, glass and expanded copper mesh creates a metallic rhythm to the building that is contemporary in execution while in harmony with the surrounding conservation area. The vertical emphasis and hue of the naturally weathering bronze fins embolden the facade. Large picture windows form a connection between the researchers within and the local historical context. Past, present and future are all whirred into one contemplative creation that inspires communication and a renewed thirst for innovation.
Internally, co-working areas are arranged around curving blackboards and timber balustrades, providing informal areas for discussion and debate. Metallic orbs of lighting hang like expanded, reflective atoms.
The excellent relationship between client, architect and contractor propelled this project forward to become an unrivalled winner.
Regional Building of the Year