A spiritual and cultural centre for Muslims and the wider community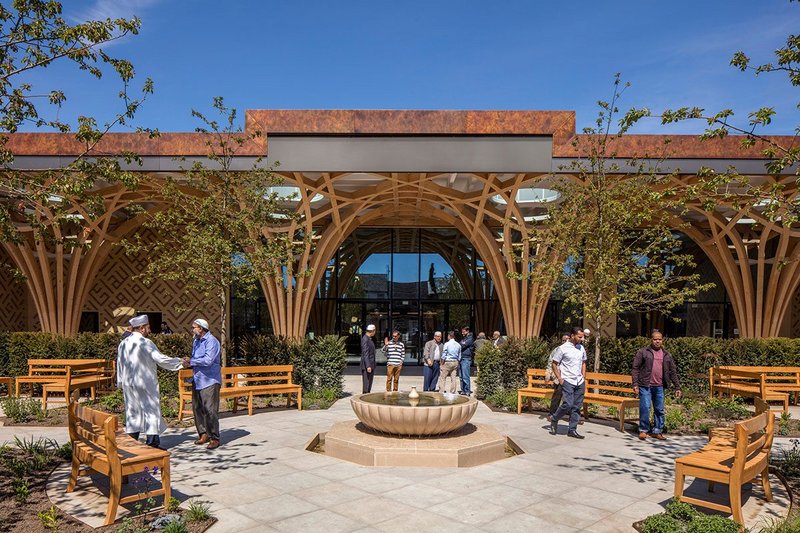 Marks Barfield Architects for Cambridge Mosque Trust
Contract value: £23.1m 
GIA: 5,207m2 
Cost per m2: £4,436
In 2009 an international design competition was launched for a 1,000 capacity mosque that was to be expressive of universal principles and highly sustainable both socially and environmentally. The building was intended to announce Islam's presence in Cambridge as a spiritual and cultural centre, not only for Muslims but also the wider community, and to be integrated into its neighbourhood.
The idea emerged of a calm oasis within a grove of trees, inspired by an image of the garden of paradise. The design was inspired by both Islamic and English religious architectural traditions – English fan vaulting and sacred Islamic geometry.
The aim was to create a building respectful of its predominantly residential surroundings, that somehow fits in and stands out at the same time. The first of the three main blocks houses the front portico, atrium and café. Set back behind an Islamic garden, it addresses the street and responds to the massing of adjacent houses. The central ablution areas are lower and allow the building services to be hidden on their roof. The prayer hall, the principal block, is set deep in the site and is oriented towards Mecca. This sequence of spaces gives a gradual transition from the mundane world of the everyday towards the calm and lofty prayer hall and an underlying spiritual reality.
The mosque's defining feature is its timber structure, chosen for its natural warmth and low embodied energy. The timber 'trees' reach up to support the roof using an interlaced octagonal lattice vault structure. The structural elements were prefabricated then assembled on site.
External walls are a CLT structure clad in brick tiles of traditional Cambridge Gault and red brick colours. They form a pattern of Arabic Kufic calligraphy, incorporating protruding headers that read 'say he is God (the) one'.