The new West Wing's form echoes the undulations of the adjacent meadows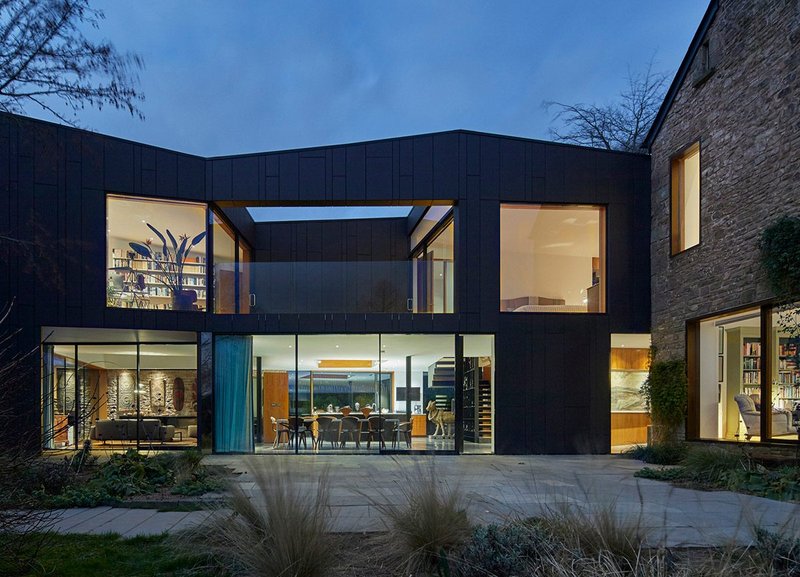 Windward House.

Credit: Paul Riddle
RIBA National Award winner 2021
RIBA South West & Wessex Award winner 2021
Building of the Year Award
---
Alison Brooks Architects for private client
A small 18th century farmhouse on an exceptionally beautiful site, the highest point of Gloucestershire, has been transformed in a four-phase programme over 10 years into a home and a gallery of Indian and African sculpture.
Windward House is a labour of love by client and architect working together with what appears to have been a complete unity of purpose. An art collection might sometimes be a sobering influence on the liveability of a home, but here the overall mood is never didactic or pompous. The house and its contents represent a near perfect amalgam of architecture, landscape, inhabitation and art that is notably poised and elegant as well as being light, fresh and airy. The overall mood is calm and assured
The project's first phase converted the farmhouse. On one side three storeys have been united into one complex new space to make a lofty but intimate display room. The original stair links a series of small rooms and culminates in a suspended landing.
The extension, larger than the original house but subordinate to it, contains a luminous interior. The architect's distinctive skewed geometries give rise to an extraordinarily complex and fully resolved play of solids and voids, and a sense of openness with carefully considered views. A beautiful staircase structure houses a grid of small sculptures. The kitchen commands the heart of the plan. Upstairs rooms – bedrooms and study – are comfortable and light. Deep brown fibre cement cladding to the new extension recalls the darkness of the nearby Forest of Dean, counterpointed by small flashes of highly polished stainless steel.
---
See the rest of the South West winners here
And all the RIBA Regional Awards here
See other RIBA National Awards 2021 winners, House, here