Factory reworking creating environments for creativity, quiet contemplation and to engage with others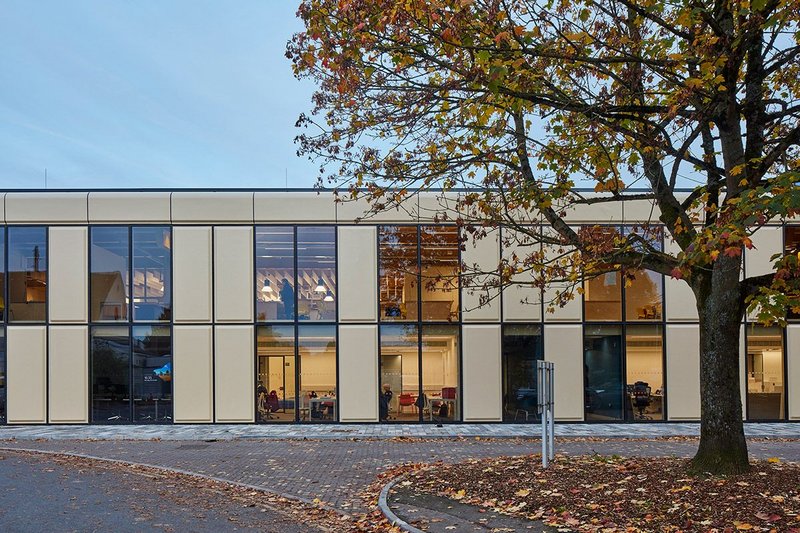 Bath Schools of Art and Design.

Credit: Paul Raftery
RIBA National Award winner 2021
RIBA South West & Wessex Award winner 2021
---
Grimshaw for Bath Spa University
Contract value: £23m
GIA: 8,500m2
Cost per m2: £2,706
In 1976, Grimshaw designed a single storey shed, a factory for furniture maker Herman Miller on a riverside site in Bath. Much admired at the time for its hi-tech architectural language, it was listed grade II. In 2016, Bath Spa University approached Grimshaw to transform the factory into its schools of art and design and in doing so upgrade it to meet 21st century environmental standards.
Grimshaw responded with enthusiasm and creativity. The result is beautiful. Dramatically improving the energy performance involved detaching, upgrading and reinstalling the external cladding panels, and replacing single glazing with high performance triple glazed units. The roof has been lifted on new Vierendeel girders and incorporates discretely set back clerestory glazing. This, and many new rooflights, brings daylight into the deep interior and cuts energy demand.
The cladding panels retain their original semi-random arrangement so that from outside, you would hardly know anything had changed, except that the building looks better than ever.
Inside, a full height internal street provides an organising nexus, and helps makes sense of the variety of large and small teaching and research spaces at ground and mezzanine levels. Interiors are open, calm and uncluttered, a huge humming machine. The 1970s structure is painted its original bright yellow. Hanging hoops, once for factory service runs, now support table tops in the open teaching areas.
This is an immensely complex project, involving multiple stakeholders, carried out with assurance and aplomb.
---
See the rest of the South West winners here
And all the RIBA Regional Awards here
See other RIBA National Awards 2021 winners, Education, here