Practice and performance areas are arranged as a three-storey acoustic box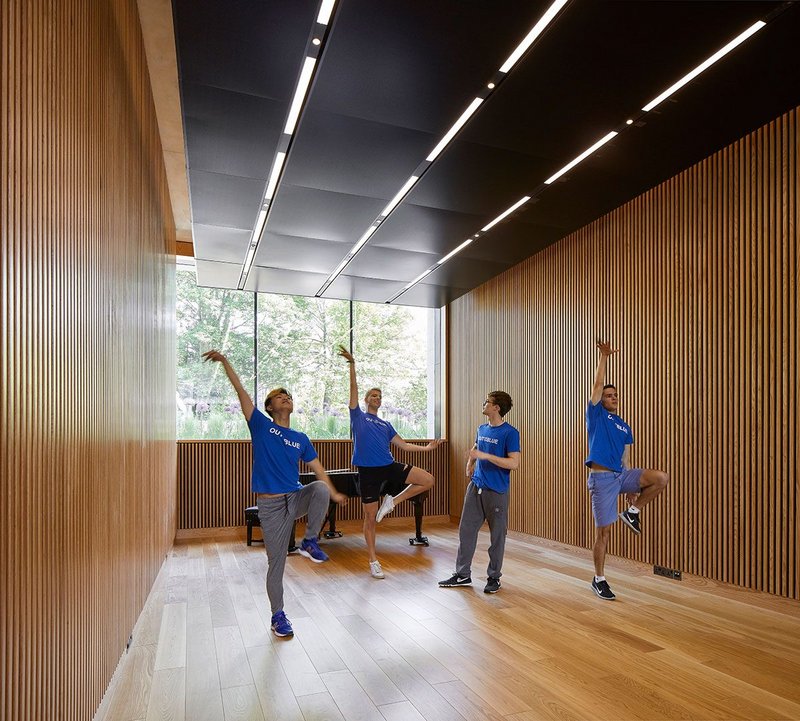 The Clore Music Studios.

Credit: Alan Crowe
RIBA National Award winner 2021
RIBA South Award winner 2021
---
John McAslan + Partners for New College, Oxford University
Contract value: £3m
GIA: 508m2
Cost per m2: £5,906
The apparently simple form of these new music studios at New College, Oxford, has been borne out of many constraints. These include planning requirements restricting the height, a Civil War rampart restricting the width, the desire to tie the building in with the adjacent accommodation, and the essential need for a lift large enough to get pianos to the top floor without sacrificing floor space.
The challenge has been successfully resolved with a stack of music studios and performance spaces that cater for the musicians' needs. These are wrapped in a stone and glass envelope that respects the streetscape well. In parts, the stonework has been worked, adding texture and detail to what could otherwise have been a flat stone box
The music studios are well considered and are arranged around a glazed atrium which unifies the new building with the adjacent existing accommodation, and rationalises the floor level differences. Internally, the studios have been designed for their acoustics to allow students to practice and develop their skills. They are naturally-lit, with the glazing factored in to ensure the optimum acoustic performance.
On the lower ground floor, the main music space has dealt successfully with the constraints of the site. Taking advantage of its generous height, high-level windows provide views both skywards and to the street through the landscaping.
---
See the rest of the South winners here
And all the RIBA Regional Awards here
See other RIBA National Awards 2021 winners, Education, here