David Walker Architects' reworked Suffolk bungalow conjures up both Nordic modernist traditions as well as something of the architect's native California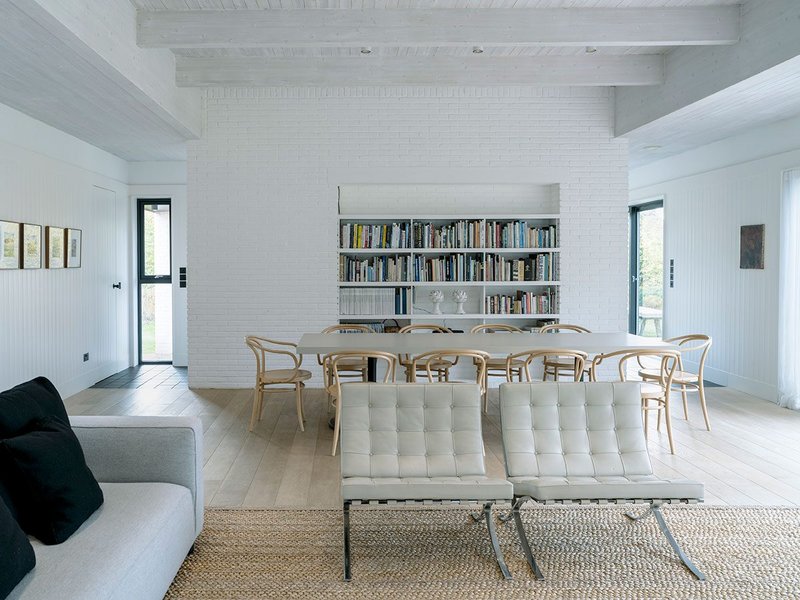 Aldeburgh House

Credit: Tim Soar
East RIBA Regional Award 2022
David Walker Architects for private client
Contract value: Confidential
GIA: 245m2
This 10-year, self-confessed 'labour of love' reinvents an unpromising 1960s bungalow on the edge of Aldeburgh's golf course.
The result conjures up both Nordic modernist traditions as well as something of the architect's native California, while also amplifying the unique setting of the house itself. Cellular interior divisions were stripped out to make a surprisingly generous sequence of spaces pivoting around an entrance courtyard. The original roof hips were removed to simplify the roof form and 'lean it' towards the surrounding rural context and away from its suburban origins.
The assured succession of domestic internal spaces is mirrored by a set of outside 'rooms' with planted and raised beds, as well as a workshop and garden room. A fabric-first approach uplifts the building envelope's thermal performance, with renewable energy provided by photovoltaics and an air source heat pump.