Strom Architects' house is a long and low-slung black box, anchored to the ground at one end, while at the other the bedroom wing extends over the falling ground level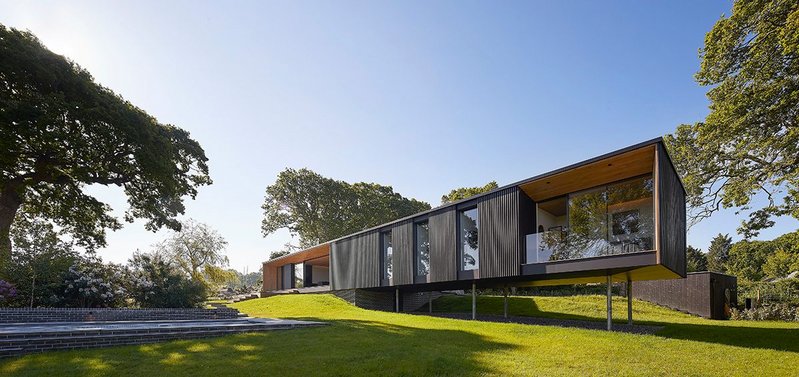 Island Rest

Credit: Nick Hufton
Strom Architects for private client
GIA: 184m²
Island Rest is humble in the wider landscape, its composition is ordered but relaxed, and it is controlled and yet seemingly effortless in detail.
The building is long and low-slung black box, anchored to the ground at one end, while at the other the bedroom wing extends over the falling ground level with a series of slender steel poles on small concrete foundation pads. The main living space had to face north towards the views out over the harbour and the Solent, so a well-judged small south-facing garden avoids the pitfalls of a single-aspect living space.
The modest steel frame was designed by the engineer-client, with a pre-cambered beam over the main windows to the living space to create a column-free span without locally increasing the beam size. Its laconic presence in the landscape is set off by a series of mature oak trees.