Small Project of the Year, this beautifully detailed extension and refurbishment by Daykin Marshall Studio sensitively responds to and enhances the original George Gilbert Scott cottage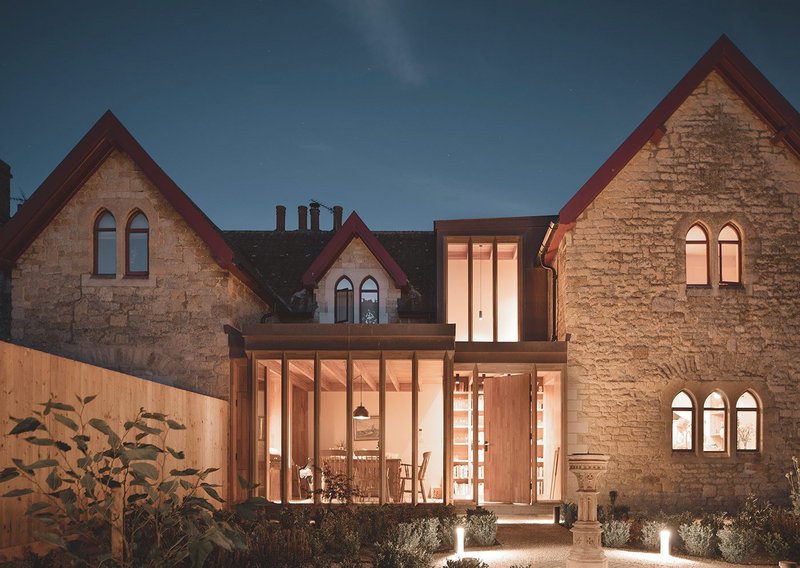 Old Four Row. Nick Dearden
RIBA East Midlands Regional Award winner
Small Project of the Year sponsored by Gaggenau
Old Four Row, Lincoln Nocton
Daykin Marshall Studio for private client
Contract value: Confidential
GIA: 83m2
Hidden away in a quiet Lincolnshire village is a small collection of buildings by the gothic revival architect George Gilbert Scott, including the church and schoolhouse along with a row of four estate cottages. These cottages date from the 1860s, follow an interlocking L-shaped plan form, and feature beautiful but eccentric neo gothic detailing.
When the client bought the end cottage it had a somewhat insensitive 1970s extension which didn't take advantage of the excellent little garden, and access to the first floor was awkward. The brief was to retain the character of the cottage but to realise its full potential with a place to dine and engage with the garden, while improving access to the first floor.
The client clearly showed great trust in the architect; the successful working relationship and the time the architect put into the work is apparent in the attention to detail.
The previous extension was replaced with a sensitive addition that feels more like a piece of furniture than a run-of-the-mill extension. There is now a dining area with entrance out and views across the garden. Rising from here into a new first-floor glazed extension are the new stairs. Spatially, these simple additions unlock the potential for how such a small cottage can be best used, but the real delight in the project is the choice of materials, their detailing, and their ability to do so much in such a small space.
The windows' timber mullions are faceted to appear more delicate and let in more light, but they are also structural and developed in close collaboration with the timber frame specialist. Timber roof trusses aligned with the mullions run across the dining room ceiling and then abut thin timber columns of the same rhythm. These also form the vertical elements of a bookcase which doubles as a balustrade for the stairs. All this is in oak glulam, chosen for its dimensional stability and the sustainable use of smaller sections of timber. The copper-clad roof, metal fixtures and fittings, and the brown glazed brick floor all beautifully complement each other.
The existing house was refurbished with slimline double glazing and other thermal performance improvements where possible, with an air-source heat pump neatly hidden away in the garden, the layout of which, also designed by the architect, beautifully complements the architecture.
This Small Project of the Year demonstrates how a small listed building can be sustainably retrofitted with high-quality modern interventions, without losing any of its original character – in fact the modern intervention enhances it.
Contractor: D Hatcher & Sons
Structural engineer: Momentunm Consulting Engineers
Environmental / M&E engineer: Matrix Energy
Timber frame contractor: Cowley Timber + Partners