A client's love of mid century design and desire for a sustainable, low maintenance home has produced Levitate's high quality, atmospheric house in a leafy conservation area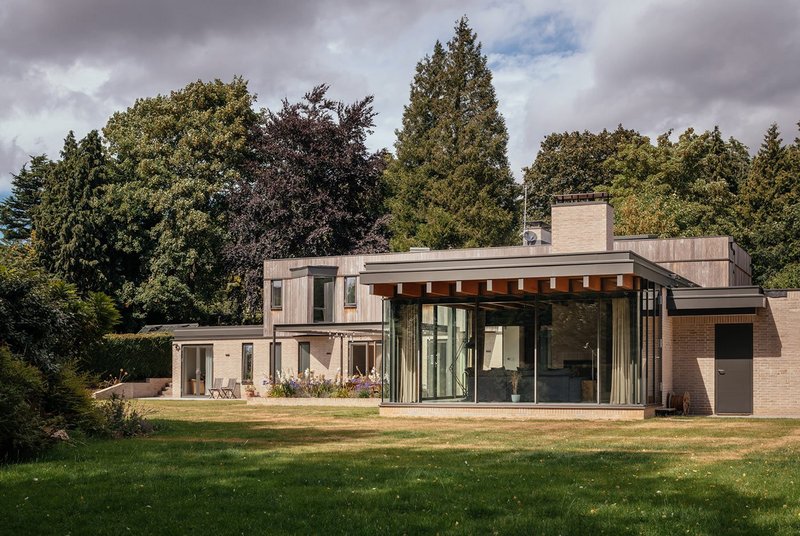 Maple Lodge. Jim Stephenson
RIBA East Midlands Regional Award winner
Levitate for private client
Contract value: Confidential
GIA: 433m2
The client bought a dilapidated bungalow with the aspiration of building a family home, inspired by a love of Scandinavian and Californian architecture and design from the mid-20th century.
Presenting itself to the street as a humble single-storey building, the house fully reveals itself as you enter and look down, through a double-height space with full-height window, onto the garden. Timber steps lead down into the living space. By cutting into the slope of the site, the house orientates itself to the garden, giving a calm atmosphere, light and unexpected views.
Two-storey parts of the house have bedrooms, study, and ancillary accommodation, as well as the upper-floor entrance, while the single-storey pavilion that extends into the garden houses the kitchen, dining, and living space. The two are connected with the double-height space which, despite its height, feels like the heart of the home.
The influence of Jørn Utzon's Ahm House in Harpenden, Hertfordshire, on Maple Lodge is clear. Exposed glulam beams and internally exposed brickwork are an honest material response, yet feel warm and comforting. Externally the timber and brick, along with extensive glazing to the garden, are influenced by the rooms and uses within.
There has been very little compromise in detailing or choice of materials, giving the house an ambitious and high-quality finish as well as an atmosphere and character which significantly improves its occupants' wellbeing.
This sustainable and low-maintenance home benefits from solar gains to its well-insulated and airtight fabric, along with air-source heat pump and mechanical ventilation with heat recovery, roof-mounted photovoltaic panels (which can hardly be seen from the ground), rainwater recycling for the garden and green roofs for enhanced biodiversity.
All this is within the setting of a conservation area, characterised by its early 20th-century development of fine houses, large plots and impressive gardens, befitting of the time and their owners. As the Conservation Area Appraisal states, 'The challenge for the future is to allow the area to adapt while ensuring that its sense of place is maintained.' Maple Lodge should be seen as an excellent example of how this can be achieved, a fine and generous family home.
Contractor: Yan Clayton Building Contractor
Structural engineer: Morph Structures
Staircase balustrade engineer: Allt Engineering
Cost consultant: RJA Consultants