This new visitor centre and landscaping by Simpson & Brown with Landscape Projects is a worthy winner of both the region's Building of the Year and its Conservation Award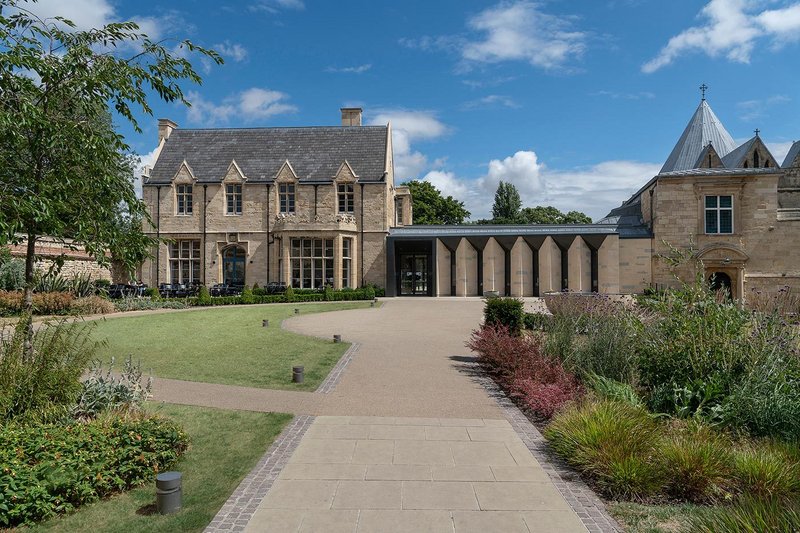 Lincoln Cathedral Visitor Centre. Giles Rocholl
RIBA East Midlands Regional Award winner
Regional Building of the Year, sponsored by EH Smith
Regional Conservation Award
Lincoln Cathedral Visitor Centre, Lincoln
Simpson & Brown with Landscape Projects for Lincoln Cathedral
Contract value: £3.2m
GIA: 1,685m2
Cost per m2: £1,900
Any historic building of significance that needs to attract visitors to both engage with and sustain it, will often struggle to provide for their needs, such as café, toilets, and shop, if they are also forced into the heritage asset. Moving these into nearby accommodation is the standard practice these days, but at Lincoln Cathedral this has been achieved with subtle elegance.
Visitors still enter the cathedral as before, but as they come to the end of their journey, they are now taken to and through a new visitor centre to the north. Taking advantage of an underused and relatively inaccessible yard, as well as an under-loved grade II-listed former deanery – and more recently the Minster School – on the far side of the yard, the architect has created an end to the visitor experience that complements the cathedral while offering moments of delight all of its own.
Leaving the historic cloister and passing through a medieval door, you enter the new extension via a modern 'slype' or covered walkway. From there, the route passes up and through the interpretation gallery with its 12th-century Romanesque frieze (relocated from the west front of the cathedral to protect it from further deterioration) and into the shop. Beyond the shop is the café, now located in the former deanery which has been beautifully renovated to also include community rooms and offices. Beyond this is the education centre.
Attention to detail, combined with a refined palette of materials, contributes to the sense of delight. Elegant timber joinery mediates between stone from the cathedral quarry and the bronze used throughout the interior and exterior. New buildings touch the old lightly, with subtle shadow gaps in the floor tiles, or lightweight rooflight flashing delicately tucked beneath the existing roof flashings. A diagonal motif from the cathedral has been replicated throughout the new centre, adding character to the external bronze cladding.
But this elegance and subtlety also comes with interesting forms and moments of joy, whether it's the dynamic angled roof of the gallery, created by the existing angles of the site, or the incidental views back towards the cathedral itself.
Visitors pass through the new Dean's Green as they leave the centre, which improves accessibility around the cathedral and gives a tranquil new green space to the community.
The repurposing of existing buildings, use of timber structure, and replacing of harsh hard landscaped areas with soft landscaping all help the centre, not just from a sustainability perspective.
Reinvigoration of the former deanery as an integral part of the cathedral, along with the sensitive nature of the contemporary interventions, certainly makes the centre worthy of the Regional Conservation Award.
The Lincoln Cathedral Visitor Centre has social and economic benefits for both the cathedral and the city of Lincoln, delivered within a refined and elegant example of conservation architecture that is as joyful as it is appropriately humble. This is without doubt fully deserving of the title Regional Building of the Year.
Contractor: William Birch & Sons
Structural engineer: Elliott Wood
Landscape architect: Landscape Projects
Project management: Cragg Management