Exquisitely restored interiors provide an immersive experience alongside reinvented public space in Hawkins\Brown's refurbishment that reveals a commitment to history and craftsmanship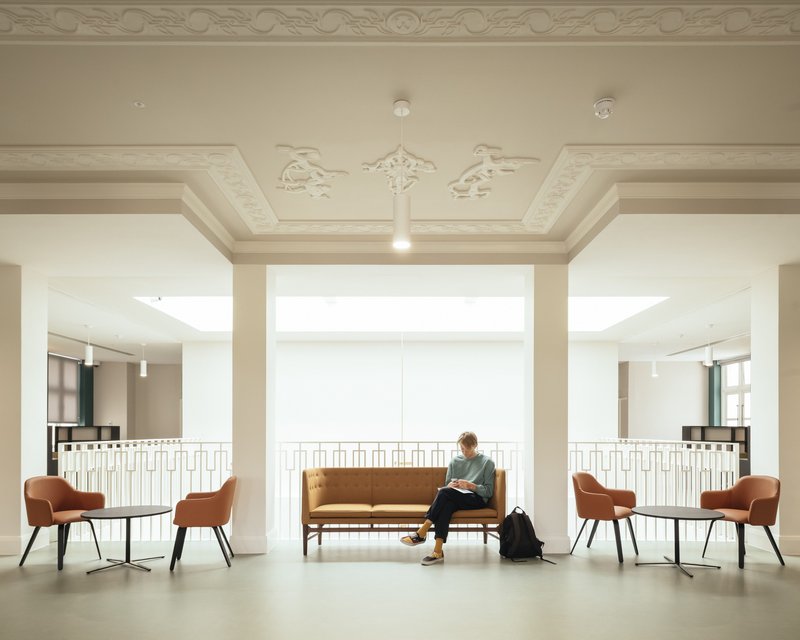 Waltham Forest Town Hall. Credit: Jim Stephenson
RIBA East London Regional Awards winner
Waltham Forest Town Hall, Walthamstow
Hawkins\Brown for London Borough of Waltham Forest
Contract value: £21.9m
GIA: 6984m2
Cost per m2: £3,136
The elegant, grade II-listed Waltham Forest Town Hall in Walthamstow (completed in 1942) has been beautifully restored by Hawkins\Brown, and the civic campus transformed into an incredible new setting, as part of the first phase of a wider masterplan.
The majestic open space of the square and the exterior of the hall form an impressive introduction to the exquisitely restored interiors within, providing an immersive experience. The Portland stone exterior with its giant central portico provides a grand entrance. This step-back-in-time moment continues inside the building with fine interiors including terrazzo and stone floors, plasterwork detailing, timber and cork panelling, metal balustradesand striking light fittings.
The interiors showcase the materials and form of the original building details, and demonstrate a commitment to history and craftsmanship. Original features have been exposed and repaired alongside complementary new additions. Archive records, collaboration with a local museum, in situ findings, and local craftspeople helped to successfully deliver the reconstruction. New signage, balustrades, and other detailing have been tastefully designed, capturing the time, spirit, and function of the building.
The internal space was remodelled to remove previous partitions and create open, light-filled spaces for council staff and for community events. New glazing and blinds assist the modern upgrade, which respects the existing fabric.
At the front of the town hall, Fellowship Square has undergone a complete makeover, reinvented as a space for all. The old fountain and vehicle routes have been replaced by a new water feature and pedestrian/cycling areas. This space genuinely caters for the community, and is alive with everyday activities – markets, cultural festivals, performances, yoga, and water play. Both the refurbishment of the building and remodelling of the square have given new life to the entire campus.
The project is a superb example of tasteful, sensitive, and innovative reinvention of historic buildings. It delivers flexibility of use while preserving and enhancing the existing features. By involving the community, using local craftspeople (for additional economic and social impact), and working with the local museum, the identity of the place has been significantly enhanced.
This reinvention should serve as example for similar spaces nationally. It strengthens the relationship between historic buildings, open spaces, local authorities, workers, communities, local cultural institutions, and local businesses – successfully promoting social and heritage values for generations to come.
See the rest of the RIBA East London winners here. And all the RIBA Regional Awards here.
If you want to understand the whole RIBA Awards process visit architecture.com
RIBA Regional Awards 2023 sponsored by Gaggenau, EH Smith and Autodesk
Contractor: ISG
Structural engineer: Ramboll
Environmental / M&E engineer: Ramboll
Quantity surveyor / cost consultant: AECOM
Interior design: Hawkins\Brown
Project management: Turner & Townsend
Planning and heritage consultant: Montagu Evans
External lighting design: Pritchard Themis
Wayfinding and signage: de Pass Montgomery
Inclusive design consultant: Lord Consultants
Security consultant: D. J. Goode & Associates
Conservation architect for external stonework: James MackIntosh Architects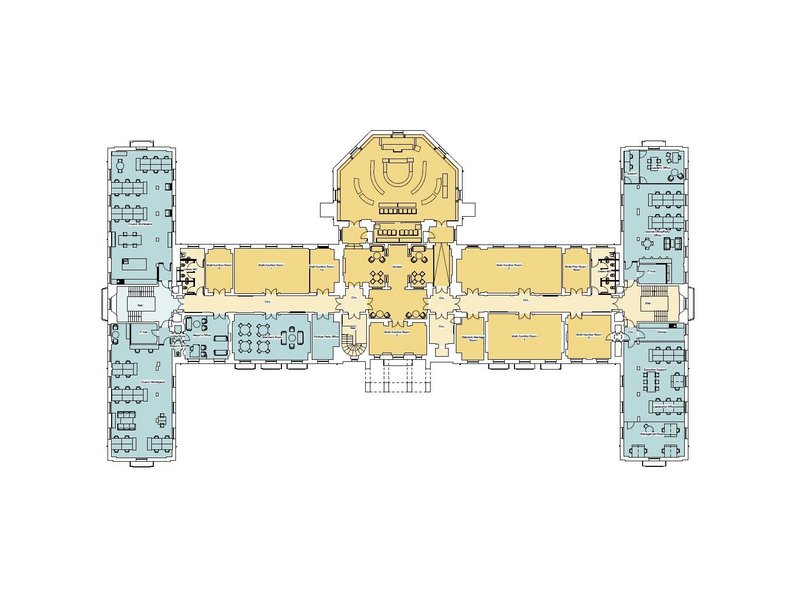 Credit: Hawkins\Brown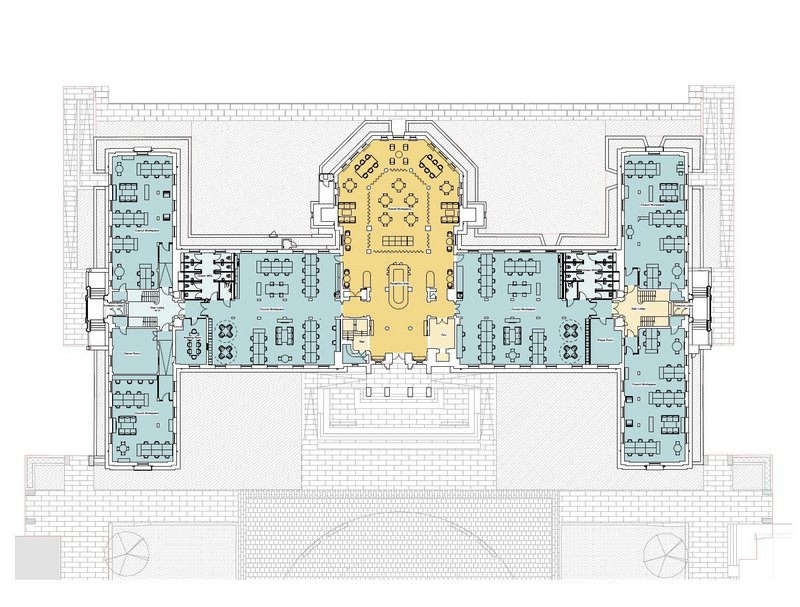 Credit: Hawkins\Brown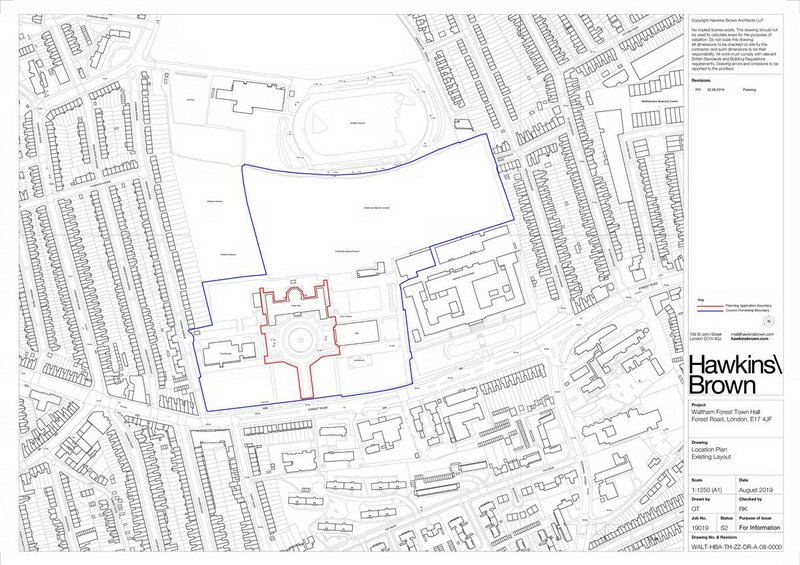 Credit: Hawkins\Brown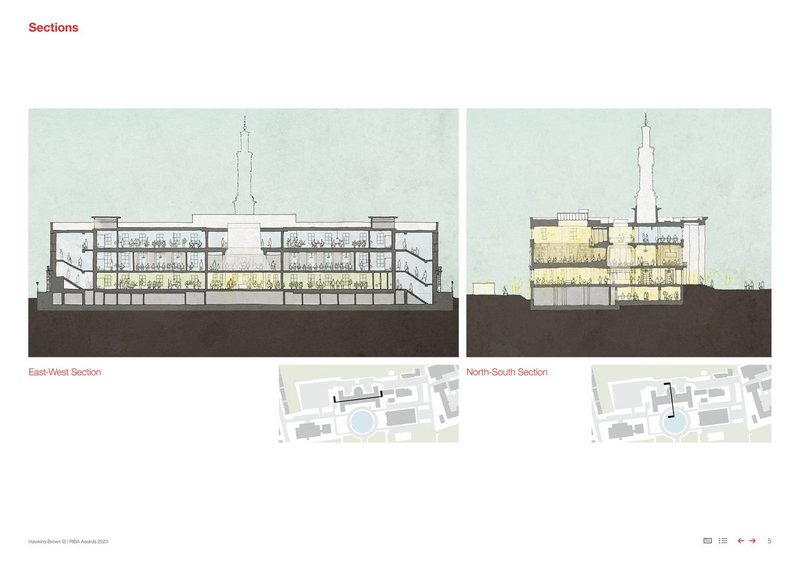 Credit: Hawkins\Brown