A raised sleeping pod in this refurbished flat frees up living space in Proctor & Shaw Architects' Japanese-inspired design for micro-living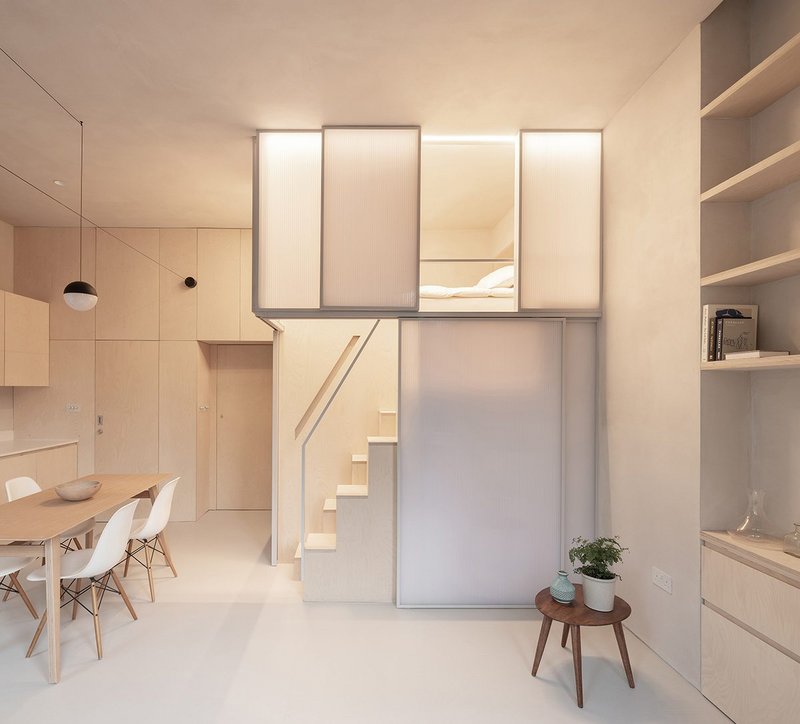 Shoji Apartment. Ståle Eriksen
RIBA West London Regional Award 2023
Shoji Apartment, Belsize Park
Proctor & Shaw Architects for private client
Contract value: Confidential
GIA: 29m2
Located within an imposing late Victorian mansion, in the Swiss Cottage area of London, is a 29m2 micro-apartment.
This project presents an affordable approach to urban living where space is at a premium. The architect, Mike Shaw of Proctor & Shaw, has cleverly manipulated the volume to turn what was a tiny, dark one-bedroom flat into a spacious, light-filled home, with carefully integrated storage. Taking advantage of the 3.4m ceiling height, in a grander-than-average Victorian building, the architect has inserted a translucent sleeping 'pod' into a corner of the room. Inspired by Japanese shoji screens, the 'pod' creates a self-contained bedroom platform, raised 2m and accessed via a plywood staircase, with a large walk-in wardrobe beneath it.
The original layout had placed the bedroom in the front bay window, relegating a much smaller living space to the darker part of the plan. By turning this on its head and moving the bedroom to the rear of the apartment, Shaw has freed up floor space and created a model for living that feels much more spacious than its 29m2 total area. The volume is wrapped in a kinetic translucent screen that can open and close to create privacy, while sharing views to the living area and to the street beyond.
What really excited the judges about the Shoji Apartment was the human-centred ergonomics of the design, which was both technically clever and spatially joyful. While the pièce de résistance is the rigorously detailed sleeping pod, the whole of the apartment has been carefully considered, from the natural birch plywood kitchen and joinery to the walls finished in clay plaster, which bring a sense of warmth. Acoustic insulation and double-glazed windows have also been employed to enhance the performance of the space in line with modern living standards.
This is an inspiring project that challenges conventional approaches to micro-living, to maximise space for both everyday life and entertaining.
See the rest of the RIBA North London winners here. And all the RIBA Regional Awards here.
To find out more about the whole RIBA Awards process visit architecture.com
RIBA Regional Awards 2023 sponsored by Gaggenau, EH Smith and Autodesk
Credits
Contractor: Roberto Nunez
Structural engineer: Jenson Hunt Design