Architype's school generates more energy than it uses, uses bio-based materials on facades and showcases the green credentials of its Passivhaus Plus design around the student-centric building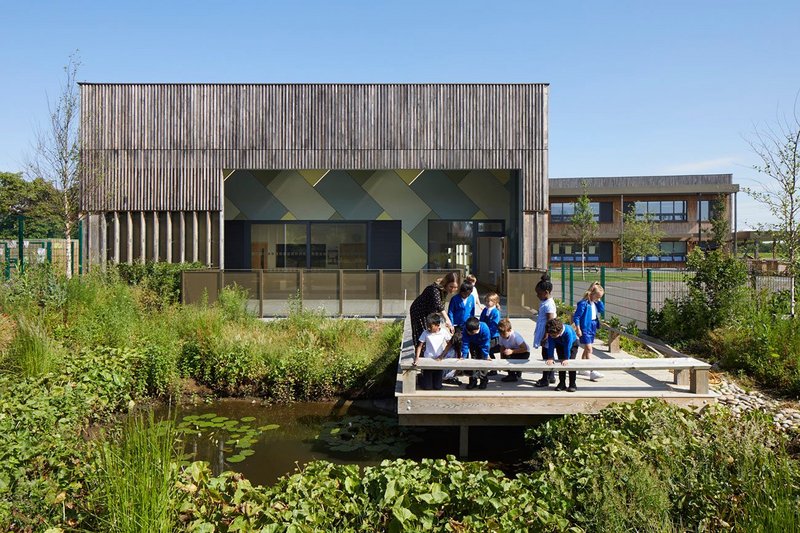 Hackbridge Primary School. Jack Hobhouse
RIBA South West London Regional Award winner
Hackbridge Primary School, Wallington
Architype for London Borough of Sutton
Contract value: Confidential
GIA: 1865m2
Set on a wetlands area of Metropolitan Open Land (MOL) in the London Borough of Sutton, the site of Hackbridge Primary School has been designed effectively and with careful consideration to the community and its setting. The school has been designed by Architype to a Passivhaus Plus standard, with renewable energy provided by a ground source heat pump and extensive photovoltaic (PV) installation, actively generating more energy than it uses.
The welcoming approach to the school, which sits adjacent to the BedZED development, is complemented by a simple palette of natural, bio-based materials applied to the facades. This predominantly consists of a lightweight Larsen truss timber frame clad in beautiful chestnut and a delicate pattern of computer numerically controlled (CNC) precision-cut timber; the building is reflective of the surrounding context and natural landscape. Internally this is continued through the application of birch-faced plywood corridors and a polished 70% recycled ground granulated blast-furnace slag (GGBS) concrete floors throughout, with pockets of large windows that create views across the surrounding landscape.
Student-centric design has been incorporated: everything from handrail heights to notice boards and internal finishes has the student in mind. As the judges walked through the school they were struck by the real sense of energy about the corridors, with activities continuously happening all around the efficient circulation routes that have been created by carefully considered and effective internal adjacencies. This is evidently beneficial to the building's occupants and children were welcoming throughout the judges' tour.
The building's green credentials are showcased around the school and are used to enrich the curriculum and create environmental awareness. Good daylight reaches into all the classrooms and key junctions around the school. Hackbridge Primary School has effectively and successfully merged a Passivhaus Plus design and an education facility. With a ground-source heat pump and inter-seasonal store, which provides free heating and cooling all year round, it is a good example of how we can embed environmental consciousness in our schools and the next generation.
Client London Borough of Sutton
Contractor Willmott Dixon
Structural engineer Price & Myers
Landscape architect Churchman Thornhill Finch
Timber frame Cygnum
Environmental / M&E engineer Elementa
Quantity surveyor / cost consultant Synergy
See the rest of the RIBA London South West winners here. And all the RIBA Regional Awards here.
If you want to understand the whole RIBA Awards process visit architecture.com
RIBA Regional Awards 2023 sponsored by Gaggenau, EH Smith and Autodesk