An intriguing house unfolds behind a humble street frontage to show how a disused and awkwardly-shaped brownfield site can be returned to good use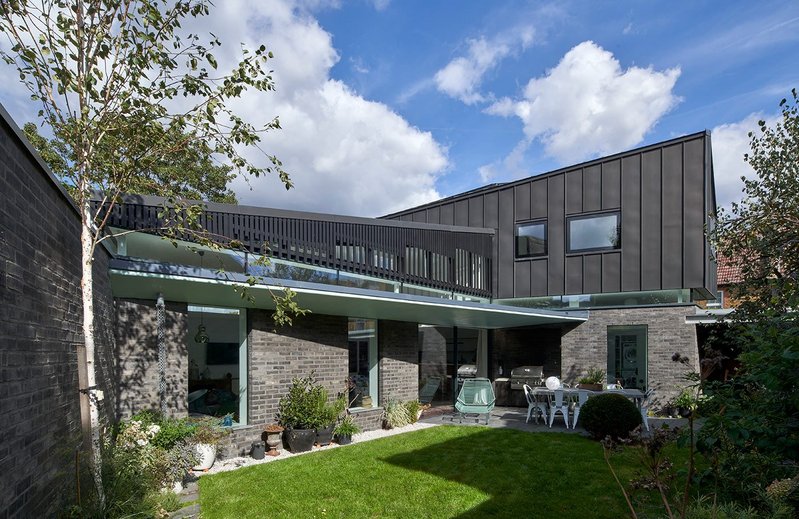 Threefold House. Edmund Sumner
RIBA South West London Regional Award winner
Threefold House, Teddington
Knox Bhavan Architects for private client
Contract value: Confidential
GIA: 316m2
Located in the centre of Teddington, Threefold House overcomes a plethora of challenges, expertly illustrating how a redundant and odd-shaped brownfield site can be put back into good use. Hidden from view at street level, the house is built around three planted courtyards which provide daylight, ventilation, and a beautiful outlook for the ground-floor accommodation. A humble street frontage barely hints at the intrigue inside and the excellent use of the site to create a dynamic layout.
The welcoming entrance lobby surprises new arrivals with a varied layout that employs the geometry of the house, providing multiple different sightlines and views through rooms from one courtyard to another. Every space is well thought through with carefully positioned windows.
The courtyard at the 'narrow' point of the triangle is a private garden for the principal bedroom. In the centre of the house, a small white glazed brick rhombus courtyard provides a focus for the front hall and study and an outlook from the main living space.
At the 'wide' end of the triangle is a large trapezoidal courtyard providing a larger south-facing garden that opens out from the sitting room. A garage and potting area sit on the other side of this largest courtyard, creating privacy from neighbours on the south side. The first floor is timber framed, with thick insulation between the I-joists, to form the walls and roof. These are supported off a slender steel frame. This lightweight construction is clad in dark-coloured zinc panels with carefully set-out standing seams – each seam runs in the same plane continuously from the external wall (facing the street), across and over the pitched roof, and down onto the adjoining sitting-room roof below.
Considering that the project was developed with the client abroad and over lockdown, it is to the architect's credit that it so successfully reflects the homeowners' identities, with objects and artefacts that celebrate their travels and time spent living elsewhere in the world dotted around the house. In particular, the judges thought that the project makes excellent use of the site to create a dynamic layout that slowly reveals the house as it is explored.
Contractor Analytic Building Contractors Ltd
Structural engineer Structure Workshop
Environmental / M&E engineer Oakley M&E Design
Landscape architect David Robinson Garden Design
See the rest of the RIBA London South West winners here. And all the RIBA Regional Awards here.
If you want to understand the whole RIBA Awards process visit architecture.com
RIBA Regional Awards 2023 sponsored by Gaggenau, EH Smith and Autodesk