More than 60 artists now have space in Studio Voltaire, refurbished and reorganised by Matheson Whiteley in a community-led project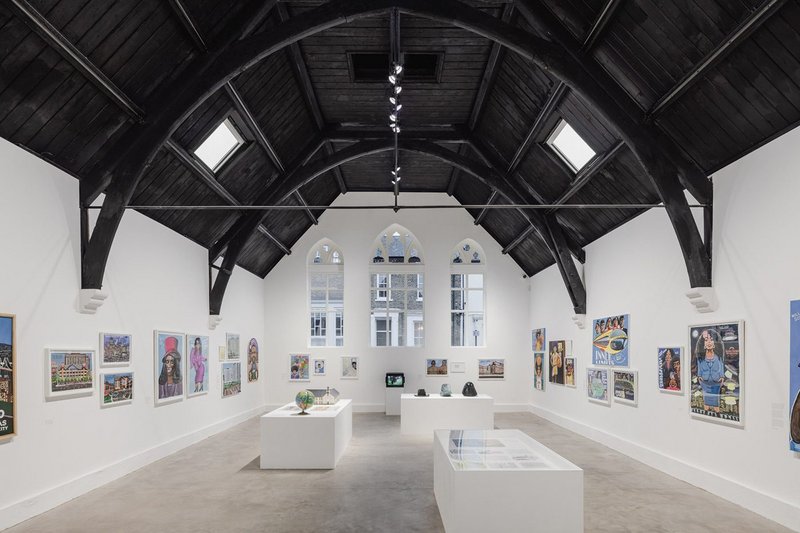 Studio Voltaire. Maris Mazulis
RIBA South West London Regional Award winner
Studio Voltaire, Clapham
Matheson Whiteley for Studio Voltaire
Contract value: £1.8m
GIA: 135 m2
Cost per m2: £1,334
This transformation of Studio Voltaire's Clapham site has significantly increased the amount and quality of support that one of the UK's leading not-for-profit arts organisations can offer to artists. Now providing workspace for more than 60 artists, it delivers 42% more artists' studios, providing affordable, high-quality spaces, together with a gallery and other facilities.
Taken on by the organisation in the late 1990s, Studio Voltaire's buildings had fallen into desperate need of repair, and the building was not fulfilling its potential. There was a need for it to support more integration with the local area, enticing the local community in while maximising the amount of purpose-built workspace for artists.
An innovative approach has been taken to creating new floor space for the working gallery by revisiting the building's existing roof lines, and accessibility challenges have been resolved to provide a new street frontage incorporating the public domain. Artists' spaces have been designed to accommodate and include a variety of artistic uses. On-site artists now benefit from their own kitchen and social space, production workshop, and two live/work units for international and regional residencies. A new garden designed by the artist Anthea Hamilton leads to a new public entrance, a space which contains a gallery, a café and a permanent retail area for House of Voltaire, all to be explored and enjoyed by the public.
A humble and robust materials choice has led to a sympathetic refurbishment of the old church hall, and efficient use of the budget has allowed Studio Voltaire to create a big impact.
Studio Voltaire is recognised and applauded by the judges as being very much a community-led project.
Client Studio Voltaire
Contractor Two Work Ltd
Structural engineer Structure Workshop
Environmental / M&E engineer Richie & Daffin
Quantity surveyor / cost consultant Stockdale
Access consultant People Friendly Design
Graphic designer A Practice for Everyday Life
Building control inspector Meridian
See the rest of the RIBA London South West winners here. And all the RIBA Regional Awards here.
If you want to understand the whole RIBA Awards process visit architecture.com
RIBA Regional Awards 2023 sponsored by Gaggenau, EH Smith and Autodesk