Haworth Tompkins' revamp seeks to untangle the circulation of the 1812 building, unlocking its history while creating a very modern theatre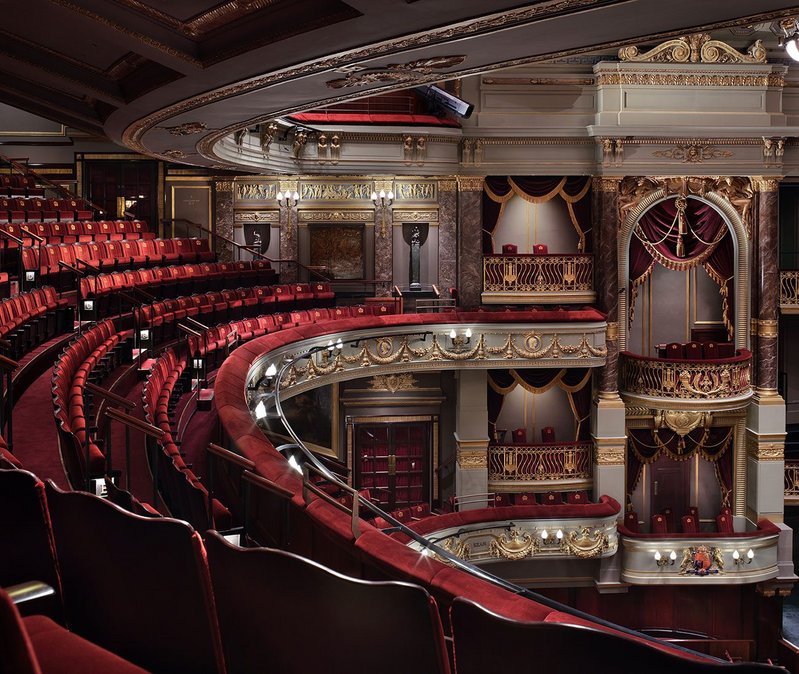 Theatre Royal Drury Lane.

Credit: Philip Vile
RIBA West London Regional Award 2023
Theatre Royal Drury Lane, Covent Garden
Haworth Tompkins for LW Theatres
Contract value: £44 million
GIA: 11,630m2
Cost per m2: £3,783
The Theatre Royal Drury Lane is a Grade I-listed building located on a site in London's West End, which has been home to a theatre since 1663. The current theatre dates from 1812 with the auditorium rebuilt in 1922. The most recent restoration, by Haworth Tompkins, sought to untangle the circulation within the theatre and open it up to the public.
These latest interventions to the theatre are transformative, opening up the main entrance to make the building fully accessible for the first time and providing legible and coherent circulation that enhances the visitor experience. Previously the routes into the auditorium were convoluted, due to an awkward 1922 auditorium insertion, but Haworth Tompkins' scheme now brings all visitors through the main foyer, with a new corridor providing a direct link to the stalls. This was achieved through significant structural modifications, which removed the back of the auditorium and a number of existing seats.

In order to offset the loss of revenue from fewer seats, the auditorium sightlines have been skilfully adapted to eliminate some of the previously compromised views. Elsewhere in the auditorium, the edge of the balcony has been re-aligned to engage the audience with the stage in a more intimate way. This allowed services and lighting to be concealed within the balcony edge. All of these transformations are seamless and are deliberately integrated into the historic building to ensure that its heritage remains its predominant character. Haworth Tompkins has successfully unlocked the building's history and simultaneously created a very modern theatre.

Adjacent to the foyer, a former covered passageway has been transformed into a restaurant, which brings surprise and delight to the intervention as a whole by activating the building during the day, as well as immediately before and after performances.
From a sustainability perspective, the building's listed status limited what could be achieved. The project's biggest win is the embodied carbon level achieved by retaining most of the existing fabric and limiting the amount of new fabric required. The project nevertheless targeted a 50 per cent reduction in operational energy. The increased demand from the foyer now being open longer hours is offset by more efficient lighting and plant.
Credits
Client LW Theatres
Contractor GTCM
Structural engineer Conisbee
Interior design AWI
Environmental/M&E engineer Skelly & Couch
Planning consultant Tetra Tech
Transport consultant Alan Baxter
Access consultant David Bonnett Associates
Fire engineer Trenton Fire
CDM advisor PFB Construction Management Services
Project management Avison Young
Lighting consultant BDP
Acoustic engineer Charcoal Blue
Theatre consultant Charcoal Blue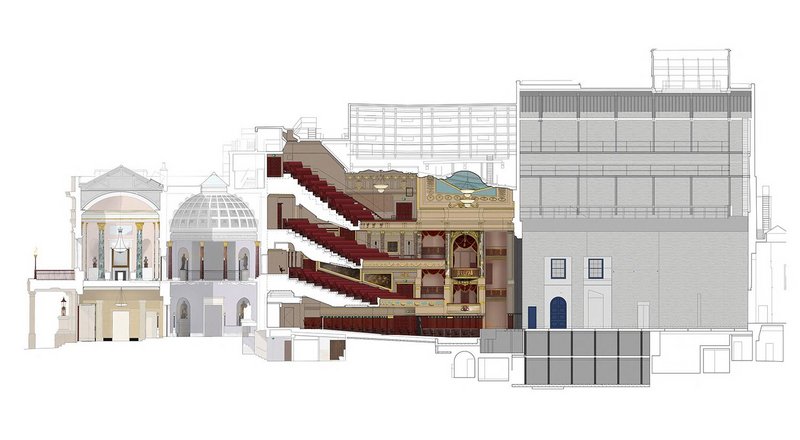 Haworth Tompkins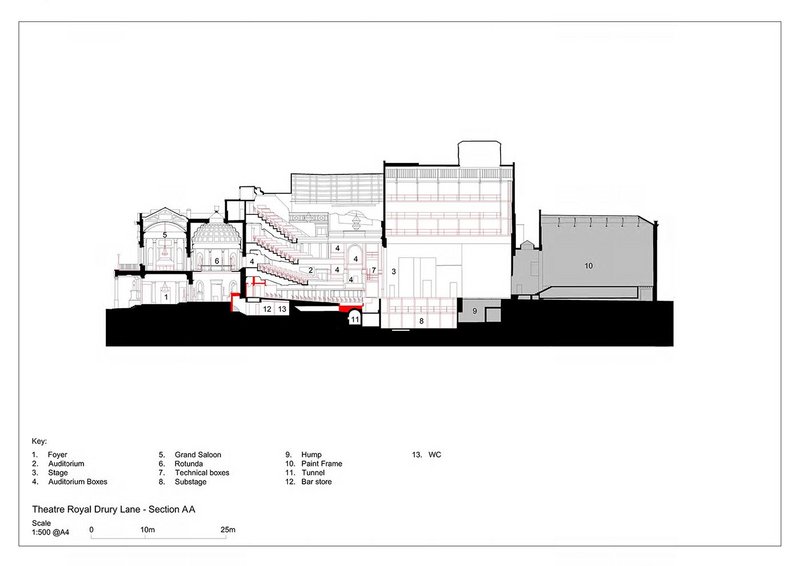 Credit: Haworth Tompkins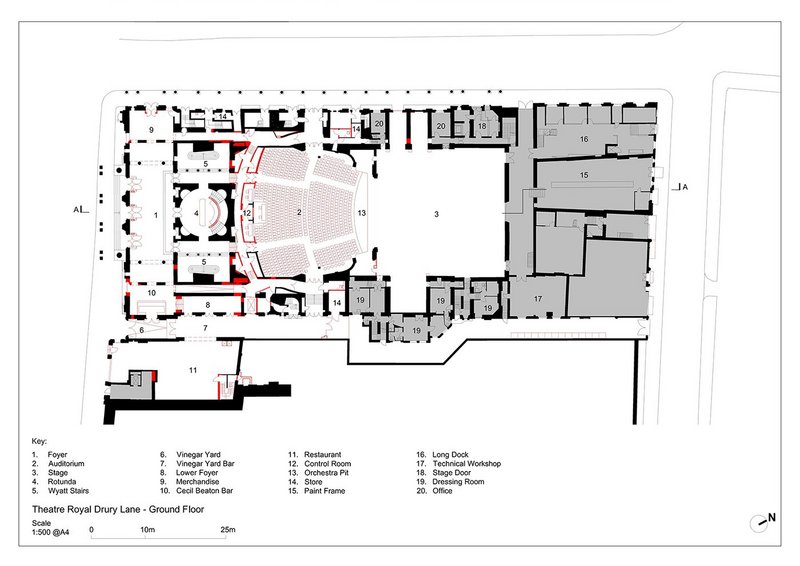 Credit: Haworth Tompkins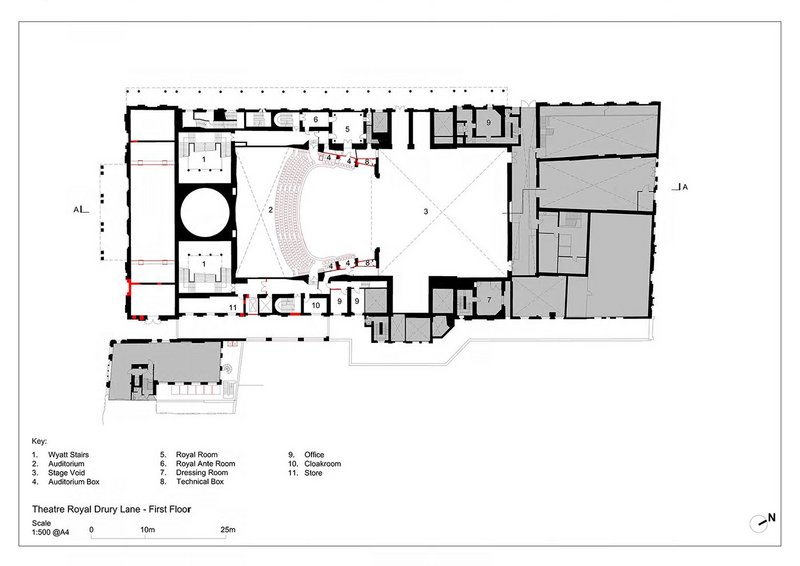 Credit: Haworth Tompkins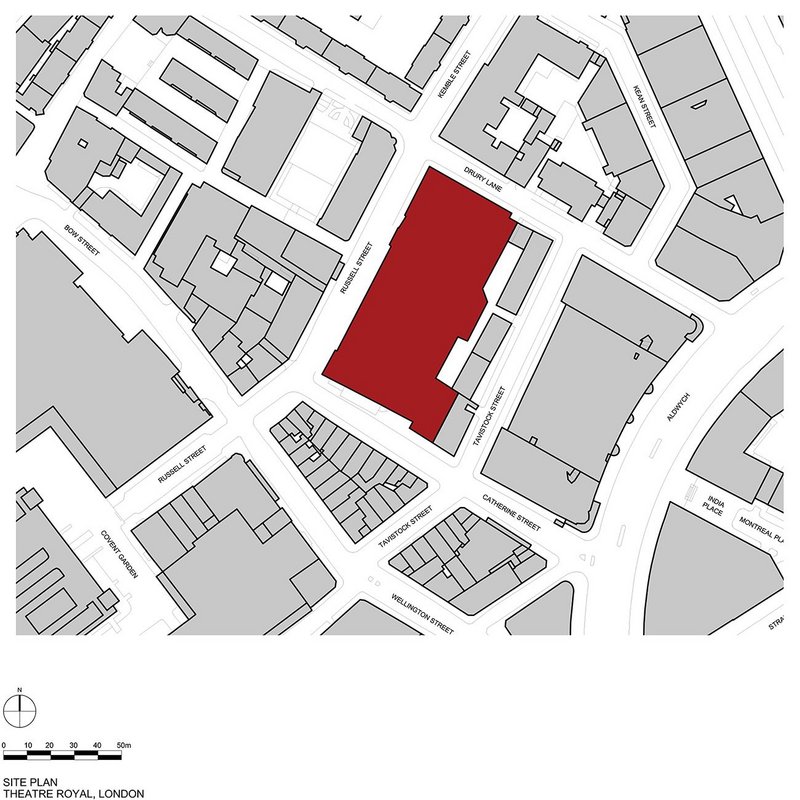 Credit: Haworth Tompkins