MOST Architecture has repurposed an industrial building to create a showroom and production facility for a manufacturer of luxury electric cars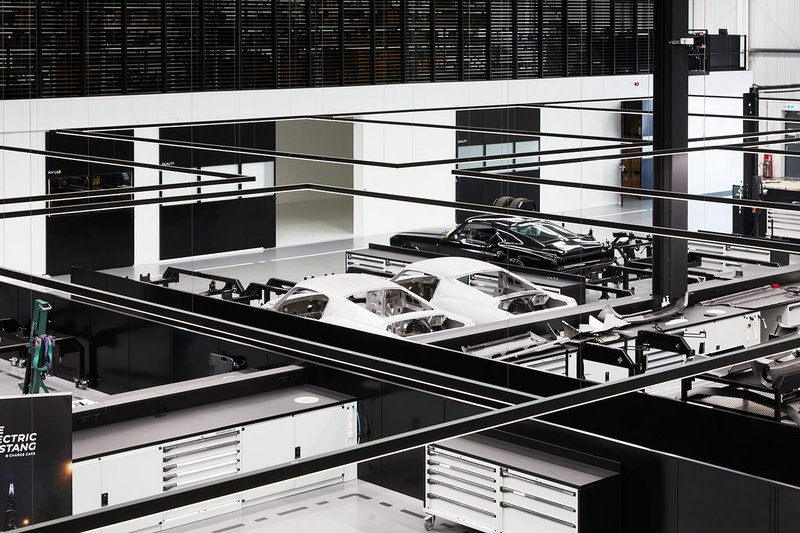 Charge Cars, Stockley.

Credit: Paul Riddle
2023 RIBA London Awards
Charge Cars, Stockley
MOST Architecture for Charge Cars
Contract value: Confidential
GIA: 2,800m2
Charge Cars is a specialist manufacturer of luxury electric cars, producing vehicles based on the 1967 Ford Mustang. MOST Architecture has designed a fit-out of their research and development and production facility in Stockley, west London, enhancing and bringing drama to an otherwise ordinary factory setting.
The project repurposes an existing industrial building in the Stockley Estate to provide new production and office accommodation for an industrial-tech startup. The project's success stems from the clear synergy and alignment between client and architect. The monochromatic interventions into the space closely reflect the client's brand, while the fit-out's spatial organisation facilitates the specific design and manufacturing processes required by the client. Bespoke light fittings and the precision of the detailing and overall coordination of the intervention closely mirror the client's approach to manufacturing.

The experience of visiting Charge Cars is immediately immersive, with the reception doubling as a gallery and photography studio. The client wanted the 'customer journey' to begin at the front door and be centred around its design and manufacture process, resulting in a rigorously conceived and deftly detailed fit-out that is in equal parts a showroom and a factory.
The production and testing areas have been arranged to meet functional needs, with design teams working in parallel from a first-floor office overlooking the 'factory floor'. In contrast to Henry Ford's production lines of mass-produced cars, Charge anticipates its customers having a personal relationship with the engineers designing and making their cars, resulting in a highly curated and striking space.
The project also provides Charge employees with an inspiring workplace that provides an abundance of amenities and welfare facilities. Harnessing utility and mastering the detail, this project demonstrates the value that architects can bring to industrial settings.
Credits
Client Charge Cars
Contractor Hansa Group
Structural engineer HLS Structural
Environmental/M&E engineer Airon
Interior concepts - Eugene Bulatnikov
Electrical engineer Smart Techno Systems
Lighting design Gaismas Magija
Lighting manufacturer Esse-Ci