This exceptionally executed extension of a Georgian listed house by Building Design Northern has won director David Hunt the RIBA North East project architect of the year award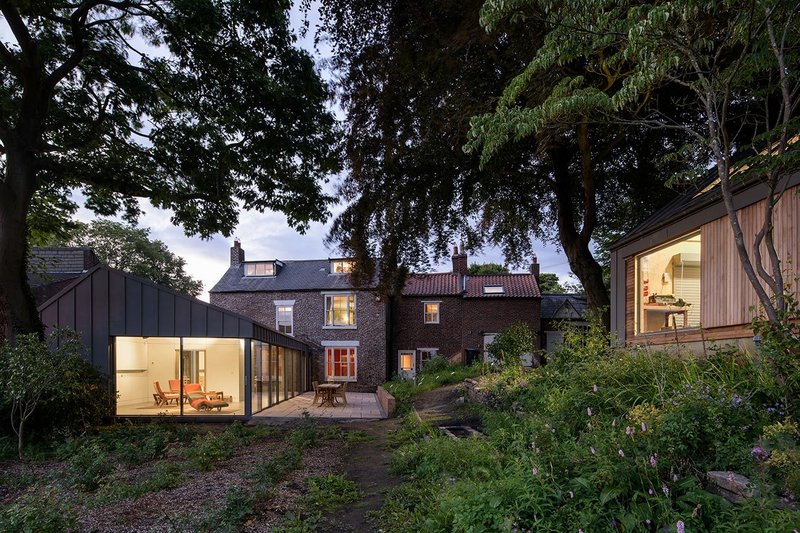 Gilesgate, Durham. Jill Tate
RIBA North East Regional Award winner
Project Architect of the Year David Hunt
Gilesgate, Durham
Building Design Northern for private client
Contract value: Confidential
GIA: 117m2
This extension to a Grade II-listed Georgian-era house in a conservation area near the centre of Durham delivers flexible spaces that can adapt to the occupants' evolving needs as they age. Its outer appearance combines subtle echoes of its context with bold contemporary materials.
Reflecting the client's own experience caring for elderly parents, the project is designed to adapt to later life, with living spaces capable of adaptation into bedroom and carer accommodation. Level access is provided throughout, as is a space for a future platform lift in the garden, which will link to the upper workshop, used to renovate classic cars and with a set-piece view of Durham Cathedral.
An extension to a listed house will always present challenges, and this responds to them all. The very specific client brief has been executed exceptionally well by the architect. The detailing – particularly the lining through of elements – is millimetre-perfect. The picture hanging feature, which extends shadow gaps around doors and windows into a grid that defines the space, is exemplary in its elegance and symbolises the full-bodied commitment to quality that can be read throughout the project.
Grey standing-seam metal panels are used for both the roof and the small areas of solid wall. Architecturally, this choice takes inspiration from the colouring of nearby buildings' slate roofs but is confidently of its time and creates a dramatic juxtaposition with the original house. Large trees and their root zones had to be negotiated, and informed the complex structural solution. The new structures effortlessly glide beneath the tree canopies, shading both the extension and the garden spaces.
Both client and architect wanted very high sustainable standards within the design, including techniques to minimise construction waste. Minimal energy demand is supported by a mechanical ventilation with heat recovery (MVHR) system, an air-source heat pump and underfloor heating.
With shutters, views, sliding corner windows, an exposed roof structure and timber door surrounds, this project has benefited from flawless consideration. It has clearly been a labour of love for the architect, and is a credit to his passion and commitment.
Overall the project has a clarity, originality and elegance that the jury found compelling – a great example of how to extend listed buildings sensitively yet confidently.
See the rest of the RIBA North East winners here. And all the RIBA Regional Awards here.
If you want to understand the whole RIBA Awards process visit architecture.com
RIBA Regional Awards 2023 sponsored by Gaggenau, EH Smith and Autodesk
Credits
Contractor STP Construction
Structural engineer Building Design (Northern)