FaulknerBrowns has delivered an inspiring and accessible new civic landmark centred around a powerfully imagined central staircase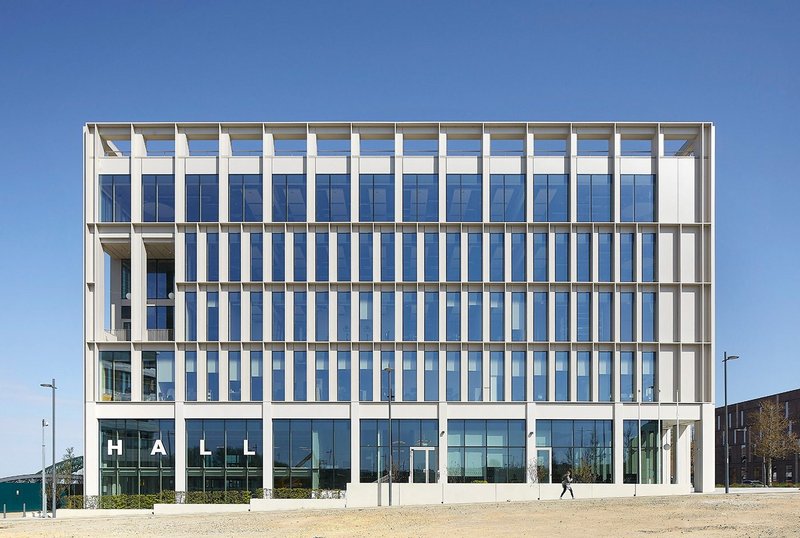 City Hall. Nick Kane
RIBA North East Regional Award winner
City Hall, Sunderland
FaulknerBrowns Architects for Sunderland City Council
Contract value: £42 million
GIA:17,480m2
Cost per m2: £2,402
The partnership between the city-council client and the architects has delivered an inspiring new civic landmark and a forward-thinking workplace. Located on Sunderland's former Vaux Brewery site, it is a bold and positive step as part of a wider vision for the city's and region's regeneration. Awareness of its physical and cultural context, and commitment to inclusivity and sustainability, all informed its design.
Key to the building's functional flow is a powerfully imagined central staircase that links to bridges through the atrium. Made of steel and finished with matt red oxide paint, it is inspired by the city's industrial heritage and draws on local craft and fabrication. The colour palette set by the staircase can be read throughout the building in finishes and joinery. Bespoke task lighting references the arc furnaces used in steelmaking. The whole project demonstrates the team's passion and commitment to detail.
One of the most impressive aspects of City Hall is its approach to inclusive design, in line with the public sector equality duty (PSED) as specified by the Equality Act 2010. Best practice in neurodiversity is seamlessly integrated into a compelling design narrative, setting a clear standard for the sector.
The primary achievement in carbon reduction is in how the building helps to enable Sunderland City Council's new hybrid workplace strategy, which has allowed it to reduce its overall estate by over 25 per cent. Sustainable principles also fed into the powerful facade design, with its panel arrangement responding to aspect and reducing heat gain. Air permeability exceeds regulatory targets. The wider masterplan has clear carbon-reduction strategies and ambitions, into which City Hall will connect.
Simple spatial moves mark out City Hall's transformative approach to public engagement. The council chamber, traditionally hidden from view, occupies a highly visible ground-floor corner facing the public realm.
The client is clearly delighted with the project, which aligns directly with its transformative ambitions for the city and the people of Sunderland.
See the rest of the RIBA North East winners here. And all the RIBA Regional Awards here.
If you want to understand the whole RIBA Awards process visit architecture.com
RIBA Regional Awards 2023 sponsored by Gaggenau, EH Smith and Autodesk
Credits
Contractor Bowmer + Kirkland
Structural engineer Cundall
Interior design FaulknerBrowns Architects
Environmental/M&E engineer Desco
Landscape architect Landscape Projects
Project management Gleeds
Access consultant Proudlock Associates
Quantity surveyor/cost consultant Gleeds