This striking house by MawsonKerr nestles sensitively in the Northumbrian landscape, and exceeds Passivhaus standards, winning it the RIBA North East Sustainability Award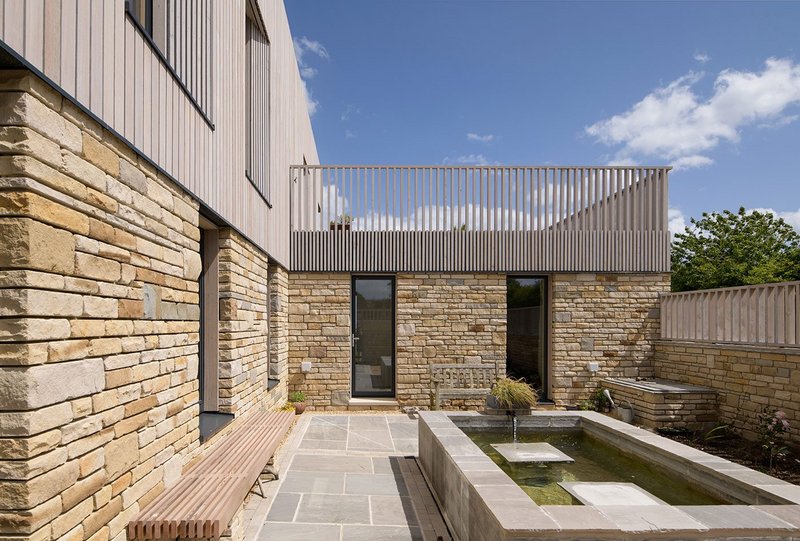 Godwit House. Jill Tate
RIBA North East Regional Award winner
Sustainability Award, sponsored by Autodesk
Godwit House, Warkworth
MawsonKerr for private client
Contract value: Confidential
GIA:204m2
Godwit House nestles in the Northumbrian landscape sensitively. It is strikingly different but settled in its context. Built on a constrained site, it makes the most of the expansive views of nearby Amble while taking on the challenge of meeting and exceeding Passivhaus standards. Godwit wears its environmental ambitions proudly.
The home was built for a client, Gillian, who was closely involved in the design development from the outset, and is designed around her lifestyle with care and close attention to detail. Bedrooms are on the ground floor with the expansive living space above. There is immense joy in the bespoke joinery. Gillian loves the space, and the relationship between client and architect has clearly been key to the success of the project, which had to be steered through the challenges of the pandemic.
MawsonKerr has taken its client on a journey that has resulted in a home full of personality and warmth, while contributing to the landscape with a bold, confident, yet well-balanced and simple composition, which sets a new standard for private houses in the region.
Achieving Passivhaus standards is a big accomplishment, which should be celebrated. But to reach them with the level of personalisation, site consideration and craftsmanship shown in this scheme is truly exceptional. The project used offsite manufacturing of timber cassettes with recycled cellulose insulation. The architect worked closely with the first-time Passivhaus contractors to exceed performance targets, helping form a growing regional knowledge base of Passivhaus design and delivery.
Structure and services are integrated seamlessly into the overall design vision. For example, the plant spaces double as a storage 'loft', a platform lift ensures the house will work for all occupants over time, mechanical ventilation and heat recovery (MVHR) components are unobtrusive and rigorously detailed, and the scheme includes photovoltaics and a ground-source heat pump system.
Godwit is a bespoke, client-specific house which delights visitors and intrigues passers-by – a clear vision delivered with elegance and originality.
See the rest of the RIBA North East winners here. And all the RIBA Regional Awards here.
If you want to understand the whole RIBA Awards process visit architecture.com
RIBA Regional Awards 2023 sponsored by Gaggenau, EH Smith and Autodesk
Credits
Contractor True North Construction
Structural engineer JCC
Passivhaus certifier Warm Consultants