The Corten-steel-clad museum, sitting next to a fully renovated Grade II*-listed former synagogue, has won Citizen Design Bureau's Katy Marks the RIBA North West Project Architect of the Year awards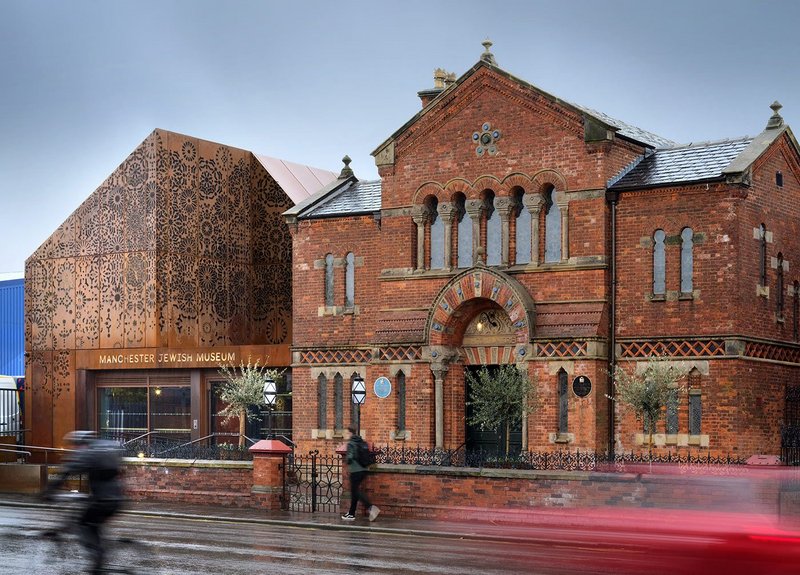 Manchester Jewish Museum. Philip Vile
RIBA North West Award 2023
RIBA North West Project Architect of the Year 2023
Citizens Design Bureau for Manchester Jewish Museum
Contract value £3.6 million
GIA: 842m2
Cost per m2: £4,280
This new Corten-steel-clad museum, designed by Citizens Design Bureau comprises a gallery space, archive, learning space, and visitor amenities adjoining a fully renovated Grade II*-listed former synagogue. Standing on the busy Cheetham Hill road in the heart of Manchester, it both serves and celebrates the local Jewish community.
Manchester Jewish Museum is approached along one of the main roads into the centre of Manchester from the north. On arrival, the street is rather typical of a semi-industrial and retail-focused area. This means that the façade of the 1874 Grade II*-listed Spanish and Portuguese synagogue, designed by Edward Salomons, stands out particularly when paired with the striking modern extension to its left.
The museum's extension location was justified through research into the synagogue's archives. Within the collection of meeting minutes, it was found that this was the originally intended site for such an intervention.
The two elements (original and new), visually separated by glazing running from the front entrance to the rear section of the building, have complementary materiality in terms of both colour and texture. The intricate patterns of the extension's rust-toned Corten steel facade harmonise with the original brickwork designs rather than detracting from them. This is continued in the material palette and the detailing used throughout the extension. Within the generously sized entrance and atrium space, old and new elements adjoin harmoniously, producing a place rich in detail and delight to serve as a function and venue space itself.
The purpose-built exhibits and archive space free up the synagogue to be showcased as an exhibition piece. The carefully considered conservation approach retains the building's heritage and the synagogue's functionality has been expanded, which in turn has expanded the visiting community it seeks to serve.
Project architect Katy Marks demonstrated a clear passion for the project, including its interpretation and community aspects. Key details include a museum display case which doubles as a table for community members to share Shabbat meals, and a timber-clad education area featuring local personal stories. Security, also a consideration, has been addressed with a unique and deliberately visually understated approach that does not hinder the visitor experience.
The museum places the community it serves at its heart through the building and programming, as is evident in the generous kitchen area provided. The architect highlighted the importance of food within the Jewish culture, as well as the design process for this building. Walking through the corridor to the rear of the synagogue, the smell of freshly baked goods bore evidence of the cookery workshop taking place. The environment was warm, inviting, and welcoming.
Credits
Contractor HH Smith
Environmental/M&E engineer Buro Happold
Structural engineer Buro Happold
Project management Buro Four
Access consultant Manchester Disabled People's Access Group
Quantity surveyor/cost consultant Appleyard & Trew
Planting specialist Mary Nightingale
Acoustic engineer Buro Happold
Project management Buro Four
Principal designer Citizens Design Bureau with PFB
Exhibition designer All Things
Conservation consultant Smithers Purslow
Approved inspector C3 Design Approvals
Graphic designer Twelve
Project Architect Candice Moore