Hawkins\Brown has created an innovative and welcoming campus entrance which firmly establishes the university within Preston city centre.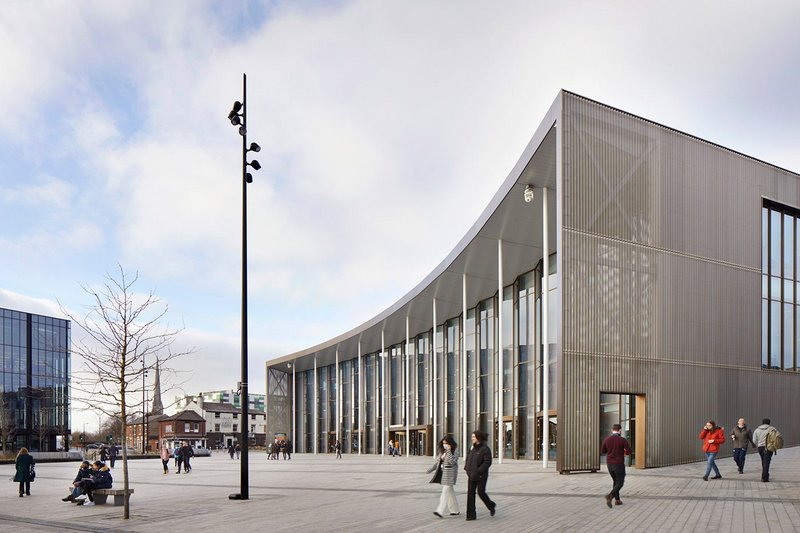 UCLan Student Centre and University Square. Jack Hobhouse
RIBA North West Award 2023
Hawkins\Brown for University of Central Lancashire
Contract value: £32 million
GIA: 7,310
Cost per m2: £4,380
Designed by Hawkins\Brown, which won the RIBA Design Competition in 2016 to create an innovative and welcoming campus entrance, the new Student Centre and University Square redefine the interaction between the University of Central Lancashire (UCLan) and the city of Preston, firmly establishing the campus within the city centre.
The social learning hub is designed to benefit the whole city. It consolidates key university services and sits within 8,500m2 of civic space comprising the formal Adelphi Square and the informal St Peter's Gardens. A clear and inviting public route through the building connects these new spaces to the campus spine, joining the Student Centre and the Engineering and Innovation Centre (EIC) to anchor buildings such as the library and students' union.
The openness of the building's design creates an easy-to-navigate layout which university staff praised as being key to making the various different facilities and resources provided more accessible to students, benefiting their wellbeing.
The variety of scales internally allows for a range of functions, from large atrium to smaller, more private areas. Bespoke modular furniture designed by Hawkins\Brown and fabricated locally allows the spaces to evolve quickly. The rooftop spaces offer calm areas, complete with wildflower planting, bat and bird nest boxes, and three beehives, from which honey is collected and sold in the ground-floor café shop.
The saw-toothed facade curves around and embraces the square. Several public art installations punctuate the landscape. Material continuity between the square and the atrium creates clear and understandable circulation routes around, within and through the building.
With a difference of an entire level from front to rear, the inclusivity of the scheme was tackled clearly and practically and follows key principles of universal design. The building features gender-neutral bathrooms, changing and shower areas, a public changing place, baby change facilities, and a private breastfeeding room.
The jury found the project had an impressive approach to sustainability. The Student Centre is a BREEAM Excellent and EPC A-rated building that uses low-carbon cross-laminated timber (CLT) and other modern methods of construction to create and deliver architecture that is environmentally, financially, and socially sustainable.
Credits
Client University of Central Lancashire
Contractor Bowmer & Kirkland
Environmental/M&E engineer BDP and Castle Building Services
Structural engineer BDP and Engenuiti
Interior design Hawkins\Brown
Landscape architect Plincke
Project management AECOM
Quantity surveyor/cost consultant AECOM
CLT subcontractor B&K Structures
Acoustic engineer BDP
Acoustic engineer Hoare Lea
Fire engineer Tenos
Access consultant Turner & Townsend
Public art consultant Atoll
Public art – lighting Jason Bruges Studio
Public art - graphic design Bonnie Craig
Public art – streetscape Halima Cassell
Public art – documentary Jonathan Randall and Tom Diffenthal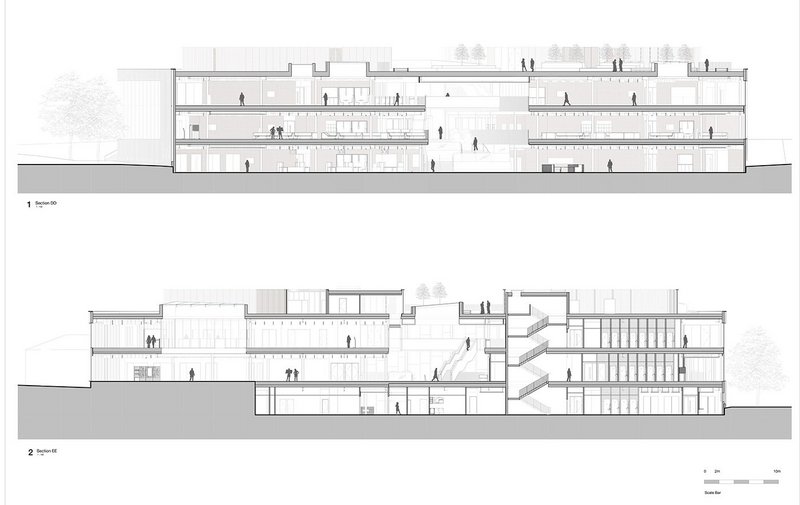 Credit: Hawkins Brown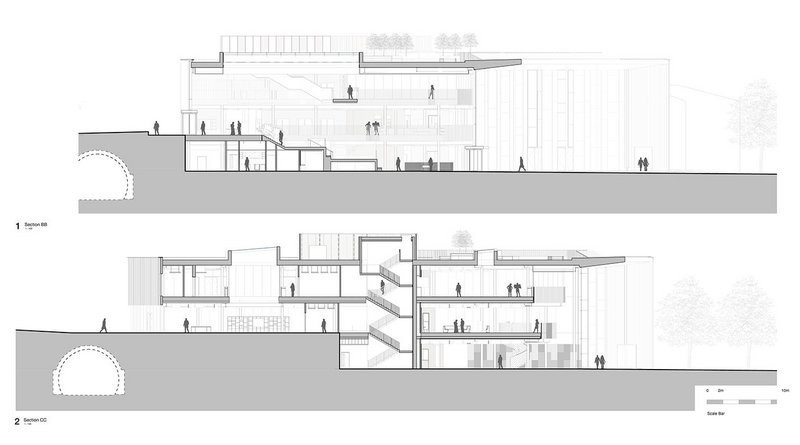 Credit: Hawkins Brown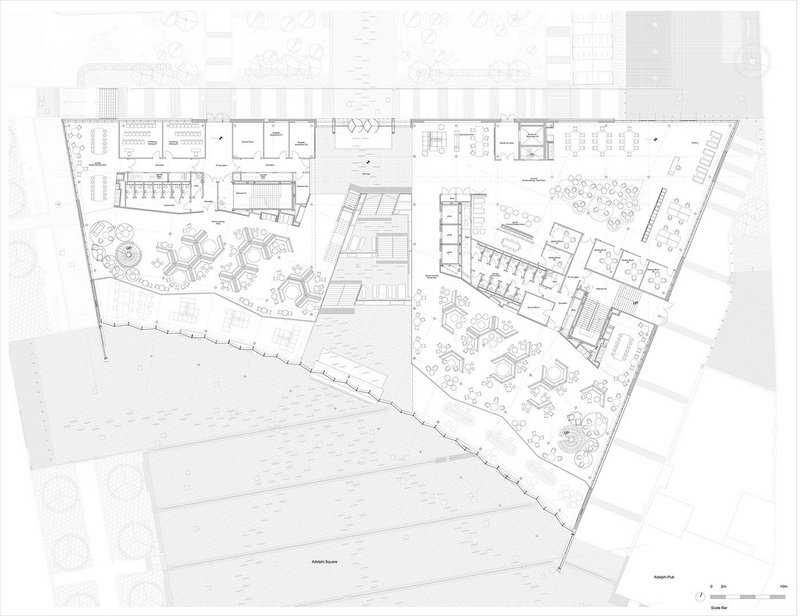 Credit: Hawkins Brown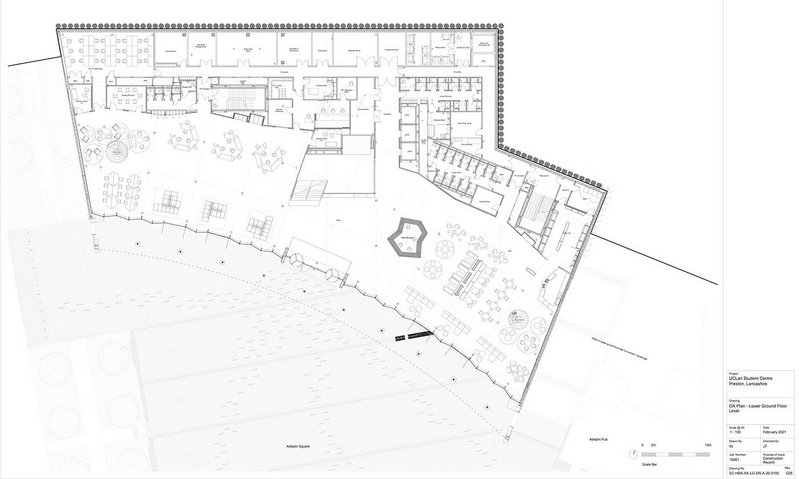 Credit: Hawkins Brown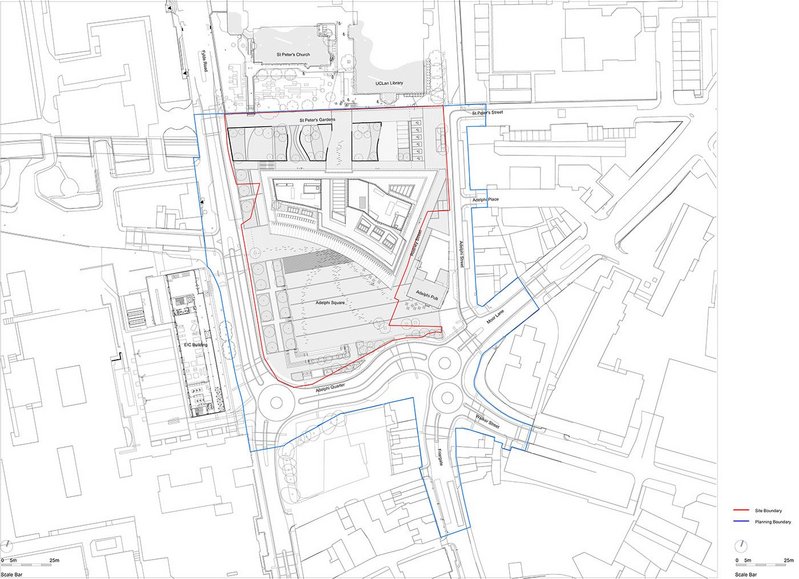 Credit: Hawkins Brown