Tonkin Liu has blurred the line between public utility and art with its low-carbon energy centre which provides power for key civic buildings in central Manchester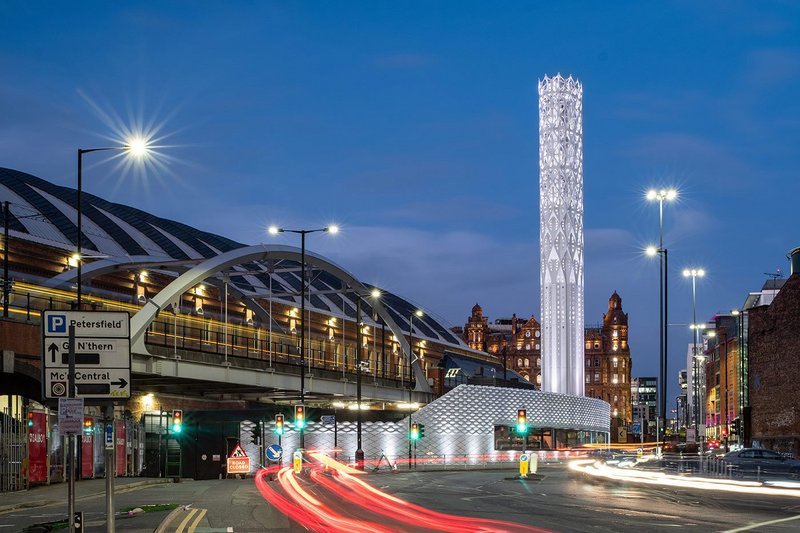 Tower of Light and Wall of Energy. David Valinsky
RIBA North West Award 2023
Tonkin Liu for Manchester City Council
Contract value: Confidential
GIA: 39.2m2
The new Civic Quarter Heat Network and Energy Centre provides energy to seven of central Manchester's key civic buildings through a 2km network of pipework. For this new low-carbon centre, Tonkin Liu designed the 40m-tall Tower of Light to support and enclose its flues, and the 63m-long Wall of Energy street facade, which encloses the centre while showcasing its inner workings.
Tonkin Liu's design is underpinned by over a decade of research into natural structural forms through the shell lace structure technique that it pioneered. The design was also developed in collaboration with engineers at Arup.
The Tower of Light is the largest built shell lace structure to date. Informed by geometries in nature, its form is its strength; a super-light, super-thin single-surface structure using minimal material. The innovation was made possible through modern methods of construction using advanced digital modelling, analysis, and fabrication, combined with principles of tailoring.
Minimal energy is used to illuminate the tower. During the day, polished reflectors inside it move in the wind, to reflect sunlight into its chambers and fill them with shifting light. During the night, LED lights directed at the reflectors create animated, programmed light sequences. The Wall of Energy features glazed ceramic tiles designed by the architect to reflect the light of moving clouds and car headlights on the street. At night it is animated with integrated programmed lighting.
The jury were impressed by the fact that the materials and manufacturing of the structures are predominantly locally sourced. The tower was fabricated by Shawton Engineering, with the final stitch welding reserved for the most experienced hands of two veteran welders. The ceramic tiles were fabricated by Darwen Terracotta, one of the UK's oldest and most respected terracotta companies.
The jury also applauded the client's willingness to raise the standards of the public realm and the support it gave to the design team in reaching a finished product. What could have been just another utilitarian building in a city centre with a clichéd nod to the function housed within, has been elevated to something far higher, blurring the line between public utility and art. The design pushes the envelope of what the public realm can be.
Credits
Client Manchester City Council
Contractor Vital Energi
Lighting design SEAM Design
Steelwork fabricator Shawton Engineering
Structural engineer Arup
Facade contractor Axis Envelope Solutions
Ceramic tile manufacturer Darwen Terracotta