This bold, self-built house replaced a dilapidated farmhouse in the Pembrokeshire National Park, bringing together old and new while respecting and responding to its location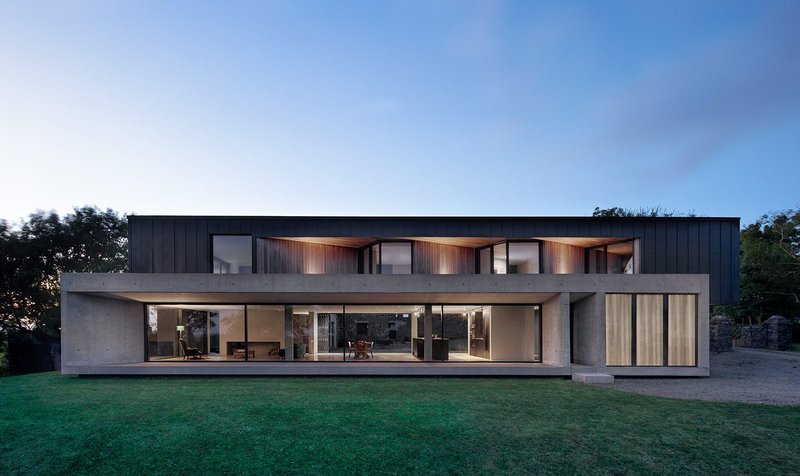 Castle High. Martin Gardner
RSAW Regional Award winner
Castle High, Pembrokeshire
Hyde + Hyde Architects for private client
Contract value: Confidential
GIA: 490m2
Located within the coastal Pembrokeshire National Park, Castle High is a bold self-built contemporary home completed over the course of a decade as time and budgetary constraints allowed. This labour of love is testament to both the architect's' enduring vision and hard work, persistence, and dedication of the client, the current generation of an old farming family.
The existing 1950s farmhouse was failing and no longer fit for purpose. It lacked integrity and, through its random positioning, left a courtyard open to the harsh prevailing winds and violent storms such that further outbuildings were slowly falling into disrepair. Now sheltered, the courtyard acts as an outdoor room unifying old and new and providing discrete and multiple informal entrances.
The formal front door sits within a new-build elevation that is atypical of farmhouses and the rural landscape yet doesn't feel alien. At ground floor, the white fair-faced concrete superstructure frames the generous open-plan living space, while its extra-deep reveal acts as a terrace onto adjacent lawns. On the first floor, zinc cladding folds between the angled bedroom windows, which are deliberately orientated to face the Irish Sea. Compositionally, the two distinct volumes keep the form simple and minimal, combining robustness with openness and transparency.
The architects actively promoted sustainable principles and strategies throughout the design process. The home has been built to Passivhaus standards and has no traditional heating system, instead adopting a fabric-first approach with solar and internal thermal mass gains and high levels of airtightness.
Solar panels, two 1KW wind turbines, battery storage and the connection of a natural well to the boilers have all been deployed with a view to the home becoming self-sufficient and off-grid in the near future.
Castle High is ambitious yet sensitive in form and scale, bringing together old and new in an arrangement that respects and responds to the site's location, climate, and character – a legacy this committed client can be rightfully proud of passing on to future generations.
See the rest of the RSAW winners here. And all the RIBA Regional Awards here.
If you want to understand the whole RIBA Awards process visit architecture.com
RIBA Regional Awards 2023 sponsored by Gaggenau, EH Smith and Autodesk