Maich Swift Architects' modest yet exceptional clifftop house on the Gower Peninsula also won the RSAW's project architect of the year award for director Paul Maich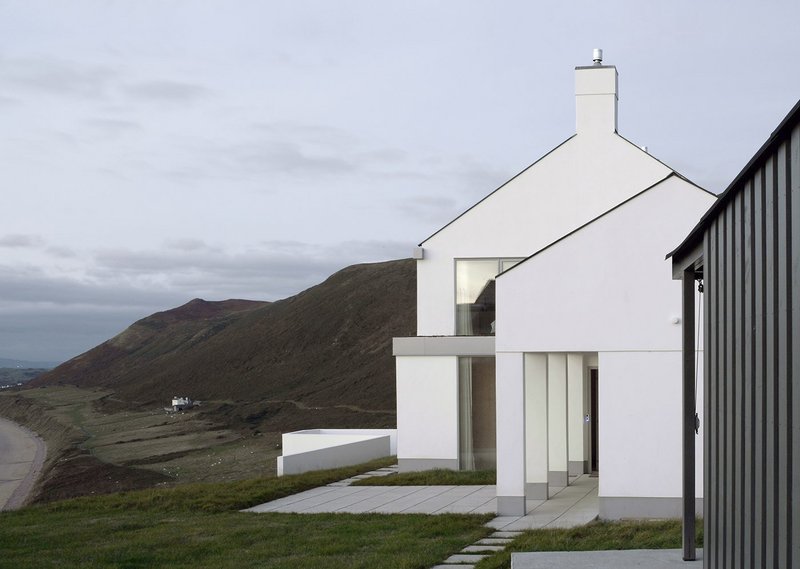 Rhossili House. Peter Cook
RSAW Regional Award winner
Project Architect of the Year Paul Maich
Rhossili House, Rhossili
Maich Swift Architects for private client
Contract value: Confidential
GIA: 270m2
The site is on the Gower Peninsula, 70m above Rhossili Bay on a highly exposed clifftop with enviable views out west to the sea and north towards a dramatic undulating coastline. The client, a young family, wanted a place to enjoy their love of the area, while respecting the exceptional scenic qualities and the neighbouring village of Rhossili.
The young architects have fulfilled this brief artfully, designing a house that appears decidedly modest and quite traditional at first, yet quickly reveals a different self. From the outside, the two-storey, pitched-roof, white-rendered composition is a familiar coastal motif. The garden is deliberately simple – not just in response to exposed conditions but so as to appear part of the wider landscape, which is an Area of Outstanding Natural Beauty (AONB). This simplicity extends to material use: the house is clad with a robust skin of insulated render and a slate roof and has flush windows with elegant metal trims.
On entry, the mood shifts slightly. The simplicity is now enriched by the warmth, beauty, and smell of the exposed cross-laminated timber (CLT) superstructure. This is stained white at consistent datums so that the home offers much more variety than its external appearance suggests.
Arranged around a compact yet lofty central stair, the layout comes to life through consideration of the section. For example, the sunken snug is both generous in volume yet intimately scaled, with sofa-level views out to sea. The clever positioning of windows, of various proportions, offers moments of difference and intrigue throughout the house. The framed view of the village church is particularly memorable.
The architects' design diligence extends to the building's technical performance. There is no cavity in the wall; instead the CLT is lined externally with a thick layer of rigid wood-fibre insulation, finished with a vapour-permeable lime render. This simple but effective breathable mass construction ensures the interior has stable humidity and temperature levels and so remains comfortable all year round. An air-source heat pump provides space heating and domestic hot water and the estimated energy use of the building is half that of an average new-build house of similar size.
The architect sought to focus on a simple and appropriate way of building rather than inventing newness, an approach that led to the creation of a contemporary, responsible home in a sensitive landscape which is to be applauded. Rhossili House is both modest and exceptional at the same time, as are, refreshingly, the client and architect team.
See the rest of the RSAW winners here. And all the RIBA Regional Awards here.
If you want to understand the whole RIBA Awards process visit architecture.com
RIBA Regional Awards 2023 sponsored by Gaggenau, EH Smith and Autodesk