Nidus Architects' extension to a 17th century Welsh longhouse, halfway up a remote hillside on the Brecon Beacons, has also won RSAW awards for best small project and conservation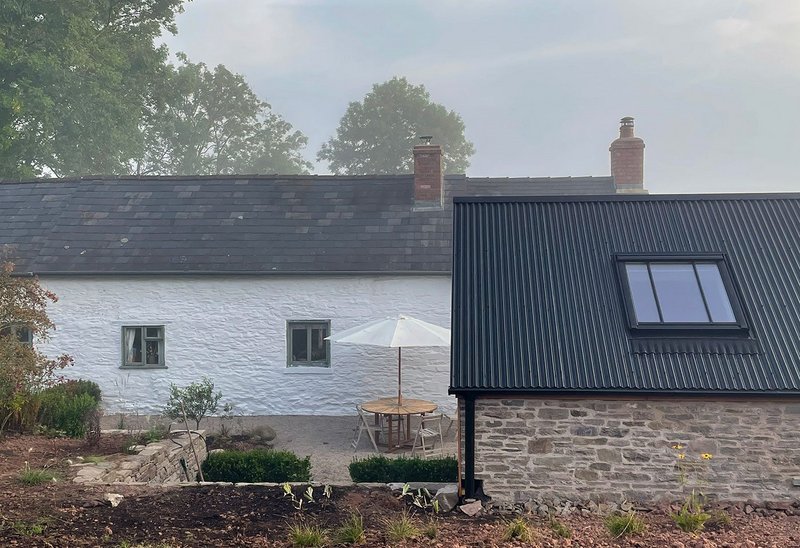 Pen y Common. Finn Beales
RSAW Regional Award winner
Building of the Year, sponsored by EH Smith
Small Project of the Year, sponsored by Gaggenau
Conservation Award
Nidus Architects for private client
Contract value: £210,000
GIA: 100m2
Cost per m2: £2,100
The client wanted an extension to a traditional 17th century Welsh longhouse, located halfway up a remote hillside, south of Hay-on-Wye. They had strong emotional ties to this area where they had grown up, and displayed a keen and admirable sense of responsibility in wanting to avoid overdevelopment. This led them to set the design challenge of doubling their home's footprint without harming the charm and character of the existing cottage and its setting.
The architect's solution is a single-storey extension with the Goldilocks qualities of being neither too big nor too small, neither too formal nor too informal. Its arrangement honours the local farmhouse tradition of ad-hoc development in terms of its positioning among the setting of adjacent agricultural outbuildings.
The extension hunkers into the site topography to the south, sheltering the newly formed courtyard from prevailing winds. It becomes clear that 'thinking local' has driven the project from the outset, especially in terms of material selection. The timber-framed extension is clad with untreated larch that was grown, cut, dried and machined within 10 miles of the site. Stone is sourced from a quarry five miles away, as were landscaping materials and finishes. The metal-profiled roof was selected over alternatives so that the specific valued skills of a local contractor could be employed.
This economy of material sourcing continues through to the detailing. For example, the cladding uses random board widths to reduce unnecessary waste, with any offcuts cleverly repurposed for the front door. The structural slab is polished to become the internal floor finish. The salvaging of a local school's chemistry lab furniture fittings for reuse in the bathroom and utility room is another lovely story of material reuse.
Where higher-quality materials are used, it is in areas that occupants can connect with, such as the use of character-grade oak to line window reveals. The larger window seat looking down over Hay-on-Wye is a real treat to retreat into, come rain or shine.
Windows offer moments of joy throughout, often an outcome of the client having lived here for decades. A skylight in the kitchen brings a full moon's shine within, and high-level small windows to the utility area and master bedroom offer a peep to the approach road while artfully integrating with shelving.
The extension breathes new life into the old cottage. Its smaller ground-floor rooms are now relieved of the pressure of family gatherings while the upper attic bedrooms serve as welcome peaceful escapes.
All in all, Pen y Common offers a sophisticated balance of prospect and retreat, light and dark. It is a home where the family can come together or be apart comfortably, and where their connection with and from the local town feels very real and authentic.
See the rest of the RSAW winners here. And all the RIBA Regional Awards here.
If you want to understand the whole RIBA Awards process visit architecture.com
RIBA Regional Awards 2023 sponsored by Gaggenau, EH Smith and Autodesk