Hopkins' building for the private school includes a 25m-long pool and a four-court multi-use sports hall, complete with changing, support, and spectator facilities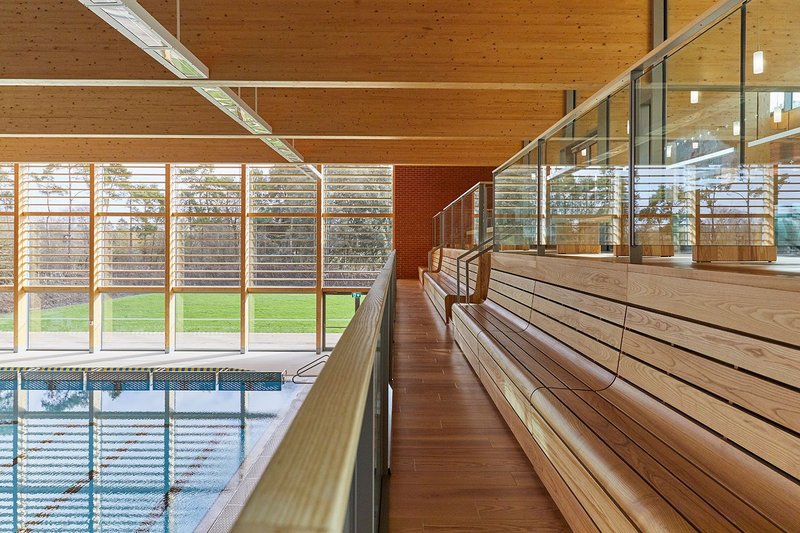 Eton Sports & Aquatics Centre.

Credit: Janie Airey
South RIBA Regional Award 2023
Eton Sports and Aquatics Centre, Windsor, Berkshire
Hopkins Architects for Eton College
Contract value: £21.5 million
GIA: 3,669
Cost per m2: £5,860
Eton Sports and Aquatics Centre is an excellent example of robust modern architecture that combines the Vitruvian ideals of firmness, commodity, and delight. Built on the site of a former outdoor pool, the facility boasts a 25m-long pool and a four-court multi-use sports hall, complete with changing, support, and spectator facilities.
One of the building's most striking features is the central link that runs between the two sporting spaces, which brings daylight and fresh air into the heart of the structure. A beautifully detailed, cantilevered, white precast concrete stair leads up to a café-style social and teaching space that overlooks both the pool and the sports hall. This creates a seamless flow of space while contrasting with the warm brickwork beyond.
The pool incorporates a lift and moveable floor to ensure learners and disabled users can access it with ease. The jury particularly liked the extra-wide pool deck, which has been incorporated to create a poolside classroom. The sports hall is a multi-purpose indoor space that also provides space for school examinations. The designers have managed to achieve a naturally ventilated and daylit sports hall that serves both purposes successfully.
The building's interior is calm and confident. Columns and beams of glued, laminated spruce support the cross-laminated timber (CLT) roofs and are neatly spaced off from the external walls, giving them a separate identity. The brickwork is robust and warm, sand-faced externally, with the interiors of the pool and sports hall lined with smooth-faced brick in a similar colour. The ceilings throughout the main spaces are carefully arranged, routed, birch-faced ply sheets with acoustic insulation above.
Internally, the planning and detailing are simple and straightforward. Two fully accessible changing rooms ensure everyone can use the building comfortably. The changing rooms are cleverly organised in two layouts, one for Eton school teams and another for community use, allowing simultaneous school and community use of the building's main spaces. The jury were delighted to hear that the pool is available to local state schools each morning, with wider community use planned.
The facility's location within the Eton Conservation Area and on green belt land meant that securing planning permission was a challenging task. The team were clearly committed to using the existing open-air pool excavations to sink the building below ground, minimising its mass and ensuring it was not visible above the tree line from the nearby Slough Road.
As with any sports building, long-lasting, low-maintenance finishes were essential. These combine here with functionality, aesthetic appeal and accessibility to ensure the centre will serve its users for many years to come.
Credits
Contractor Graham
Project management Gardiner & Theobald
Cost consultant Gardiner & Theobald
Structural engineer Cundall
Services engineer Cundall
Landscape architect Townshend Landscape Architects
Planning consultant Porta Planning
Building control Regional Building Control
Access consultant People Friendly
Arboriculturalist Aecom
Ecologist Davidson Watts Ecology
Heritage consultant Turley Associates
Acoustic engineer Cundall
Fire engineering Cundall
Pool consultant Devin Consulting
Principal designer Gardiner & Theobald
Landscape and visual impact assessment Miller Hare
Archaeology Oxford Archaeology
PCSA contractor Graham Construction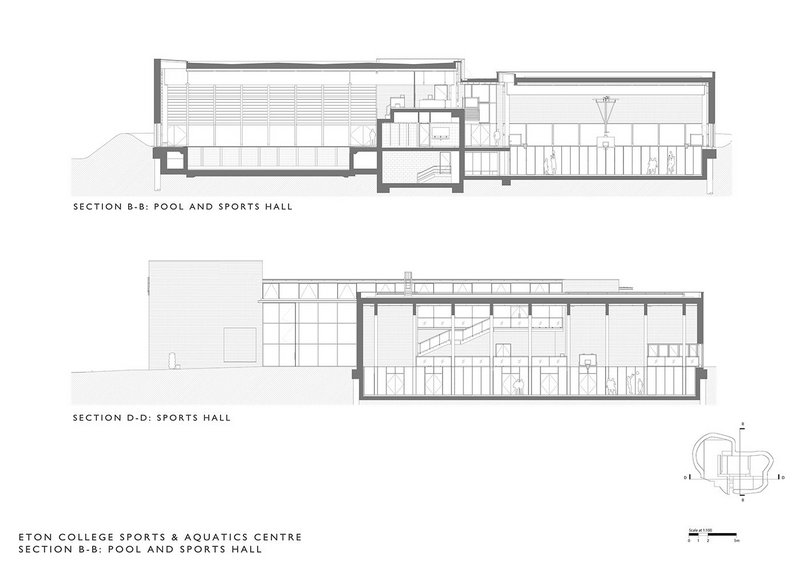 Credit: Hopkins Architects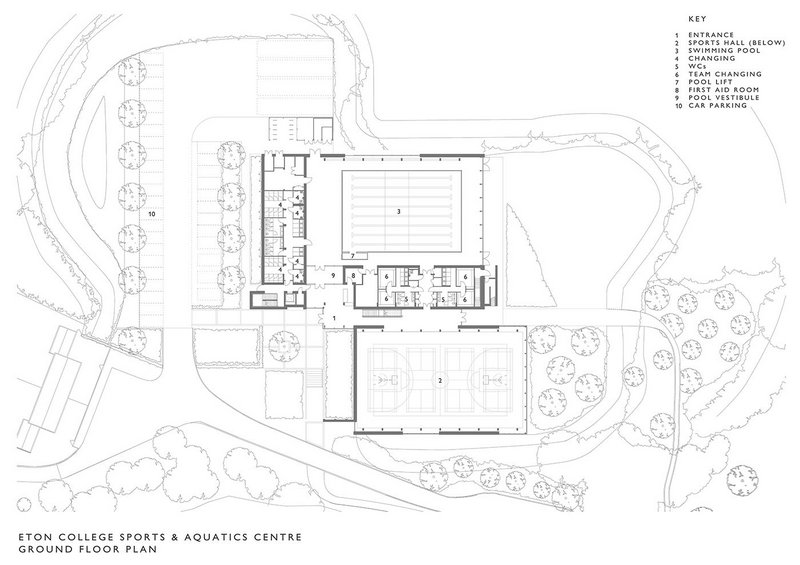 Credit: Hopkins Architects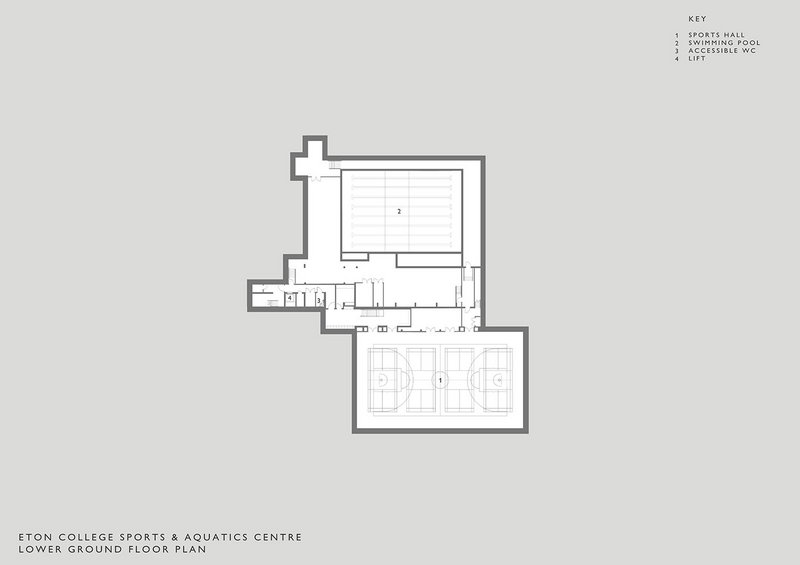 Credit: Hopkins Architects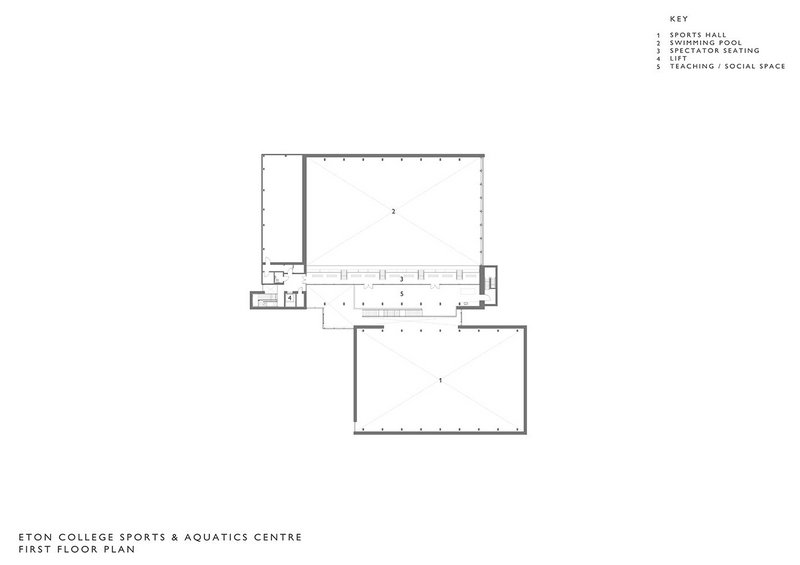 Credit: Hopkins Architects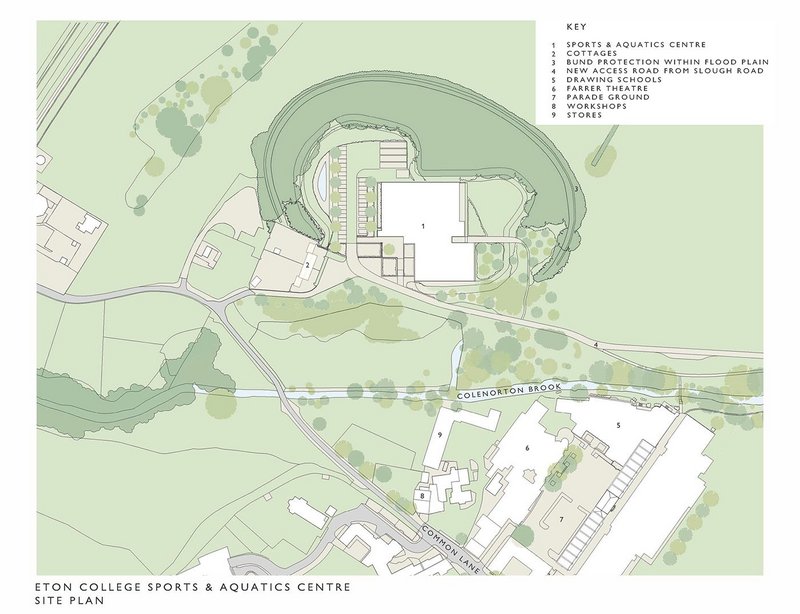 Credit: Hopkins Architects