A family home, art studio and office occupy a Devon farmstead in David Kohn Architects' project, the final conversion of agricultural buildings into a housing community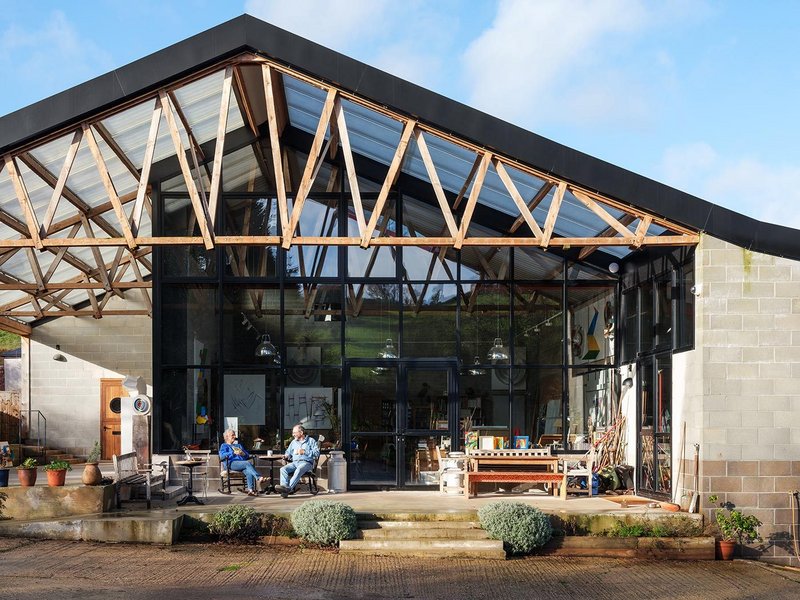 Cowshed. Max Creasy
2023 RIBA South West & Wessex Award winner
Cowshed
David Kohn Architects for Peter Redstone & Suzanne Blank Redstone
Contract value: Confidential
GIA: 296 m2
Cowshed is the creation of a welcoming family home, artist studio and office situated within an existing farmstead in Devon. The joy of this project is the successful repurposing and celebration of the existing agricultural outbuilding. Utilising the original concrete floor, concrete columns, and timber trusses, the new programme is intertwined within the existing, forming a series of spaces that use a palette of simple and honest materiality.
The clients have lived on the farm for 50 years and during the last 15 years have converted the agricultural farm buildings into a housing community, of which Cowshed is the last of the buildings to be completed.
The plan of the house is centred around the art studio, which forms the nucleus and heart of the home and from which all other accommodation is circulated. This double-height space is animated by the existing trusses and bare concrete blockwork walls, creating a generous backdrop to display the clients' art. Off of the studio, an open-plan living, dining and beautifully handcrafted kitchen area is reduced in scale to create a more intimate domestic space. Bedrooms and an office are located at ground floor to ensure that the house can be used throughout life, with additional sleeping accommodation provided at first-floor level accessed via a simple staircase. The economical materials used throughout, including locally sourced concrete blocks and cedar sourced form a nearby estate, are elevated through careful use. A clever change in blockwork bonding on several walls serves as a noteworthy marker of the project's creation during the Covid pandemic when construction was halted and subsequently resumed. Through brickwork, the building has represented a moment in history, something which the jury found to be a nice touch.
Special moments throughout the house are formed through the careful positioning of windows and rooflights. Many of the windows have colourful reveals, referencing the client's sculptures and artwork, which add an injection of colour to the pared-back structure. Views are carefully focused, framing the surrounding landscape, while light is imaginatively captured wherever possible, elevating the project and enhancing the clients' wellbeing.
Externally, a spacious covered veranda and outdoor workshop has been created by setting the line of the former facade back, providing protection from the weather while further framing and connecting the house with the surrounding landscape.
Sustainability is central to the whole farmstead community, with the existing Cowshed structure upgraded with a super-insulated envelope and insulated panel roof. Meanwhile, the farm's shared ground-source heat system and water treatment plant have been used to minimise the energy usage.
Cowshed demonstrates how an agricultural building can be celebrated, reused, and repurposed in a humble yet inventive way that is both welcoming as a family home and appropriate to its setting. Working with a constrained budget, David Kohn Architects should be applauded for creating a dwelling of simple means that offers so much more than the sum of its parts.
Contractor Marks Building Services
Structural engineer Structure Workshop
Environmental / M&E engineer P3r Engineers
Quantity surveyor / cost consultant W T Hills
Ecologist George Bemment Associates
Drainage engineer Genever and Partners
Planning consultant Steve Anderson Planning and Development