Feilden Clegg Bradley's inventive thinking at Bath's Roman baths has inserted dramatic teaching spaces that protect the ancient monument and celebrate and highlight its layered history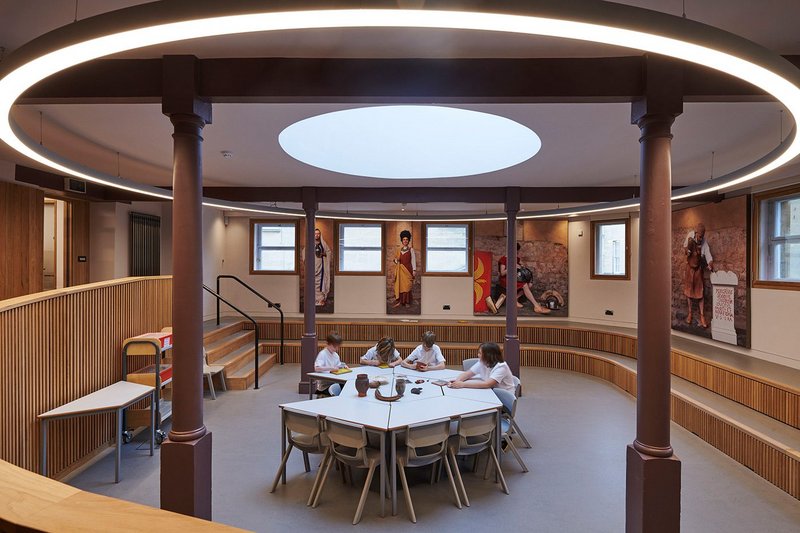 Roman Baths Clore Learning Centre. James Newton
2023 RIBA South West & Wessex Award winner
Roman Baths Clore Learning Centre, Bath
Feilden Clegg Bradley Studios for Bath and North East Somerset Council
Contract value: £4.5m
GIA: 1190m2
Cost per m2: £3782
Housed in the city of Bath's historic Roman baths, a grade II-listed building, in a conservation area and a Unesco World Heritage Site, the new Clore Learning Centre strikes a delicate balance between protecting the existing monument and creating new learning facilities that use and reveal underused spaces previously inaccessible to the public.
From the street, the only visible marker of the new centre is a discreet entrance at ground level animated with a lightweight metal filigree screen. Beyond, architect Feilden Clegg Bradley Studios has conceived a meticulously designed and spatially complex sequence of learning spaces accessed via a neat arrangement of vertical and horizontal pedestrian routes.
The introduction of new elements into the existing fabric – doorways, walkways, and staircases – has been carefully handled, with modern but simple materials leaving the scarred outline of the original building raw and exposed.
A previously cramped, single teaching room has been replaced with a series of spacious, light-filled teaching rooms at the upper levels, including an additional storey formed on the footprint of a previously removed water cistern. The new storey has been carefully designed to be as a lightweight as possible – with steel structure and timber infill – to minimise impact on the building's existing structure. Internally, oak has been used extensively and crafted to form wall linings, furniture, and joinery incorporating built-in storage. The oak-lined windows of differing heights and scale that frame views of local landmarks are a particular delight.
The engaging and well-thought-through spaces that have been formed enable teaching sessions to be run in a calm and immersive way. The jury found it heartening to see how enthusiastically the teaching staff responded to the spaces that have been created specifically to cater for their needs.
The complicated and complex level changes have been resolved in a rigorous and intelligent way, culminating in the visitor being navigated through the atmospheric and cavernous undercroft level – a scheduled monument and part of the Roman baths archaeological site. Here the paths and raised walkways are carefully woven through the Roman archaeology, allowing the visitor to view and engage with the history all around. The new insertions are well designed, respecting the original fabric, and are installed without compromising the archaeology and future interpretation of the space. The integration of an activity space and 'digging pit' within the bowels of the undercroft create an immersive experience for children.
Tectonically and materially rich, the Roman Baths Clore Learning Centre is a triumph of thoughtful and inventive thinking that has created a series of dramatic and unexpected spaces that both celebrate and highlight the layered history of these wonderful buildings. It is a clear testament to the productive and successful collaboration between architect, client, archaeologist, contractor and wider design team.
Contractor Beard Construction
Structural engineer Integral Engineering Design
Services engineer Method Consulting
Exhibition designer Houghton Kneale Design
Quantity surveyor / cost consultant Edmond Shipway
Archaeologist Cotswold Archaeology
CDM advisor Chase Consulting
Fire engineer The Fire Surgery
Acoustic consultant Harmonia Consulting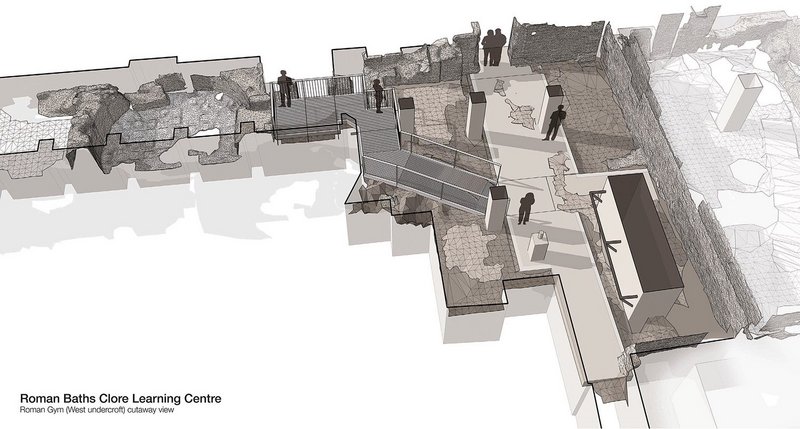 Credit: Feilden Clegg Bradley Studios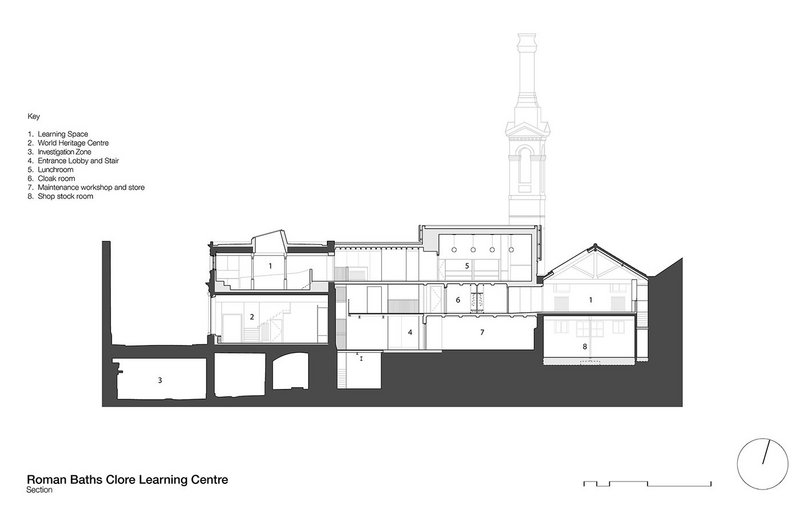 Credit: Feilden Clegg Bradley Studios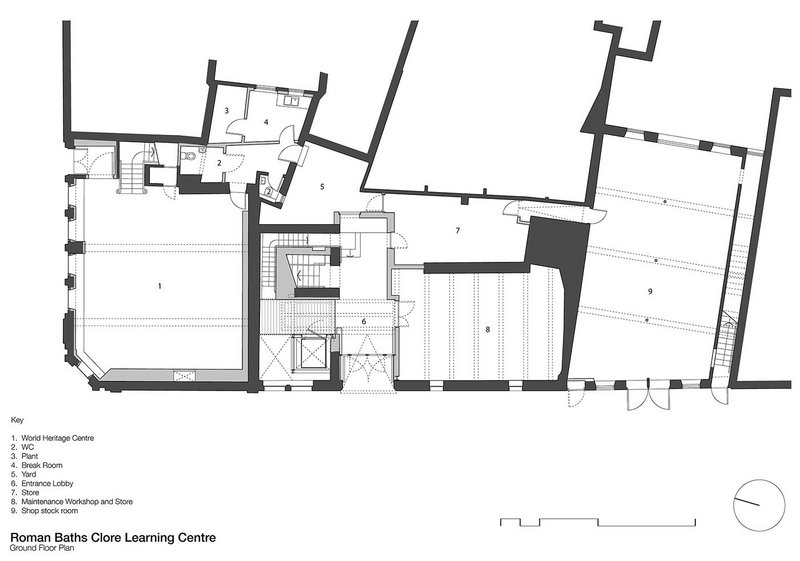 Credit: Feilden Clegg Bradley Studios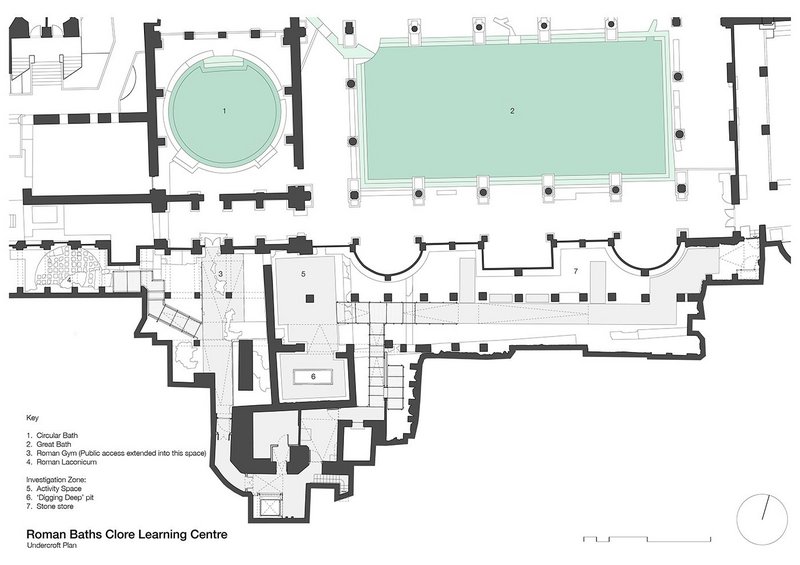 Credit: Feilden Clegg Bradley Studios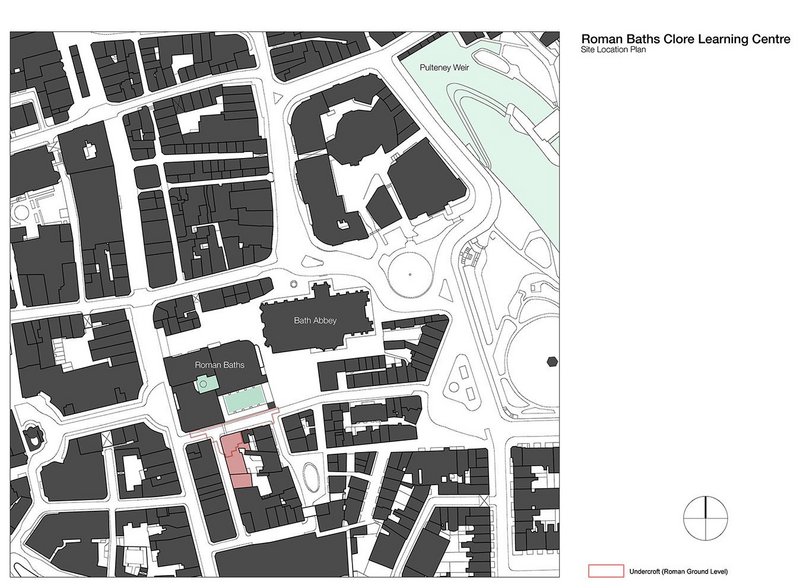 Credit: Feilden Clegg Bradley Studios