Feilden Clegg Bradley's skill and ingenuity makes a fine example of repurpose and reuse with its conversion of an admin block into a student hub for Bristol University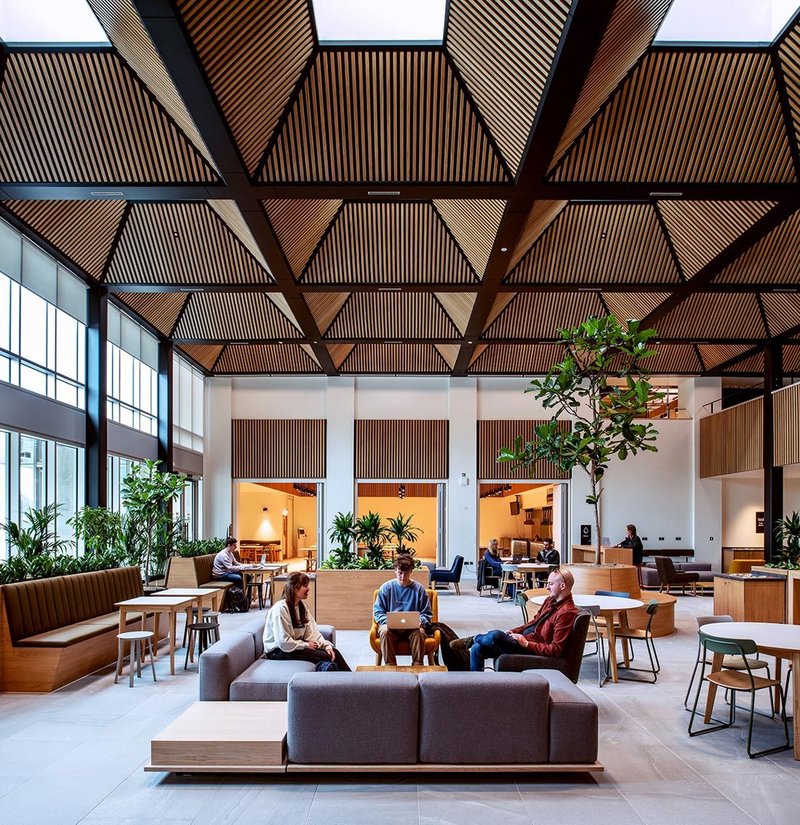 University of Bristol Senate House. Rebecca Noakes
2023 RIBA South West & Wessex Award winner
University of Bristol Senate House, Bristol
Feilden Clegg Bradley Studios for University of Bristol
Contract value: £8,100,000
GIA: 2731m2
Cost per m2: £2,965
Senate House is the imaginative reuse and reinvention of a 1960s administration building on the University of Bristol campus, creating a new student social and support hub.
The building's existing U-shaped plan has been unified with a new double-height insertion that creates a spacious, welcoming main entrance and internal 'courtyard'. A striking coffered ceiling has been rigorously detailed, elevating the main atrium space and creating a clear focal point that gives character and identity to the building's new programme. The ceiling funnels natural light into the space while neatly concealing mechanical services and providing acoustic sound attenuation. Surrounding the central courtyard are the Student Union's socialising spaces and canteen which have been flexibly designed so that they can either be closed off or opened up to the atrium space.
The staircase has been carefully restored and leads the visitor to the first floor. Here the existing concrete frame has been exposed, with services, lighting and acoustics surface-mounted to allow for future flexibility and adaption. Areas of differing scales and materiality are formed for more intimate reading and studying.
Externally, the envelope has been upgraded, with replacement Crittall window frames improving the overall environmental performance of the building, enabling low-energy heating and lighting to be installed throughout.
Senate House is a fine example of how an existing building can be successfully repurposed and reused, with cleverly integrated new elements opening up the potential of unloved and underused spaces. The extensive retrofit has been handled with skill and ingenuity, ensuring that the building provides a welcoming and inspiring backdrop for current students to socialise, study and collaborate, while allowing for future flexibility and modification.
The jury found this to be an exemplar project that should offer inspiration for the creative reuse of countless other underused buildings across the country.
Contractor Kier Construction
Structural engineer Curtins
Services engineer Priddy Engineering
Project management JLL
MEP Atkins
Acoustic engineer Atkins
Fire consultant Atkins
Catering consultant Hepburn
Wayfinding consultant Holmes Wood
Quantity surveyor / cost consultant Aecom
Sustainability SCS Partnership
Planning consultant CSJ Planning Consultants
Arboriculturist Hillside Trees
Archaeological consultant Longman Archaeology
Ecological consultant Nicholas Pearson Associates
Client health & safety advisors Chase Consulting
See the rest of the RIBA South West winners here. And all the RIBA Regional Awards here.
To find out more about the whole RIBA Awards process visit architecture.com
RIBA Regional Awards 2023 sponsored by Gaggenau, EH Smith and Autodesk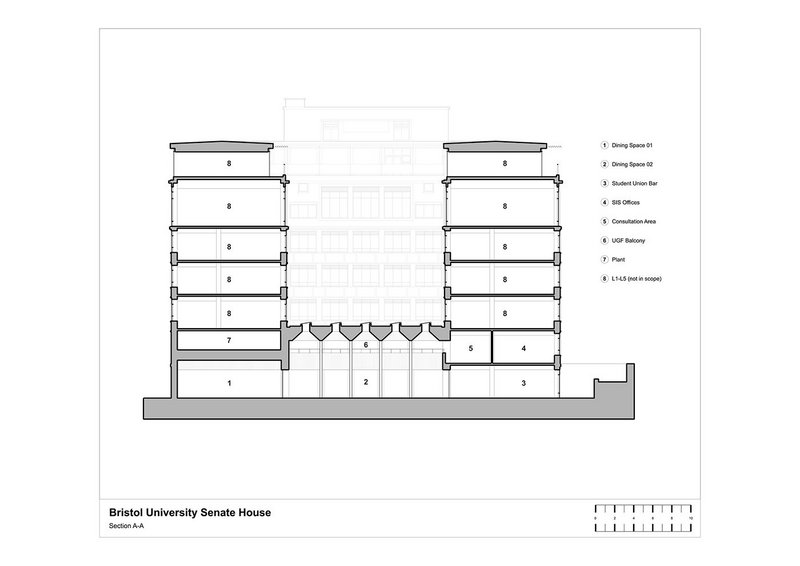 Credit: Feilden Clegg Bradley Studios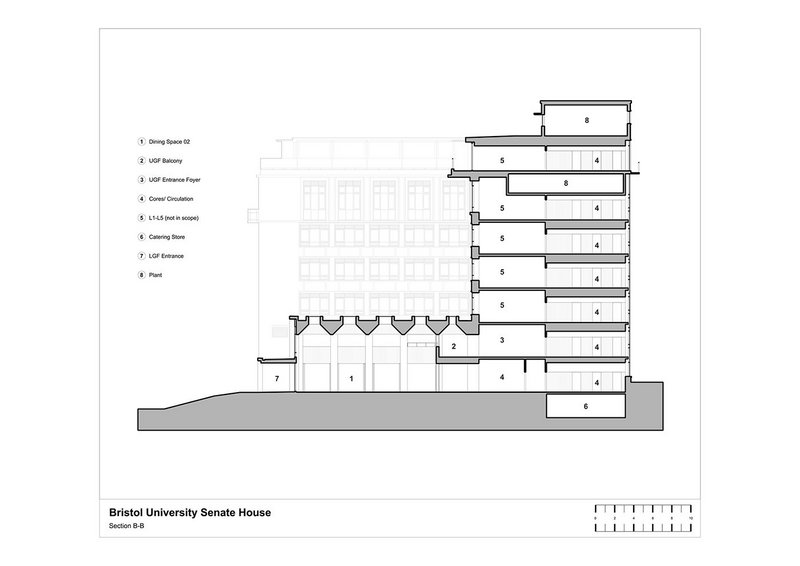 Credit: Feilden Clegg Bradley Studios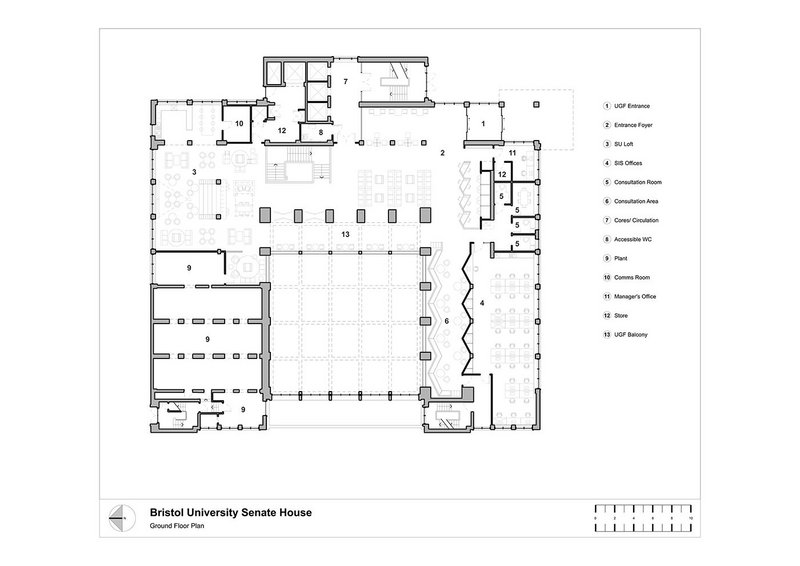 Credit: Feilden Clegg Bradley Studios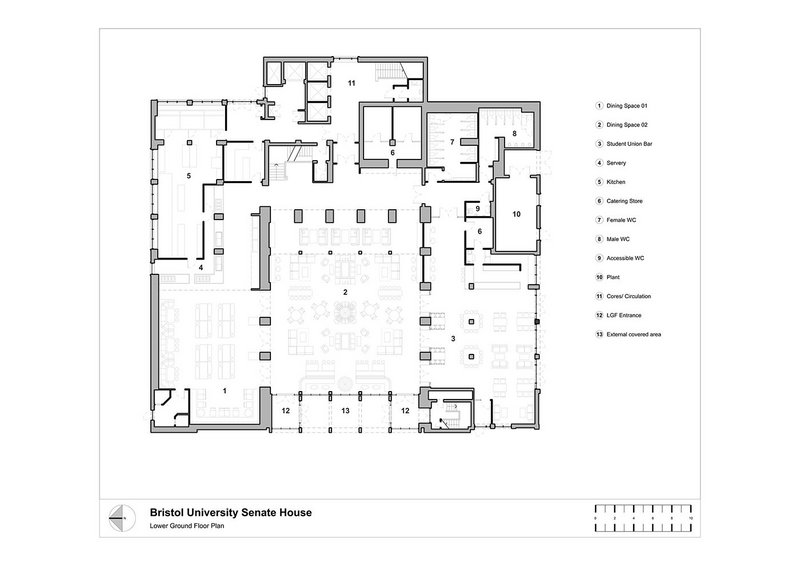 Credit: Feilden Clegg Bradley Studios
Credit: Feilden Clegg Bradley Studios