This uplifting model for community-led regeneration combines gallery, workshops, community centre and holiday accommodation is both Building and Client of the Year in the 2023 RIBA South West Awards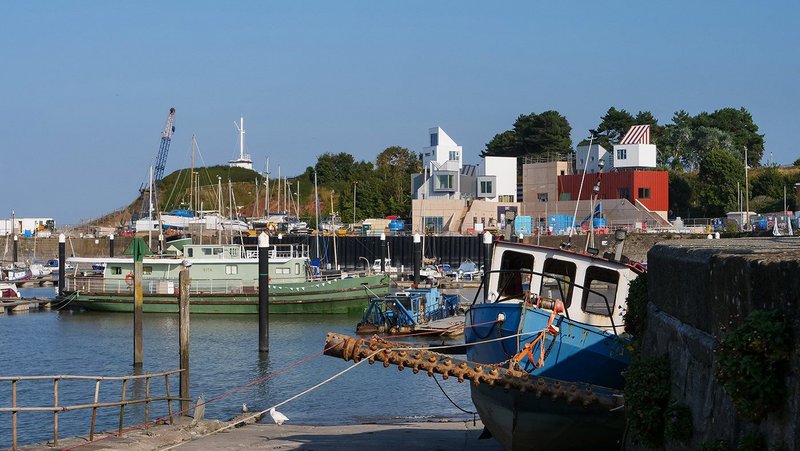 East Quay. Jim Stephenson
2023 RIBA South West & Wessex Award winner
Building of the Year, sponsored by EH Smith
Client of the Year
East Quay, Watchet
Invisible Studio with Ellis Williams for Onion Collective CIC
Contract value: £4.5m
GIA: 1650 m2
Cost per m2: £3,000
East Quay is a project of perseverance and dedication, reinvigorating the local community and initiating the ongoing regeneration of the coastal town of Watchet in north Somerset. A combination of gallery, workshops and community centre, it is the vision of the local, female-led, not-for-profit company Onion Collective, and has been financed by community fundraising. It is located on an abandoned boatyard annexed from the town, and is deliberately orientated towards the town, giving a sense that it is wrapping its arms around it in a warm embrace. From a distance as you approach Watchet, your eye is inexplicably drawn to the amalgamation of somewhat idiosyncratic building volumes that poke their heads above the harbour resplendent in seaside stripes.
The construction took more than eight years, and its story is truly remarkable in both its ambition and scope. The result is a building that, through its evocative, generous, playful design, has strengthened the community and enabled connections and networks that only tentatively existed before.
'Community conversation' was essential to the development of the design, ensuring that all elements actively address and stitch together the town's needs. The success is evident, and the jury found it wonderful to see the local community enthusiastically embracing the café kitchen and art classes.
Pivotal to the scheme's success are the series of public circulation spaces, both internal and external, that weave their way through the site. At ground-floor level, a cranked pink-toned concrete plinth adds solidity and weight to the composition. Forming the main gallery, a 'kitchen' café and shop, the plinth looks onto a gathering courtyard space that is protected from the windy and exposed coastal conditions.
At first floor, the building is connected to the surrounding coastal paths by a walkway that is cleverly designed to ensure connectivity from all directions. Walkers passing by can glimpse the local artists and businesses at work in their studios, enhancing the sense of community engagement and camaraderie. From this level, five holiday-let pods rise from the building, each one uniquely designed with windows framing dramatic views of the sea and town.
The project cannot help but lift your spirits, and the evocative and distinctive architecture has provided a backbone to the town that has consolidated the community by enabling it to gather together. There is no doubt that East Quay is an extraordinary model for community-led economic regeneration and is a testament to efforts of a number of individuals who have collectively, with skill, determination and no little amount of imagination, created a versatile, warm piece of townscape.
Interior design Pearce + Faegan
Contractor Midas
Structural engineer Momentum
Environmental / M&E engineer Troup Bywaters & Anders
Quantity surveyor / cost consultant MEA Clark