Studio Weave worked with local craftsmen including a cob specialist on this two-storey extension to a traditional stone cottage to create the 2023 Small Project of the Year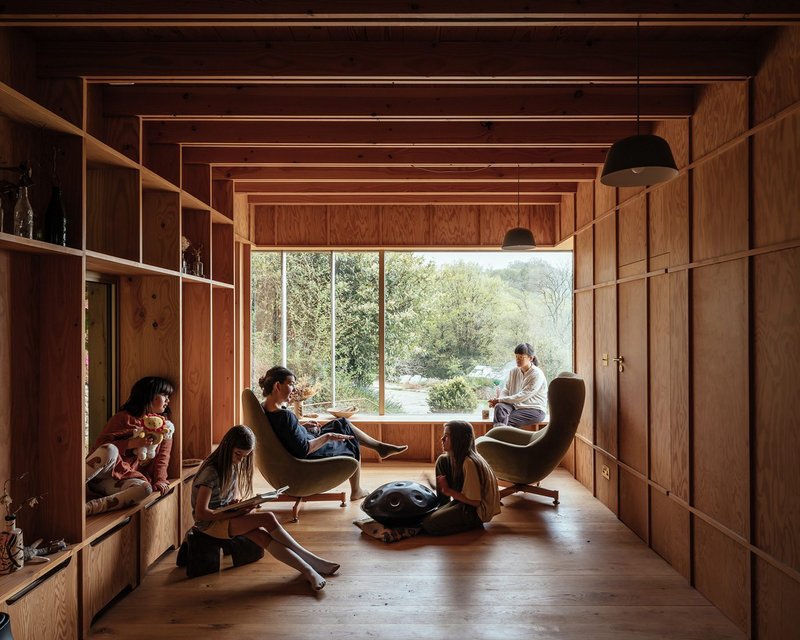 Credit: Made of Sand. Jim Stephenson
2023 RIBA South West & Wessex Award winner
Small Project of the Year
Made of Sand, Devon
Studio Weave for private client
Contract value: Confidential
GIA: 69m2
Made of Sand is a beautifully considered and delicately crafted two-storey extension that has a surprisingly joyful and transformative effect on the traditional Devonshire stone cottage typology, of which it is now part.
While modest in scale, the distinctly contemporary addition adds a rich new layer of history to the property, marking a dynamic spatial shift from the small cellular rooms of the existing cottage to more flexible, open-plan spaces that are directly connected to the landscape through large glazed openings that frame views across the surrounding Blackdown Hills.
It is evident throughout that the builder and joiner, in collaboration with the architect, have applied a rigour to the construction of the extension that gives the new spaces a strong and distinctive character. The heavily insulated timber frame is exposed both internally and externally. Internally, Douglas fir infill panels form the wall linings as well as being articulated to form built-in shelving and window seats. The overall effect when combined with the framed greenery beyond is one of calming order and restfulness.
The warm palette of materials is continued throughout with the use of handmade terracotta pamment tiles and rust-coloured clay plaster walls, seamlessly bringing together the existing and new structures in a sensitive manner.
Externally, the red western cedar cladding with a playful geometric design brings delight and interest to the elevation. Weathering to a beautiful silvery hue, the extension is now bedded in the landscape and works harmoniously with the existing context of the stone cottage.
Overall, the collaborative approach between the client, local craftsman (including cob building specialist), and architect has resulted in a successful, tectonically rich project that enhances the use and enjoyment of the existing cottage.
Contractor Cob and Lime
See the rest of the RIBA South West winners here. And all the RIBA Regional Awards here.
To find out more about the whole RIBA Awards process visit architecture.com
RIBA Regional Awards 2023 sponsored by Gaggenau, EH Smith and Autodesk