Hall + Bednarczyk Architects has converted a 19th century barn while adding a subterranean extension that preserves the building's historic silhouette on a rural hillside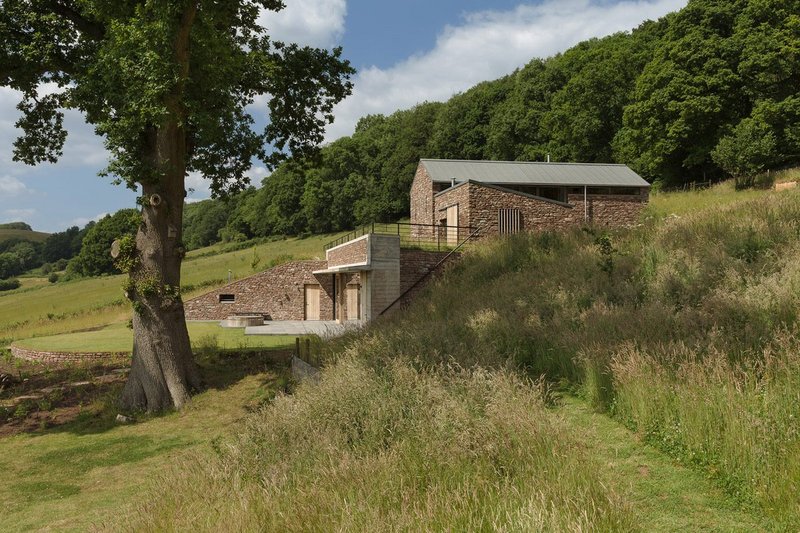 Hidden House. Credit: Simon Maxwell
West Midlands Regional Award winner
Hidden House, Herefordshire
Hall + Bednarczyk Architects for private client
Contract value: Confidential
GIA: 256m2
Carved into the Herefordshire hillside with views of the Brecon Beacons, this beautifully crafted family home is an exemplary piece of contemporary vernacular architecture, rooted in its rural context.
Hidden House consists of a sympathetic 19th century barn conversion and a subterranean extension which provides additional living accommodation while preserving the barn's historic silhouette as a pair of utilitarian agricultural buildings perched on the Herefordshire hillside.
The first step was to reveal the original form of the barn by removing a collection of extraneous structures that had been added to the barn in an ad-hoc way. Once the beautiful form of the barn was revealed, the challenge was to create additional living accommodation that was subservient to its host.
The architects proposed a contemporary addition, cut into the hillside, to make the most of the site's steep gradient while not interrupting the form of the stone barn. Its splayed retaining walls, linked by a lightweight sheet of floor-to-ceiling glass, maximise the panoramic views of the Brecon Beacons.
Above is the sympathetically preserved, unassuming stone barn with a clerestory window and floating dual-pitched roof. The contemporary zinc roof delicately touches the barn's historic fabric while the monolithic stone walls anchor the building into the hillside.
Internally, a carefully considered palette of honest materials, including oak, stone, and glass, sits alongside bespoke joinery to maximise the sense of space and create a comfortable four-bedroom house within a relatively small footprint. The result is a utilitarian feel that is domesticated – a credit to the architects' desire to retain the character of the barn while creating a comfortable family home that can continue to be enjoyed by future generations.
Hidden House has been detailed with real rigour. Every junction has been carefully considered both internally and externally. The architects have used their skill and craft to produce a building that delights at every turn. It is a testament to the value that architects can add.
See the rest of the RIBA West Midlands winners here. And all the RIBA Regional Awards here.
If you want to understand the whole RIBA Awards process visit architecture.com
RIBA Regional Awards 2023 sponsored by Gaggenau, EH Smith and Autodesk