Howells has designed 37 mews houses with an almost Georgian feel, centred around a communal garden and historic canal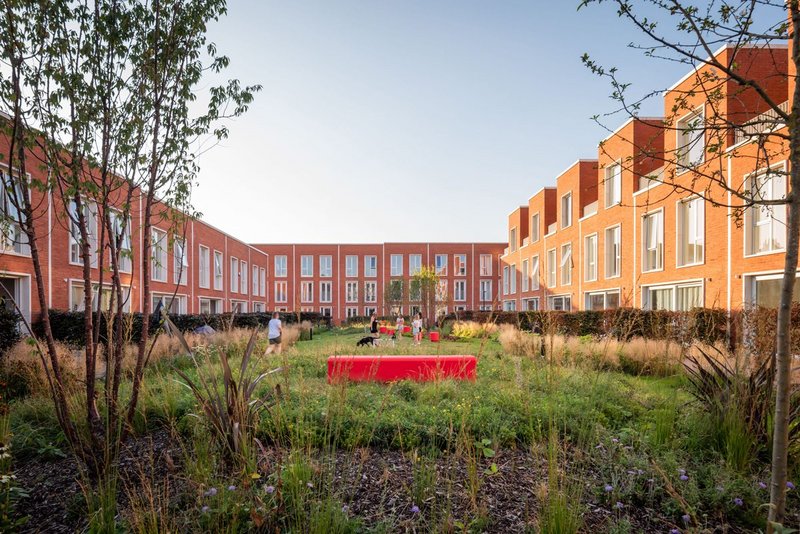 Brick House. Credit: Greg Holmes
RIBA National Award winner 2023
West Midlands Regional Award winner
Brick House, Birmingham
Howells for Urban Splash
Contract value: £8.16 million
GIA: 6,250m2
Cost per m2: £1,305
Brick House is a unique housing typology that consists of three and four-bedroom mews houses centred around a communal garden and historic canal. It forms part of Phase 1 of the Port Loop masterplan in Birmingham.
The houses are arranged in neat, sympathetic terraces, constructed from high-quality materials such as brick and reconstituted stone.
The striking red brick draws inspiration from the surrounding terraces that characterise Birmingham's residential landscape. Along the canal, blue-grey brick echoes the tones of Port Loop's historic canal infrastructure – a unique feature on the site.
The windows and door reveals are lined in reconstituted stone, exaggerating the large apertures to give this scheme's proportions an almost Georgian feel. The massing of the terraces is characterised by a series of flat roofs broken up by inset balconies to create a dynamic elevation that addresses the communal garden.
The 37 houses combine to enclose a communal garden, where the boundary between private and public space has been deliberately blurred to promote a sense of community across the site as well as encouraging people to spend more time outdoors.
Internally the houses are light and spacious with generous ceiling heights. The pared-back interiors allow the occupants to tailor their homes to meet their individual requirements. There is a degree of flexibility built into the design that allows families to grow and evolve. These have been designed as 'forever homes' by way of their adaptability and the quality of their construction.
This scheme is ambitious in its approach. Its designs have the potential to transform the way in which we live and interact with our neighbours. There is a genuine sense of community as you walk through this place. It is a bold typology of housing that can act as a test bed for future housing schemes.
See the rest of the RIBA West Midlands winners here. And all the RIBA Regional Awards here.
If you want to understand the whole RIBA Awards process visit architecture.com
RIBA Regional Awards 2023 sponsored by Gaggenau, EH Smith and Autodesk