Make Architects and Glancy Nicholls Architects have retrofitted a 1930s neoclassical bank building, restoring it to its former glory while turning it into a civic hub and an important city-centre presence for the university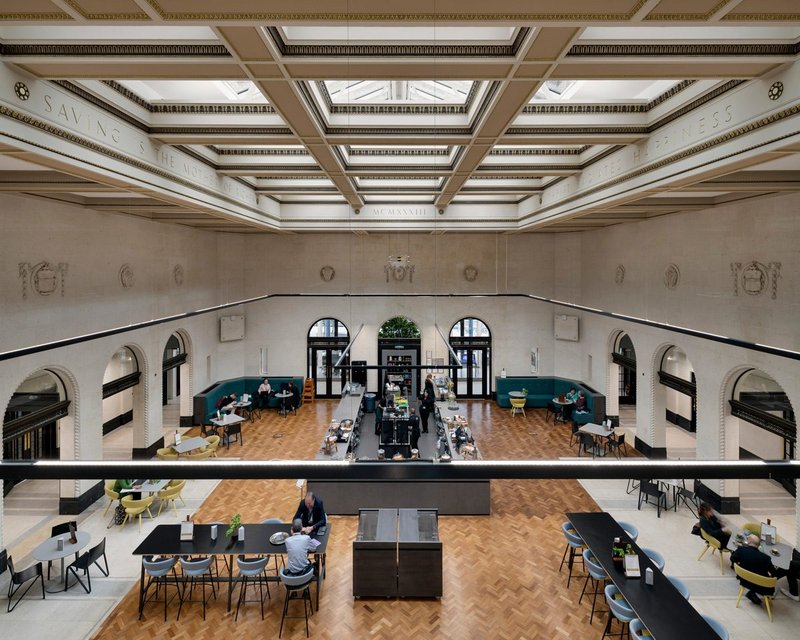 The University of Birmingham Exchange. Credit: Tom Bird
West Midlands Regional Award winner
Conservation Award
The University of Birmingham Exchange, Birmingham
Make Architects and Glancy Nicholls Architects for University of Birmingham
Contract value: Confidential
GIA: 4,217m2
Birmingham's Municipal Bank is a prominent 1930s neoclassical building in Centenary Square adapted into The Exchange, a civic hub and an important city-centre presence for the University of Birmingham.
This Grade II-listed building has been extended and sensitively restored to accommodate a range of different uses, from a café in the former banking hall to a gallery and event space.
The desire to create a 'new front door' for the University of Birmingham has manifested itself in an unparalleled commitment to restoring this historic building back to its former glory. The client and design team's dedication to achieving a high-quality building through sensitive restoration is commendable.
The formal stone and bronze main entrance has been restored and updated to maintain a strong civic presence facing onto Centenary Square. The central rooflight has been restored and illuminates the original coffered ceiling, which has been painstakingly refurbished over a sustained period of time. Oak panelling to the bankers' offices has been brought back to life using traditional carpentry techniques. The banking gates have been rebuilt, and the magnificent vaults with floor-to-ceiling safety boxes meticulously renovated. It is this dedication to conservation that makes this project so exemplary.
Furthermore, through a carefully coordinated approach, modern-day services have been designed into this scheme without affecting the building's unique character. This has been partly facilitated by the impressive new entrance to the south which houses a majority of the services, reducing the demand placed on the listed building. Conceptualised as a contemporary interpretation of a traditional colonnade, this entrance provides a new gateway to the southern end of the site to create an active civic building in the heart of Birmingham.
See the rest of the RIBA West Midlands winners here. And all the RIBA Regional Awards here.
If you want to understand the whole RIBA Awards process visit architecture.com
RIBA Regional Awards 2023 sponsored by Gaggenau, EH Smith and Autodesk