Van Heyningen & Haward has retrofitted the Grade II-listed Rugby Radio Station to create a modern secondary school that nevertheless retains the original building's form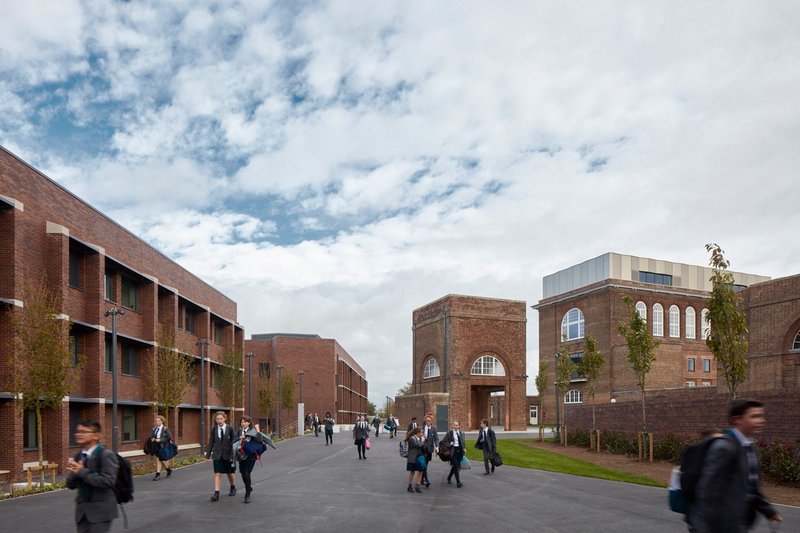 Houlton School, Rugby. Credit: James Brittain
West Midlands Regional Award winner
Houlton School, Rugby
Van Heyningen & Haward Architects for SUE GP (JV between Urban&Civic and Aviva)
Contract value: £39 million
GIA:12,134m2
Cost per m2: £3,214
Houlton School is a state secondary school that will form part of an emerging residential district on the site of the former Rugby Radio Station. The scheme sensitively reimagines the iconic Grade II-listed transmitter building, C Station, and creates three new state-of-the-art school blocks arranged around a central courtyard.
As you approach the site, it is clear that this was once a prominent building within the local community. It is iconic in its scale and proportion.
The architects have skilfully retained its unique, utilitarian character while creating a modern-day school environment for the 21st century. It is a project that will surely be enjoyed by current and future generations.
What is most successful about this scheme is the clear delineation between old and new. Interventions are expressed in a contemporary way so that the original form of the historic building is still legible and celebrated.
A cantilevered canopy demarcates the new entrance, nestled between the two historic buildings that form C Station. A faceted aluminium crown adds an extra storey above the original cornice, which has been sensitively restored. This addition now acts as a beacon for the site, reinforcing its status as a landmark within the area.
Where new windows have been inserted into the historical walls, these are contemporary in appearance, contrasting with the more ornate glazing of the original openings. It is these considered design decisions, among many others, that make the unlikely fusion of a modern-day school with an industrial building so successful.
Internally, the most striking room is the magnificent dining hall contained within the double-height space. The historical proportions of this room are still legible; almost cathedral-like in their scale. Furthermore, the working parts to this generous hall have also been restored and celebrated. Even the colour palette, which is quite playful in its appearance, references the original colourway of C Station to create a dynamic environment for the pupils to congregate in.
This project is a great example of how we can retrofit our historic buildings to safeguard their future. It is a testament to the value we place on our historic building stock and demonstrates that, even within the challenging context of designing a school building with so many challenges and constraints, a successful retrofit can be achieved with vision, creativity, and ambition.
See the rest of the RIBA West Midlands winners here. And all the RIBA Regional Awards here.
If you want to understand the whole RIBA Awards process visit architecture.com
RIBA Regional Awards 2023 sponsored by Gaggenau, EH Smith and Autodesk