Exceptional modesty, craftsmanship, care and attention won this refurb and conversion Building of the Year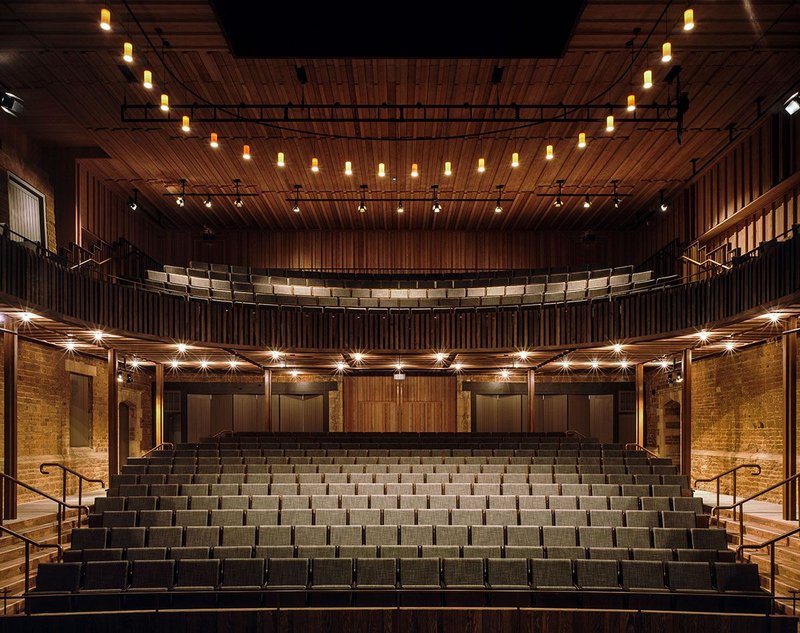 Nevill Holt Opera

Credit: Hélène Binet
Stirling shortlisted, RIBA National Award, East Midlands RIBA Regional Award 2019
Witherford Watson Mann Architects for Nevill Holt Opera
GIA: 816m²
Contract value: £5.1m
Cost per m²: £6250
Nevill Holt opera building is the result of a forensic analysis of this historic site, generating a roof-lit auditorium within the walls of the old building, both stage and orchestra pit hunkered into the ground.
There is no formal foyer – the walled garden outside performs that role. No detail is ill-considered. Full height hand-crafted doors draw you straight into the auditorium. The perimeter is exquisite board marked concrete held away from stable block walls by a compacted hoggin edge; here, elegant bronze coloured cruciform columns support the dress circle above.
The new insertion uses a simple but sophisticated palette of materials. Dark, stained wood for proscenium screens, dress circle balustrade, seating and floor. The new roof and upper walls of the auditorium are lightly sand blasted larch, picking up on honey coloured hues of Clipsham stone. The rhythm of the cladding module, meanwhile, responds to the rhythm of the existing stable joists; its interface with existing stone walls also carefully considered. It all exemplifies the architect's measured approach to conservation; on occasion playing up difference, sometimes recognising that a more muted approach is needed.
Looking effortless, the modesty, craftsmanship, care and attention that have been applied here are exceptional. Country houses continually evolve, being added to over time, and the opera building here is a stunning 21st century addition to Nevill Holt Hall.
Regional Building of the Year
Conservation Award