World-class studio, costume, medical and production facilities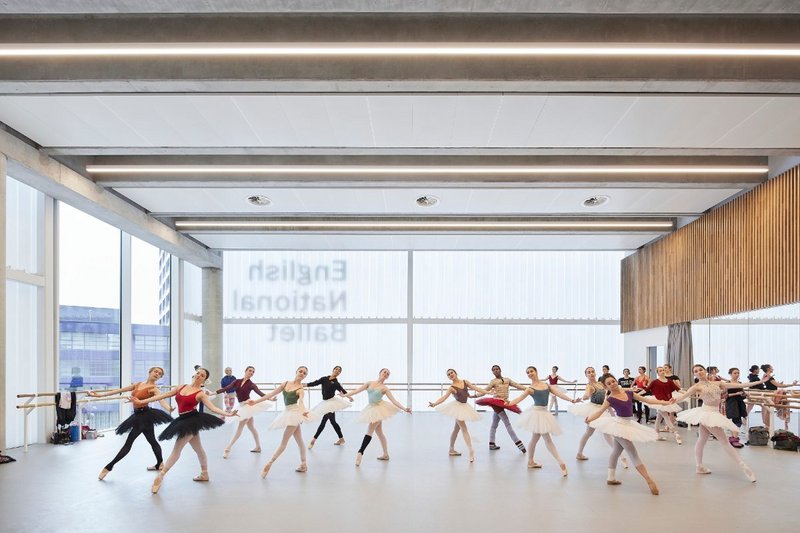 Glenn Howells Architects for English National Ballet
Contract value: undisclosed 
GIA: 8,635m2
Wrapped in translucent white cladding and topped with a green roof, English National Ballet's purpose built 'dance factory' is a five-storey building located on London City Island as part of a large mixed-use development by Ballymore. It is also the new home of the English National Ballet School, which is located over the upper two storeys.
The building provides world-class studio, costume, medical and production facilities, including seven full-sized rehearsal rooms, dedicated engagement and learning spaces and offices for the 200 staff.
The brief was to design a creative space for making and dancing that would serve as a new focal point for ballet in London. The main task was providing the required extensive range of flexible, state of the art facilities on a narrow site within a comparatively challenging budget. The main production studio features a 10m x 16m stage space and a 25m tall fly tower, while the ground floor is designed as a lively circulation area with a public café and exhibition space.
Inside and out, the pared back design is defined by hard-working exposed raw materials such as concrete ceilings and translucent glass walls, alongside a limited material palette and off-the-shelf components to ensure it was kept within budget. The translucent Linit white cladding contrasts with the colourful surrounding buildings and allows passers-by to catch glimpses of movement and dancers as they rehearse, while still maintaining privacy.