A striking ground floor loggia fronting directly on to Islington's Regent's Canal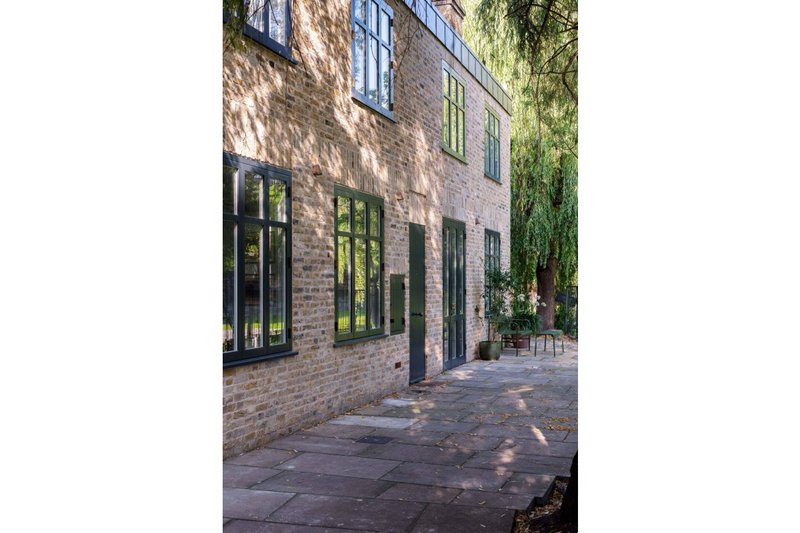 Lock Keeper's Cottage, Islington.

Credit: Max Creasy
Sanchez Benton Architects for private client
Contract value: undisclosed 
GIA: 71m2
The refurbishment of a lock keeper's cottage on the Regent's Canal sought to turn a series of major structural interventions, necessary to safeguard the integrity of the existing building, into a holistic architectural proposal. The brief was for a home for a couple that would harness the existing qualities of the site such as the views of hanging willows and a front to the canal. A sustainability approach led to the decision to upgrade the existing shell of the house rather than demolish and rebuild.
With the foundations of the cottage undermined by the willow trees alongside the canal, the design process required close collaboration with the structural engineer to develop the proposal of stabilising the house with a single stepping concrete column connected to a series of beams to hold back the leaning facade. This became the primary driver of the design, with rest of the house threading around this structure.
All the underpinning had to be carried out from the inside, which at the same time provided the chance to thermally upgrade the ground floor slab. The facades were heavily insulated on the outer face and faced in lime pointed reclaimed London stock as dictated by Conservation Officer requirements. The flush windows of the facade express the thinness of this new brick mask and, on the canal side, allow the house to fully open up in good weather, with every window and door folding back, giving the ground floor a striking loggia fronting directly on to Regent's Canal.