Teaching facilities and informal student learning and breakout spaces are connected by a single sculptural academic stair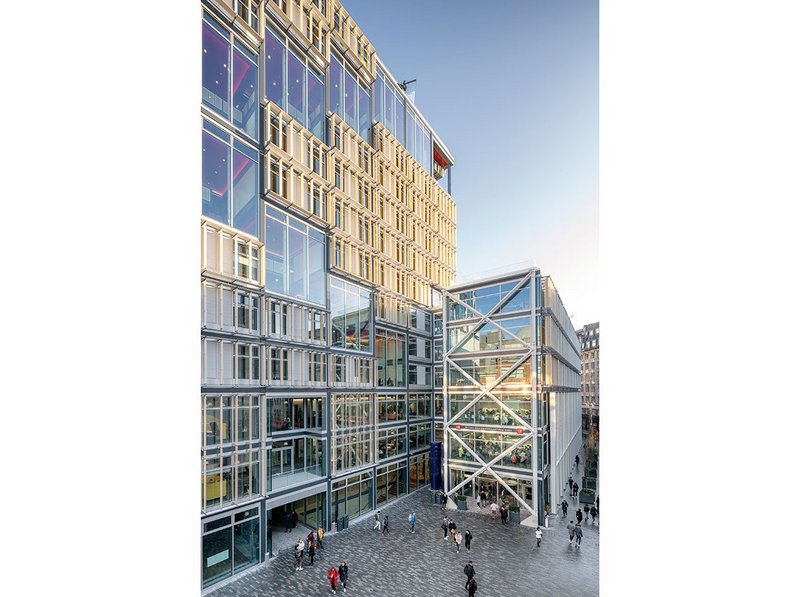 Centre Building.

Credit: Joas Souza
RIBA National Award winner 2021
RIBA Regional Award winner 2021
---
Rogers Stirk Harbour + Partners for the LSE
Contract value: £78m 
GIA: 15,507m2 
Cost per m2: £5,030
This building is conceived as two asymmetrical slab blocks with a shared podium at the heart of the LSE's campus. It is strongly integrated into its tight urban context, giving an impression of having always been there. The front entrance addresses the British Library of Political and Economic Science across a much-needed campus square, with the whole building in comfortable dialogue with its surrounding streetscape.
On the larger 12-storey slab, the tectonic frame and brise-soleil language feels human, inviting and, indeed, provocative. The course of its meandering internal stair is visible from the outside in a genuinely inventive urban gesture.
Along Houghton Street, the smaller, lower slab creates a nice foil to its larger twin. Jointing in the stone inset panels and the razor-thin horizontal metal trim resonate with the historic facade detailing of the neighbouring Old Building to the west. Terraces reinforce and celebrate urban connectivity.
Inside, the buzz of the main space at ground level is exactly right for a student experience. Laterally flowing space draws you into the grand 'academic' stair both up and down – an exhilarating architectural moment. As it rises, the meandering stair penetrates the upper floors inventively, injecting lightness and informality.
A well-considered passive design approach uses simple massing, good orientation, and a floor plate width that facilitates natural ventilation. An impressive 70% of the building is naturally ventilated, reducing operational energy. The embodied carbon figures account for end-of-life emissions and so are high. Generally, the detailing is expressive yet rational, with an eye to demountability, timber materiality and leanness for an overall sustainable approach.
See the rest of the London shortlists here
And all the RIBA Regional Awards shortlists here
See other RIBA National Awards 2021 winners, Education, here