Stanton Williams harmoniously combines robust laboratory and research facilities with welcoming outpatient accommodation at Great Ormond Street unit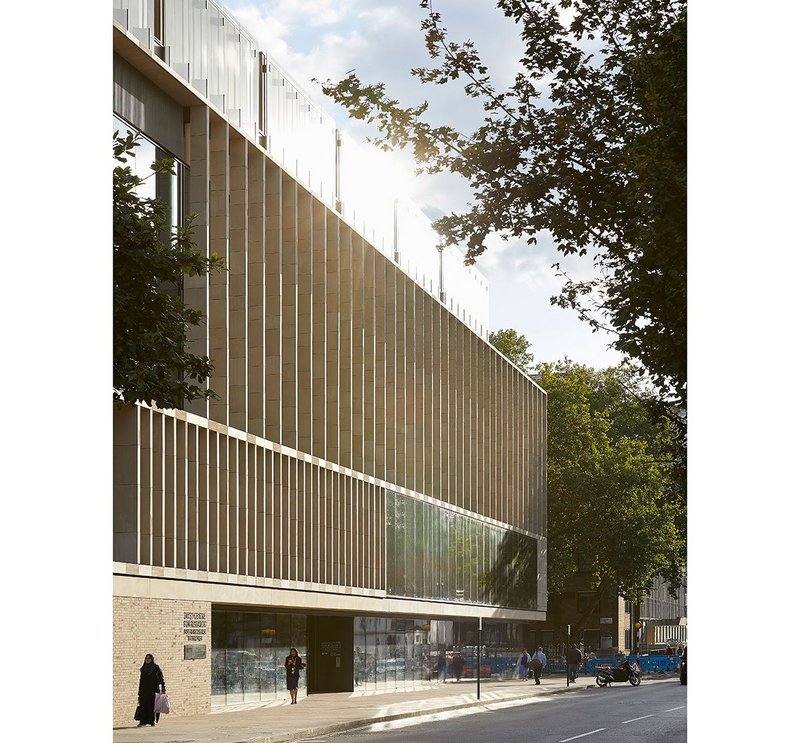 Zayed Centre for Research into Rare Disease in Children.

Credit: Hufton Crow
RIBA National Award winner 2021
RIBA London Regional Award winner 2021
---
Stanton Williams for Great Ormond Street Hospital and UCL
Contract value: undisclosed 
GIA: 13,090m2
The Zayed Centre for Research into Rare Disease in Children is a delicate and intricate response to a challenging brief. The building sits on Guildford Street, a busy road in the heart of a conservation area opposite Coram's Fields. The elevation to the street, with its stone fins at the upper level, creates oblique solidity while allowing views to the surrounding green spaces from inside.
The building comes to life at ground floor, offering a fully glazed facade through which passers-by can look down into the building's primary function: the research laboratories. Having these up front and on show is the building's driving parti. Everyone entering the building must cross a bridge over them to reach the reception desk – a sequence that reinforces the idea that treatment and research are the same thing.
From here the building is functionally split between offices and research, and spaces for the children who are taking part in research. The research wing is light and bright, wrapping around the atrium and connected by a communal stair. The children's wing, on the other hand, has its own atrium and is smaller in scale to suit its users. Treatment rooms are planned to allow families to wait towards the front of the building where they have views of Coram's Fields.
The architects have successfully translated a complex brief to produce a disciplined architecture that is joyful and perfectly modulated to the centre's serious purpose. And the material finish of the timber, concrete, glass and stone is exceptional throughout.
---
See the rest of the London West winners here
And all the RIBA Regional Awards here