Teaching spaces surrounding lecture theatres support seminars plus macro-and micro-collaboration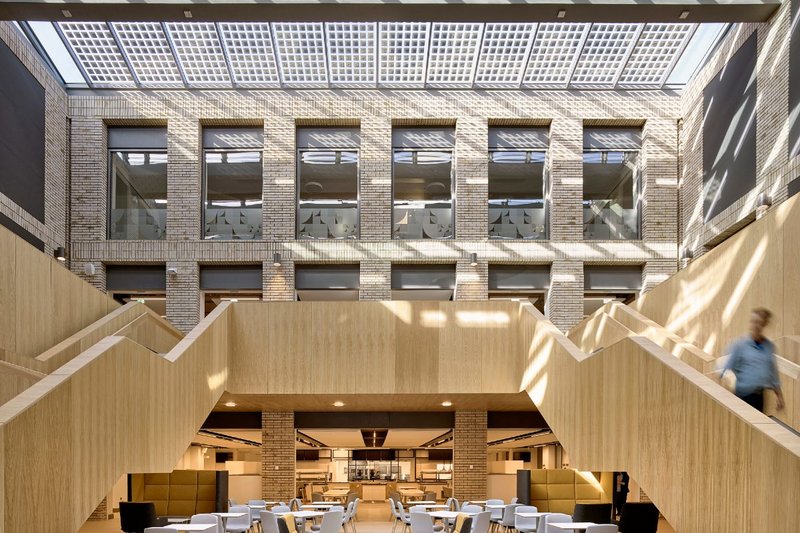 Lower Mountjoy Teaching and Learning Centre, Durham.

Credit: David Cadzow
RIBA National Award winner 2021
RIBA North East Award winner 2021
---
FaulknerBrowns & Space Architects for Durham University
Contract value: £25m 
GIA: 8,300m2 
Cost per m2: £3,012
The Lower Mountjoy Teaching and Learning Centre provides an inclusive and welcoming environment for teaching and learning at Durham University.
Although substantial in volume, a clever and layered design has resulted in the building feeling appropriate to its context rather than imposing. Externally, the main entrance appears serious and restrained, although the well-considered proportions of the elevations and handmade brickwork give a softer feel on approach. A subtle manipulation of blocks establishes zones within the building and helps to create a more articulated series of facades when viewed from the outside.
Internally, the simplicity of the plan translates into easily manoeuvrable spaces with a clear hierarchy, all set around a dramatic but informal central atrium. The warmth of the space is aided by detailed timber work on the stair and balustrade, which draw visitors up and through the spaces.
The playful roof forms are one of the key elements of the design and are especially visible when passing the building to the south. The architect has created a roofscape that responds to the adjacent conservation and Unesco World Heritage Site setting. A series of zinc standing seam, asymmetric pyramidal forms are rotated to echo the ad hoc evolution of the medieval rooftops of the city, and this connection is highly successful. It also translates into the internal spaces, each having a slightly different character, orientation, and light in each of the zones on the upper floor.
Overall, this is a highly accomplished building. Restrained and sophisticated, it provides both a welcoming environment and flexibility of use in a changing world of education. It is an outstanding addition to the university and the city.